Are you a fabulous 60-year-old woman looking to define your unique style, who wants to put together a beautiful, but basic wardrobe of clothes to suit your lifestyle?
Whether you're sipping lattes with friends or attending special occasions, there's a way forward that combines comfort, individuality, and timeless style. So if you want to learn how to create a basic wardrobe for over 60 and look fabulous every day, read on.
In this blog post, we'll guide you through the step-by-step process of building your basic wardrobe, adding no fuss wardrobe basics, along with classic key pieces, embracing your individual style.
No more hard and fast fashion rules or age-related constraints; it's time to unleash your over 60 inner style icon!
How to Create a Basic Wardrobe for Over 60
I don't know about you, but the older I get the more I want to hide my mirrors. I know you're meant to love your body, I know, and it does amazing things – such incredibly amazing things for which I'm grateful every day.
But to look at it in the buff? Or in a skimpy swimsuit? In shorts and tight Tee's? Nah, that doesn't make me happy anymore, and I know you're meant to just 'flaunt it' these days and not give a damn, but doing that makes me self conscious now I'm over 60.
And I'm a realist. I can't change my body shape, and even if I lived on lettuce leaves I have never, and will never ever in a million years look like Bo Derek, or Twiggy or any other of my olden-day fashion heroines.
So, given that people are always going to stare and make judgements whether we like it or not, I say … give them something to stare at that you feel good in, and that is nice to look at.
I like clothes that flatter my body shape that don't hug my curves to the 'Nth' degree. I feel distinctly uncomfortable if I'm wearing something that doesn't make me feel great unless I'm out walking the dog or rummaging around on the floor with my grandson.
Wear clothes that make you feel confident and happy, clothes that are comfortable and sometimes practical or sometimes flash. Just don't feel you've got to be a slave to fashionistas telling you to wear anything, not to worry if something flatters you or not.
The Foundation of a Timeless Wardrobe
The perfect wardrobe for older women starts with the building blocks of a classic look. Think of wardrobe essentials like a crisp white button-down shirt, black pants, and a little black dress – these pieces transcend trends, and stand the test of time.
Dressing for Your Body Type and Skin Tone
Understanding your body shape and skin tone is the key to selecting clothing that enhances your best features. Choosing colors and cuts that complement your unique qualities will make you feel confident and radiant in your fashion choices.
Classic Styles with a Personal Twist
A classic style is your canvas; personal style is the artwork that sets you apart. It's the easiest way to express your individuality; the best thing is that there are no rules. It's about the best choice for you, and it's also about mixing timeless pieces with your favorite colors, bold prints, or statement pieces.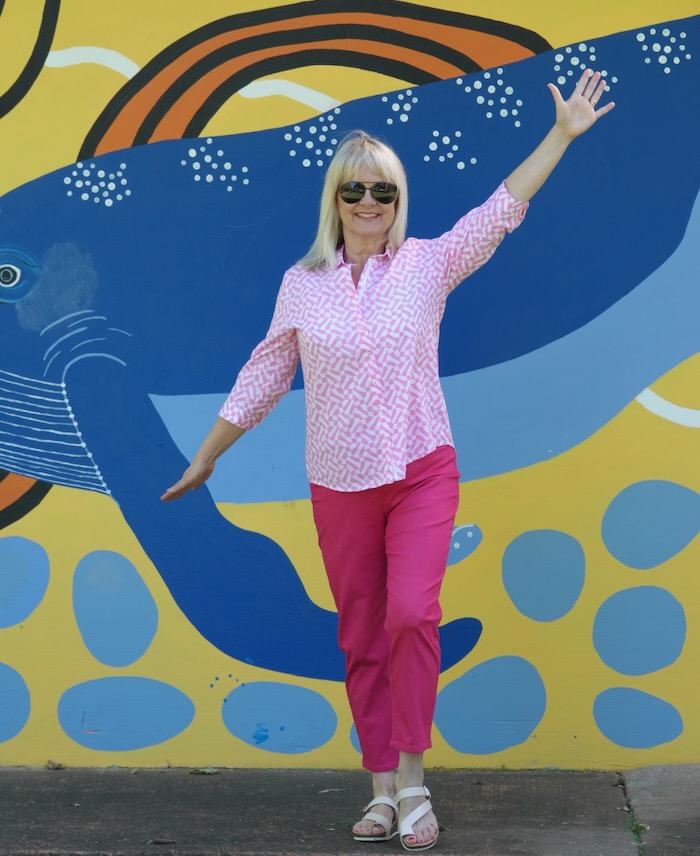 The Power of Versatile Pieces
Your wardrobe should be filled with versatile pieces that offer different looks with minimal effort. From straight-leg jeans to a cashmere sweater, these quality pieces can be dressed up or down, ensuring you're ready for any occasion.
Footwear: Comfort Meets Fashion
Opt for footwear like ballet flats, ankle boots, and white sneakers for a comfortable fit without sacrificing style. High heels may be reserved for formal events, but there's no reason not to rock a good pair of knee high boots, cowboy boots or stylish flats.
Building a Travel Capsule Wardrobe
Are you a jet-setter? Creating a travel capsule wardrobe is a great way to ensure you're always ready for a fashionable adventure, no matter the season. The starting point should be to select a set number of items that mix and match effortlessly for your destination.
Adding Trendy Pieces with Care
While timeless pieces are the foundation, don't avoid trendy items, especially if they resonate with your style. Consider them as accents that add a contemporary twist to your wardrobe.
Don't Forget the Outerwear
A classic trench coat, leather jacket, and denim jacket are essential for staying warm in style. Dark colors and a neutral color palette are the safest choices but don't hesitate to introduce a pop of your favorite color.
Embracing Comfortable Casual Looks
Casual clothes are essential for everyday wear, and mom jeans and midi skirts offer an easy way to stay comfortable without sacrificing style. Throw on a simple blouse or lightweight sweater for a good look that's as comfy as it is chic.
The Finishing Touch: Accessories
Accessories are the cherry on top of your fashion sundae. Statement items like a beautiful necklace or a unique tote bag, can add personality to your outfits and elevate your style to new heights.
Remember, fashion is all about expressing yourself and feeling your best. The biggest challenge is to embrace change and keep evolving your style. Experiment with different styles and find what resonates with you. The most important thing about fashion is a journey of self-discovery and self-expression. So, unleash your inner fashionista, build that perfect wardrobe, and showcase your unique style to the world!
Let's dig a little deeper … and look at how to build a basic wardrobe in more depth.
How to Build a Timeless Foundation: The Essential Pieces You Need
The key to building the best basic wardrobe for women over 60 is simplicity and versatility. You want your closet filled with timeless essentials that can be mixed and matched effortlessly.
Start with classic pieces like a crisp white button-down shirt, a well-fitting pair of jeans, and a wardrobe essential like the little black dress. These items are the building blocks of a mature and elegant wardrobe.
Include a tailored blazer, a cozy cardigan, and quality T-shirts. These basics provide a solid foundation for various looks and can be dressed up or down as needed.
Remember, it's not about having a closet bursting with clothes but rather having a curated selection of pieces that make getting dressed a breeze, regardless of age.
Tips for Choosing Classic Colors and Fabrics
Selecting the right colors and fabrics for your basic wardrobe is crucial to achieving that timeless, elegant look.
When you're over 60, opt for classic colors that flatter your skin tone and exude sophistication.
Use neutrals like black, navy, gray, and white as your go-to choices, as they're incredibly versatile.
Earthy tones, soft pastels, and jewel hues can also add a brush of elegance to your outfits. In terms of fabrics, prioritize quality and comfort.
Opt for natural materials when you can,, like cotton, silk, and wool for a luxurious feel, and consider investing in pieces with a bit of stretch for ease of movement. Breathable and lightweight fabrics are perfect for warm weather.
At the same time, heavier materials like tweed and cashmere can keep you cozy in the colder months. By choosing classic colors and high-quality fabrics that suit your style and lifestyle, you'll be well on your way to creating a basic wardrobe that stands the test of time.
How to Find the Perfect Fit: Maximizing Comfort without Sacrificing Style
Maximizing comfort without sacrificing style is all about getting the perfect fit.
When you're over 60, your clothing should feel like a second skin, allowing you to move freely and confidently. Invest in well-tailored pieces that flatter your unique body shape.
Feel free to have items altered if necessary; it's incredible how a simple alteration can transform an outfit.
Opt for clothing with stretch or elastic waistbands for ease, and consider looser silhouettes that are both on-trend and comfortable.
While oversized clothing can look effortlessly chic, balance is vital.
Pair a roomy top with fitted bottoms, or vice versa, to maintain a polished appearance. Ultimately, finding the perfect fit means embracing your body's changes while still expressing your style, ensuring that comfort and fashion go hand in hand.
Mix and Match Mastery: How to Create Versatile Outfits
Creating versatile outfits with mix-and-match garments is a game-changer when it comes to a basic wardrobe for women over 60. The key is choosing pieces that work harmoniously together, allowing you to put together different looks effortlessly.
Start with neutral bottoms like black pants, a well-fitting skirt, and classic jeans.
Then, add tops in various colors and patterns that complement these basics.
Consider layering options, such as cardigans, blouses, and lightweight sweaters that can be worn both on their own or paired for different occasions.
Accessories like scarves, statement necklaces, and belts can elevate your outfits.
The beauty of mix-and-match fashion is that you can create a range of stylish ensembles without overcrowding your wardrobe.
So, get creative, experiment with different combinations, and discover the endless possibilities of a well-coordinated and versatile collection.
How to Accessorize with Flair: The Magic of Statement Accessories
The magic of statement accessories can genuinely transform your look, especially when you're over 60. These eye-catching pieces can add a dash of personality and flair to your outfits.
When choosing statement accessories, consider your personal style and comfort. Think bold necklaces, oversized earrings, and chunky bracelets that reflect your taste.
While making a statement is essential, be mindful not to go overboard. One striking piece at a time can be more effective than piling on multiple bold accessories.
Pay attention to the colors and materials that complement your wardrobe, and opt for high-quality items that will withstand the test of time.
Statement accessories are an excellent way to express your individuality and add a touch of excitement to your attire, proving that age is no barrier to embracing fashion's fun side.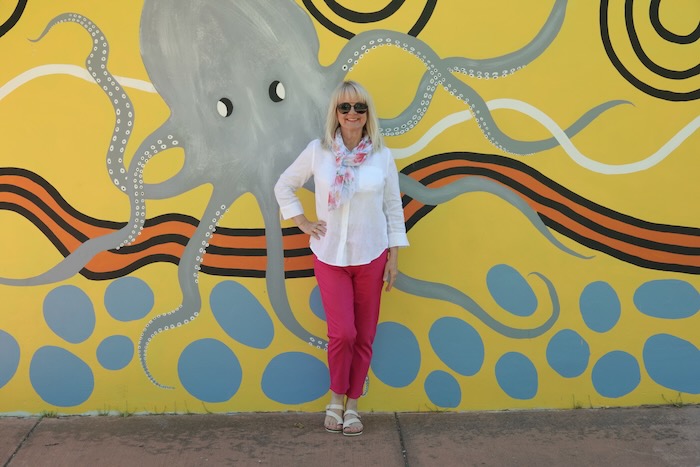 Shoes Speak Louder Than Words: How to Find the Right Footwear
Finding the proper footwear when you're over 60 is a blend of comfort, style, and practicality.
As we age, it's crucial to prioritize good quality shoes that offer excellent support and cushioning.
Opt for brands specialising in comfortable footwear or orthopedic insoles to ensure your feet feel their best.
While comfort is key, it doesn't mean you have to sacrifice style. Look for classic and versatile designs like elegant flats, low-heeled boots, and supportive sneakers.
Neutral colors such as black, brown, and navy will pair with various outfits effortlessly.
Don't shy away from a stylish statement pair of shoes, as they can add a touch of personality to your look.
Remember that finding the right footwear is about maintaining both your fashion sense and your well-being, as your feet deserve to be pampered at any age.
Layering Like a Pro: Navigating Changing Temperatures
Layering like a pro and navigating changing temperatures is a skill that becomes even more essential as you age.
When you're over 60, your body might be more sensitive to temperature fluctuations, making layering a versatile and practical choice.
Start with a lightweight base layer to wick away moisture and provide warmth. On top, add pieces like cardigans, blazers, and vests that can be easily removed when things heat up.
Scarves and shawls are perfect for adding an extra layer of warmth and style. Keep in mind that breathable, natural fabrics like cotton and wool are ideal for layering.
The beauty of layering is that you can adapt to varying temperatures and stay comfortable throughout the day without compromising your fashion sense. It's like having your personal climate control, ensuring you're always dressed for whatever weather comes your way.
The Closet Cleanse: Saying Goodbye to the Old, Welcoming the New
Performing a closet cleanse is a rejuvenating and liberating experience for anyone, especially women over 60, because, let's face it … we can accumulate a lot of clothes over the years, especially sentimental pieces which we're reluctant to get rid of.
It's time to think about making room for the new and bidding farewell to the old.
Start by pulling everything out of your closet and assessing each item honestly.
If you haven't worn it in the last year, or it no longer fits or aligns with your style, it's time to say goodbye.
Donate, sell, or recycle these items and free up valuable space for pieces that bring you joy and reflect your current lifestyle.
Remember that less is often more, as a curated wardrobe makes getting dressed a breeze and allows you to focus on what you love most about fashion.
So, embrace the cleanse and welcome a fresh, revitalized closet that perfectly complements the stylish, confident woman you've become.
Ageless Confidence: Embracing Your Unique Style Beyond 60
In the fashion world and throughout the journey of fashion and style, age should never be a barrier but rather a source of wisdom, confidence, and self-assurance.
Embracing your unique style beyond 60 is not just about the clothes you wear but the story you tell through them.
It's about celebrating your individuality, feeling comfortable in your skin, and showcasing the vibrant, confident woman that you are.
As you navigate the world of fashion, remember that there are no steadfast rules, only guidelines to help you on your path.
The true secret to ageless confidence lies in authenticity. It's about wearing what makes you feel amazing, expressing your personality, and having the courage to try new looks and experiment with different styles.
Fashion is a lifelong journey, and there is always time to define and refine your personal style. So, wear your age with pride, and let your style shine as a testament to the beautiful, ever-evolving you.
Stockists: Some of My Favorite Brands for Women Over 60
If you love smart, well-made clothing made from quality fabric (Accredited by Ethical Clothing Australia) and you're over 50, then take a look at the Fella Hamilton website and see what you think.
The quality is fabulous. The colours are fresh and bright and each season the range is made to mix and match. Over the next few days I'll be highlighting the ways you can wear each garment with something else from the collection.
Fella Hamilton is an Australian owned company that's been around since 1969 producing well made garments to suit older women who demand comfort, along with tailoring.
The company supports a number of charities such as the RSPCA and Breast Cancer Network Australia. During October there's a drive to support BCNA. If you pop into one of Fella Hamilton's 34 stores across the country and buy an Anna Blatman tea towel then $5 will also be donated to BCNA. Plus a percentage of every purchased Breton Squash and Wash hat goes towards cancer research and services via the Cancer Council.
If you shop online at Salty Crush then do pop in my discount code LIFESTYLEFIFTY10 at checkout to receive 10% discount (not on sale items). Salty Crush was founded by Madely and Michelle who have a passion for fashion, and have both worked in the fashion industry for over a decade.
Living in Sydney's gorgeous Northern Beaches, the duo wanted to share and merchandise their favourite mix of unique and exquisite boho pieces with soul sisters around the world. Salty Crush was born in July 2016.
True to modern boho chic, Salty Crush boasts on-trend and unique styles, beauty and vibrant colours, at a price-point you'll love. Prints, patterns and trends are inspired by the change of seasons, and saltycrush.com is refreshed and restocked daily.
Check out these blog posts for some fabulous Salty Crush styles : Best Boho Dresses and Affordable Boho Clothes for Over 50 and 7 Boho Chic Outfits to Ignite Your Inner Free Spirit.
For 15% discount at Styling You The Label online, don't forget to type in my exclusive discount code JoCastro15 at the checkout for 15% discount on your next order (not sale items).
I've known Nikki Parkinson for over a decade and she has the most incredible style. She also champions diversity in fashion, and has drives to support a number of charities.
Nikki has always encouraged women to tick off the wardrobe basics before being seduced by the show pony pieces. So, when it came to starting her own label, basics were – and still are – front and centre in every collection.
The difference is these basics are far from boring. Nikki's clothes are quality, Australian-made pieces that are cut for curves and comfort. They will simplify your wardrobe and take the stress out of getting dressed each day.
Styling You The Label proudly flips the fashion industry's idea of marketing on its head. Sizes are from 6 – 20.
Check out this blog post for an inside peak into Styling You's curvy styles : How to Wear Casual Plus Size Outfits With Sneakers : What You Need to Know
Adrift was founded in 2012 by Brisbane mum, Bec Pullar, who wanted to create an inclusive label that celebrates the beauty and boldness of everyday women.
Expect unique prints, quality and timeless shapes at reasonable prices.
Adrift brand provides beautiful fashion to all women, no matter their age, shape or size.
The FRANKIE4 mission is to take wellness to the next level with award-winning, Podiatrist-designed support for game-changing comfort in every cleverly cushioned step.
More human than a brand, FRANKIE4 spoil customers (and their feet) with stylish, comfortable footwear designed for modern living.
Related Posts
Ultimate Capsule Work Wardrobe for Women Over 50
A Minimalist Wardrobe : Create Your Ultimate Capsule
Best Capsule Wardrobe Planner : Tips To Make Your Closet Simple and Stylish
Capsule Wardrobe Planner (How to Create a Capsule Wardrobe and 31 Fabulous Garment Ideas)
The Ultimate Guide to Fifty Plus Women's Fashion
Disclaimer:This post "How to Create a Basic Wardrobe Over 60" contains affiliate links from which I stand to earn a small commission but at no expense to you. Any gifted items are marked either gifted or with an asterisk *. Lifestyle Fifty Website is a participant in the Amazon Services LLC Associates Program, an affiliate advertising program designed to provide a means for sites to earn advertising fees by advertising and linking to Amazon.com. Please read my full disclosure here.