Begin your style journey …
Consider your lifestyle.
Think about the climate where you live.
Take a look at what's already in your wardrobe.
Keep the garments you love.
Chuck out the garments you don't wear or which don't fit.
Decide which new garments you might need to buy.
Next Steps
Take a good long hard at your body in the mirror. What do you love about your shape?
Have a think about the type of life you lead, the clothes you like wearing everyday, and the clothes you like wearing to go out in.
Decide which clothes in your closet flatter your body as it is NOW.
Choose which clothes you love and feel great in NOW.
Throw out anything which doesn't serve you NOW.
Having thrown all the things out that don't serve the shape you're in now, then look at the gaps in your wardrobe, and make a list of the staple items you might need to buy over time.
Think about the colours you might choose to complement your staple garments if you were to buy new 'show pony' pieces. What outfit could you jazz up with something new and fashionable to suit your body shape?
What's Your Style Quiz
1. Would you rather wear …
a) Tailored or fitted clothes
b) A classic wrap dress or a romantic maxi
c) Easy wear pants and T-s
2. How often do you get dressed up to go out?
a) Often – I have lots of occasions to go out and loved getting dolled up.
b) Only when necessary.
c) I don't really have occasions to dress up and prefer everyday wear.
3. Which shops are you drawn to in the shopping mall?
a) High end fashion stores
b) Shops which sell comfortable but stylish everyday wear
c) Mostly places that sell comfy active wear.
4. Do you follow style trends?
a) Yes I look to others, read magazines and watch what's hot and what's not
b) Not really, I prefer to wear things I feel comfortable in.
c) No I'm not interested in fashion and have a wardrobe full of clothes I prefer to wear.
5. If you're deciding what to wear, what do you choose?
a) The outfit which will make me look and feel fabulous
b) The clothes I wore yesterday and felt good in
c) Anything that's clean and looks okay.
6. Do you prefer bright colours or muted shades?
a) I love anything bright and tropical
b) I prefer muted beiges, browns, greys and navys.
c) I'll wear anything that comes to hand
7. If you had to describe your style in one word, what would you choose?
a) Contemporary
b) Timeless
c) Bohemian
8. Is putting together an outfit nicely with accessories, shoes, bags etc
a) A priority – I love putting a new look together to be original
b) Not really but I might grab a scarf or necklace to brighten things up.
c) All of my clothes are pretty basic and I'm too busy being active to worry about jazzing them up.
9. Which city would you choose?
a) Paris
b) New York
c) I don't like cities
Your Style Quiz Results
Mostly a's)
Fashionable and Trendy – You love hunting for clothes that will make you look and feel great. You're happy to walk away from a look just because it's comfortable but will rather wear clothes that are up to date which will make you stand out in a crowd. Bright colours don't faze you, but you know what suits you too. You are probably at your happiest in a mall fossicking around for clothes, shoes, bags, costume jewellery and accessories to take an everyday style from Ho Hum to Ra Ra!
Mostly b's)
Comfortably Stylish – Keeping on trend isn't exactly a priority for you, but you do like to look good in the clothes you wear as long as you look neat , presentable and are comfortably dressed . You probably enjoy shopping for basic everyday wear to keep your capsule wardrobe up to date and classic, and you probably enjoy shopping for understated elegant additions which will be hard wearing, stand the course of time and offer timeless longevity.
Mostly c's)
Relaxed and Natural – You like to dress to be comfortable, and you are probably always ready to go for a walk or get out in the garden. If you're going out somewhere to dinner you'd prefer to wear jeans and a t-shirt or a pair of casual pants and no-frills blouse. You feel you have nothing to prove with your dress style and as long as you are clean and comfortable everything is good. However, you also might pick up a quirky or individual piece of clothing at a market stall or second hand shop which you'll love wearing.
Love Your Own Style
I've loved clothes for as long as I can remember. Right back to the time when I had a treasured pair of velvet bellbottom trousers which were my first fashion item and kept in the wardrobe only to be worn 'for best'.
Creating a look has always been something I've loved. I enjoy the simple ritual of choosing what goes with what, and sometimes improvising.
I love fresh cotton blouses, and summer frocks and the way a garment made of mostly bamboo feels against my skin.
I have fun pottering through my wardrobe, re-arranging things, sorting through accessories and fashion jewellery, feeling the tug of emotion when I remember the time Dave or one of our children bought me a piece of clothing or jewellery, whether it was special, unique or something from a hawker on a tropical beach holiday.
How to Change Your Style
Update your look every five years or so to suit your life stage
Ask yourself: "How much time do I have to get ready each day?"
Decide which clothes would suit your real lifestyle rather than your fantasy lifestyle.
Think about how do you spend your day?
Do you need comfortable clothes or tailored clothes?
Consider the weather and the seasons where you live.
Make sure you have a capsule wardrobe that works for you, and then add pieces to it which reflect the life you live now.
Alway be on the look out for interesting accessories to add a little pazazz to your wardrobe.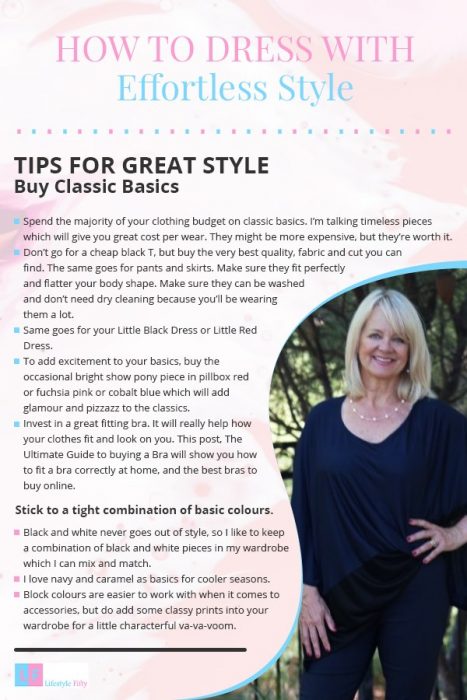 My heart beat goes up when I touch a special dress, the one worn to a beautiful family wedding, or the beautiful gown worn to a glitzy charity ball in one of our expat postings. I treasure the memories.
I regularly stop to appreciate the little things about my wardrobe – and re-arrange pieces. Sometimes by colour, sometimes by garment, and in that appreciation I also regularly cull, so that I'm focused on what I need to have and what I still wear.
"The best way to find out what we really need is to get rid of what we don't."

Marie Kondo
Style Basics
Do you take pleasure in seeing seasonal changes in magazines or on the internet? Pretty new styles that perhaps you'll never wear and may not suit you, but things which might influence your next purchase.
But the overarching thing is that I love clothes, and I'll buy clothes to suit the body I have. I'm not interested in waiting until I'm 5kgs skinnier or my arms are more toned and I don't have tuck shop wings.
I spent many years convinced that I'd only look good if I had model proportions, and that's so sad. It's as if the grass is always greener on the other side.
Love the Body You're In
I believe that your dream body is the body you're in. It's the one you hang your clothes on, the body that takes you places and get things done. It's unique. It chases dust bunnies around the house and bakes cookies for your family. It looks after family pets, and takes you on walks along the beach or in the park. It burns toast, and makes babies, it give great big hugs and likes getting them too.
So please love the body you're in 🙂
Isn't it time you dressed your body like a queen, every day?
You can learn to love the body you're in, whether it's big or small, skinny or rounded, short or tall.
And then style finds you, right where you are.
"Style is the only thing you can't buy. It's not in a shopping bag, a label or a price tag. It's something reflected from our soul to the outside world – an emotion."

Alber Elbaz
You Can't Buy Style – It's Part of Who You Are
The dreams and aspirations you have for what style is, or how style should look – well, they can and do come alive when you accept your body for what it is.
Then shop for clothes to suit your size (with its perceived limitations and frustrations) rather than wait to go shopping for the size you hope to be one day.
When you embrace who you really are, what you really love wearing, the the type of life you lead, that's when style becomes something innate and as … as butterfly wings.
It's not up to me to try and persuade you to create a style that looks just like mine.
But it is my intention to introduce you to looks and garments which you can like a Bower Bird, pick, choose and take to add to yours.
My goal on Lifestyle Fifty is to offer you inspiration, which brings confidence, so that you can choose wisely and create your own style, whatever that looks like for you.
We are all unique, and we all have different styles – embrace your individuality!
So start today. You don't have to borrow money, trade in your house, or sell your grandmother, the exciting thing is that you can start in your own closet.
Style Inspiration
Pop onto Pinterest and find the styles and fashions you love.
You don't need to rush out and buy them, but starting your own inspiration board will motivate you, and next time you are at the shops or shopping online you'll be firing like a missile (without really knowing why) towards the things you love, and trends that will match your style.
I love reading your comments, so please do tell – What was the result of the Your Style Quiz for you?