Well, these are rum old times and looking good is not top of the agenda for many of us now we're confined to our homes. But we still want hard wearing, comfortable clothes to wear at home that will also make us feel and look good.
So we need a bit of an easy street plan. And a closet that's organised with everyday comfortable clothes which will make us feel good. Because, looking good makes you feel good, and if you look daggy you'll just feel daggy all day long.
This was really brought home to me when I had help with some household cleaning and the cleaning lady arrived wearing good but comfortable stretch jeans, a nice T-shirt and her hair neatly done up in a ponytail.
Meanwhile I looked like something the dog might have brought in.
Should we try our best to look nice at home? Yes, I think so. Not out of vanity, but just because it can make us feel good about ourselves, and just like making our beds in the morning it gives us a sense of pride and purpose. It doesn't mean we have to wear our best, most expensive clothes, but unless we're gardening, why not wear nice togs around the house?
Lifestyle Fifty focuses on fashion and lifestyle, particularly for women over the age of fifty, and I know many of you ask 'How to look more stylish' but stylish effortlessly and without having to give it too much thought.
We don't want to grow old and look outdated. No Sirree! We're the ones skidding into retirement and beyond with beautifull advanced style.
We want to look good when we exercise too … because we do exercise! Right?
My favourite everyday performance shape-wear is not only comfortable but holds me in – in all the right places. You can check them out here: Shaper Move Leggings Be aware they come in full length and 3/4 length. I'm wearing full length with their Rosetta Top in Black .
We want to look good without too much effort but we don't want to spend a fortune.
We also want good clothes, in good fabrics, that are made ethically, which last.
Looking good everyday is our mantra (although we all slip up and that's okay too.) But getting up, getting dressed and looking the best we can gives most of us an added boost of confidence, and more energy to face the day ahead.
However, this everyday style is not something we want to spend hours achieving – it must be pretty instant, right? We don't want to be faffing with ironing, or too much primping and preening, right?
Wake up, exercise, shower, put on comfortable clothes to feel good in, look good in and get through the day in.
How to Look Your Best in Comfortable Clothes
Today we're going to look at some simple rules to follow so that you can wear comfortable clothes and look your best everyday. And by comfortable I don't mean any old sloppy Joe worn with tracksuit pants.
I'd like to recommend some brands which will consistently deliver the right garments to make this happen.
I get to collaborate with some awesome brands whose products I love and use.
I'm really lucky in that I get to try out all sorts of things, but only a select few actually reach my blog and social media pages.
The products that I promote to my readers, and the Lifestyle Fifty tribe in general have to stand up to three things.
Firstly I have to love them.
Secondly my readers have to love them too
Thirdly they have to be around for the long haul
One company I've grown to love, and so have many of my readers all around the world, is Vivid International, a local company based in Perth.
And another is Adrift, based in Queensland.
These companies consistently produce clothes that are really comfortable, that are made from good quality fabrics, that you're going to feel great in, and look your best in.
Both are quite small companies and in my opinion they make and design the most comfortable clothes ever.
Why Vivid International?
Vivid international is well known for the great quality of their clothing, the lovely fabrics, and the great fit.
" Brands including Vivid, PORTOBELLO, yesadress and Merino Essentials are only manufactured in ethically sourced factories that adhere to our stringent passion for workers rights and pay rates and our love of quality fashion.

As a small family business, our team has always striven to create and produce quality garments at a reasonable price. We want you to feel comfortable and confident in our outfits. Each season brings new designs and a fresh palate of colours to ensure our collections are always on trend, providing loyal customers exciting new ranges all year round."
Why Adrift?
Adrift is known for the coolness of their clothes, and the very wearable fabrics with gorgeous colour ways and prints which change each season.
Based on the east coast of Australia, Adrift is very much catering for people living in heat and humidity.
Sizes go from an Australian size 8 up to a size 22, and because Adrift very much caters for curvy women of all shapes, you'll see the website features lots of gorgeous plus size garments.
I love the tropical look and feel of Adrift's designs, which are aimed to make women of every shape look fantastic … and another thing, all their garments feature pockets! Cool eh! It's a branding staple.
Comfortable Dress For Home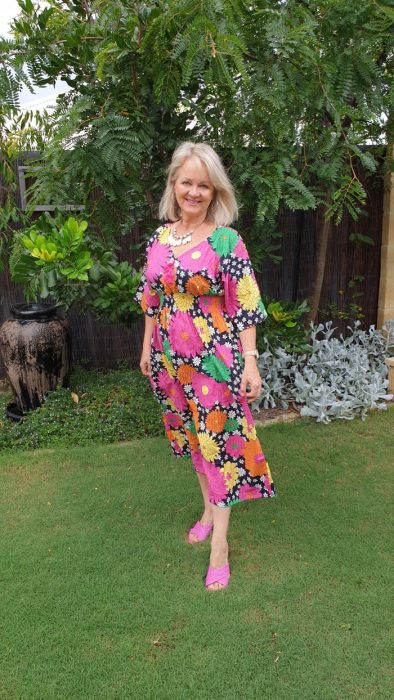 How to Look More Stylish in Comfy Clothes at Home
Don't just throw on a tracksuit, or lounge around in your pj's when you're at home, although this is okay too if you're feeling in need of a bit of laze-about, self-care 😉
But most days dress to look and feel good.
For your own sanity organise your comfy clothes in a section of your closet so that you can go in blindfold and pick out a top and a bottom without having to look, but which you know will look nice together.
Why you should buy from the same brand
If you buy pieces from the same brand each season you'll find that styles between seasons can often be in colour ways that will mix and match, and you may well find that something you purchased a year ago will go beautifully with a new season garment – so you'll get extra wear out of it.
This is definitely the case with Vivid International. The colour tones are often different, but the same, if you get my drift. This season's ponte pants will most likely go with several of next season's knits or blouses.
How to plan out your capsule wardrobe
The basis of good wardrobe planning is your capsule wardrobe, and by that I mean your basic wardrobe of clothes which you can pull out and match with other things. The question, 'How to look stylish everyday' can often be answered by the success of your staple capsule wardrobe.
I wrote more about a capsule wardrobe in this post
Having a good capsule wardrobe will ensure that you never have to look in your closet and think "I have absolutely nothing to wear!"
Make sure that you stick to a couple of colours, such as navy and white, or beige and ivory, and have a variety of comfortable tops and bottoms that all go together.
What to Wear at Home
How to style comfortable clothes to wear at home all day.
If you want to know what to wear at home all day, take a look at the ideas below.
Take a beautiful print top with feature wide arms, and tassle neckline (Adrift) and pair it with stretchy, navy long length ponte pants (Vivid International)
Add a waterfall tassle cardigan in the same navy from the same brand (Vivid International) and black wedge heels. Comfy, easy on the eye and lovely to wear at home because nothing is a tight fit, and navy is a hardwearing colour.
Dress simply
Dress simply. Understated is nearly always not only more elegant but of course easier to put together.
The next outfit I'm gong to show you epitomises this. It's simple, it's classic and you'll wear it again and again.
The Ronda Roll Neck Crinkle Top in Midnight Bloom is one of my favourite tops this season.
It's crinkle cut so you can just roll it up and pack it in a drawer or scrunch it up.
It's beautiful worn with long black pants and accentuated with orange accessories or cardigan.
The relaxed style, the roll neck and the crinkle cut make it an effortless piece to keep in your wardobe – whereas the colours and print make it something that will bring you joy.
This season Vivid have brought out a longer style Ponte Pant which would look great with the (last season) Ronda Roll neck too (see what I mean about buying from the same brand in different seasons?)
Below, the new Paula Pull on Ponte Pants (longer style) look great with this new season, cotton mix long sleeved layer top too which is a casual, easy wear look for days at home.

The Paula Pull On Ponte Pants would also look great with the Adrift French stripe inspired long sleeved T – which I'm wearing with Vivid's 3/4 length stretch bengaline pants, below.
The bengaline pants come in different colours and are easy to wear,
Two way stretch ponte pant with a straight leg.
Two back pockets
Material is a cotton mix
Wear them with a lovely layering waterfall cardigan in cooler weather or a jacket.
How should I dress to work from home
Invest in a few tailored pieces
Invest in a few tailored pieces, albeit comfortable pieces which you keep on high rotation rather than a whole lot of cheap clothes that won't fit so well.
Then if you have a video conference or zoom call at home, you will be looking work ready and professional.
Perhaps pop a jacket over your T-shirt and jeans and nobody will know!
This Vivid International caramel cropped Jacket is a beautiful tailored piece that will go with lots of things in your wardrobe from black pants to blue jeans, and over a little black dress in wintertime.
Solid Colours vs Prints
Sticking to solid blocks of colour over patterns is always a good idea for a quietly elegant style.
Vivid International bring out lots of solid colour block garments each year like this Bubble Dress (below) which is currently available in black and navy. It's so versatile and cute, and very different ….
Try this Comfortable Dress for Home wear
Choose shoes or boots that are comfortable.
There's nothing worse than having sore feet for the sake of a fashionable look. So choose shoes or boots that you can walk in without feeling you have to take them off as soon as you sit down.
Does the look flatter you?
For everyday style the look has to work hard, but is it flattering?
Does what you're wearing accentuate your best body features, or are you trying to make something work for your shape that just won't?
We all have bits we don't like? If you don't like your upper arms, then don't get upset about them, just cover them up. Vivid always has women over the age of 50 in mind and designs are often 3/4 length
Like this Bobbie Button Swing Top in NaturalTropics which I've teamed with white bengaline pants. Both Vivid International. White sneakers FRANKiE4. Altogether such a fresh and vibrant outfit.
Team this swing top with white bengaline cut off pants or blue jeans with white sneakers (FRANKiE4) and you're good to go.
Does the outfit overwhelm you?
Don't wear clothes that overwhelm you for the sake of comfort. Look in the mirror. Does the outfit overwhelm you rather than flatter you? If the outfit wears you (and is voluminous or has lots of contrasting colours) rather than you wearing the outfit, it might be too confusing for your height and shape.
So again, keeping your capsule wardrobe to block colours rather than lots of prints, is a great basis for always having something to wear.
I'm loving the Fluffy soft knit Vivid Knit Vest as a cute and original piece to jolly up an otherwise nice, but quite ordinary outfit.
Try not to wear large with large.
A slouchy or loose swing top looks great with ponte pants or skinny jeans, but it won't look so good with wide bottomed trousers. Ponte pants and skinny jeans look great with a top which covers your tum and bum.
Try the Larissa Blush Top from Vivid International – one of my faves – the cut and the flow are beautiful and the wide sleeves cover your upper arms. Wear it with white ponte pants or blue jeans.
Generally speaking you'll find that wearing light tops with darker bottoms is more flattering than the other way around.
But hey that's a fashion rule you can break right now!
11 Fashion Rules to ditch right now
Why hiding your shape is not always the best way to feel slimmer.
Sometimes you'll feel sexier in fitted garments even if you feel your shape is too curvy for them. Experiment and be bold.
This lovely Luka Lace Impression dress is ruched at the waist and features a V wrap. It's fully lined, has a 3/4 length sleeve, and is very very flattering on.
It's also really comfortable, and as it's stretchy it's not constricting. While this isn't an obvious choice for home wear, you might consider it if you were entertaining.
Top 2020 Trends from Jakomina at Adrift
I asked lovely Jakomina from Adrift if she would share her tips for some new season trends to look out for.
Here's what she had to say …
1 – We are seeing lots of 70's nostalgia, years past are coming back through this season. We love this! Make it work for your wardrobe by paring back with denim.
2 – Nothing wrong with neutral! Basics are a must have for your wardrobe that really add value for money. We we are seeing beautiful shades of beige, white and navy.
3 – Don't be afraid of Bold Prints with dark bases colours. The darker base colours will flatter your figure while blending back with your seasonal items.
4 – Shades of Blue in mosaic tiles, such a great way to incorporate colour into your everyday once the weather sets in.
5 – Accessorize, accessories are the icing on top of the cake when it comes to the perfect outfit. We are seeing a mix of beautiful gold accents and jewel tones in simple settings.
Essentially style is all about how you feel about yourself. So wear clothes that you feel good in everyday – not just 'for best'.
Great style is about you, what you wear and how you present yourself at home and when you're out.
It's all about YOU and you feeling great about what you put on for the day. Everyday!
You have style within you gorgeous lady, just tap into it or watch how others do it and copy them and wear it everyday – just because you're worth it!
Fabulous style ideas from stylish women you might like
Styling You The Label – Everyday style to shop
How I found Style by Vanessa Rowse
Stockists – Clothes and Shoes
This post contains gifted products and affiliate links from which I stand to earn a small commission but at no expense to you. Lifestyle Fifty Website is a participant in the Amazon Services LLC Associates Program, an affiliate advertising program designed to provide a means for sites to earn advertising fees by advertising and linking to Amazon.com. Thanks to everyone who supports my blog. Please read my full disclosure here.