Grey is a versatile mid seasonal colour, and long pants are an obvious choice when the weather is changeable. So what to wear with grey pants? Can you wear any colours with grey? And what goes best with grey?
50 Shades of Grey Pants
Whether you are in Autumn or Spring right now, grey pants are a great addition to your wardrobe.
There are many different shades of grey, dare I say 50 shades of grey? Your own personal choice will decide which shade is best for you. Personally, I prefer a mink grey over a steel grey, but that's my choice and yours may be different.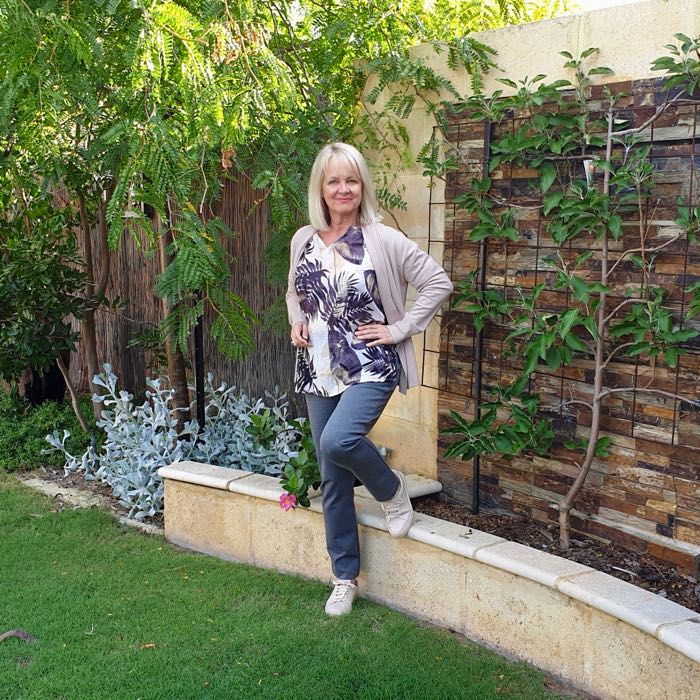 You could team soft grey pants with a crisp white shirt or a white T shirt and layer with a soft beige cardigan, or add a luxury merino wool jumper or black jacket as the temperature demands.
The grey pants below look lovely with the Vivid, viscose swirl knit top in caramel, ivory and silver stripes.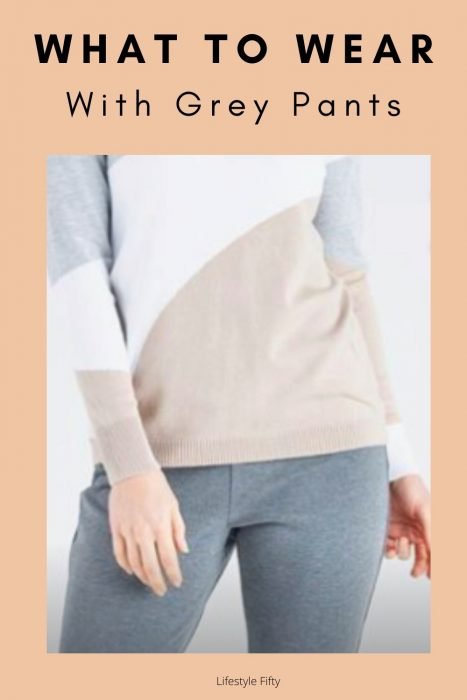 What Colours Go with Grey Pants?
As I mentioned before, there are many shades of grey, but not all shades of grey are equal, so when you're deciding on what colours to wear with your grey pants then think about the tone.
Not all colours will look good when teamed with dark grey and likewise not all colours will look good with pale grey.
Online blogging friend Sylvia talks about grey colour palettes here.
If your pants are a cool grey then try them with cool shades like blue or peppermint green.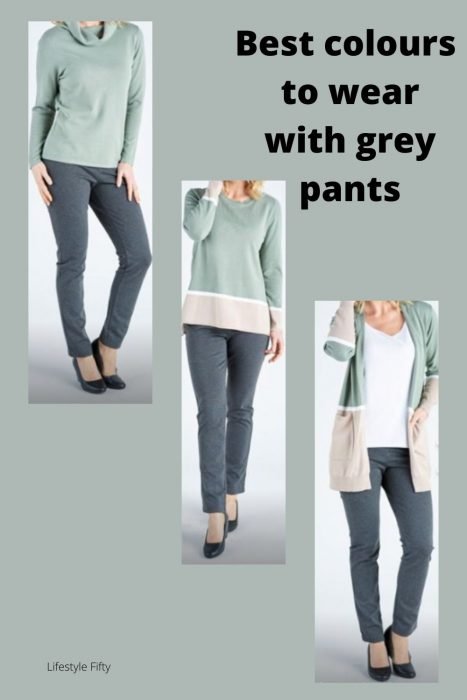 If the pants are in a lighter tone then consider wearing them with a caramel beige or soft pinks.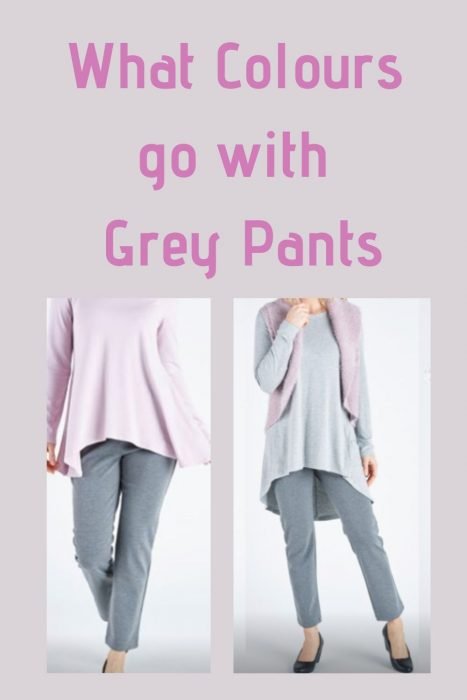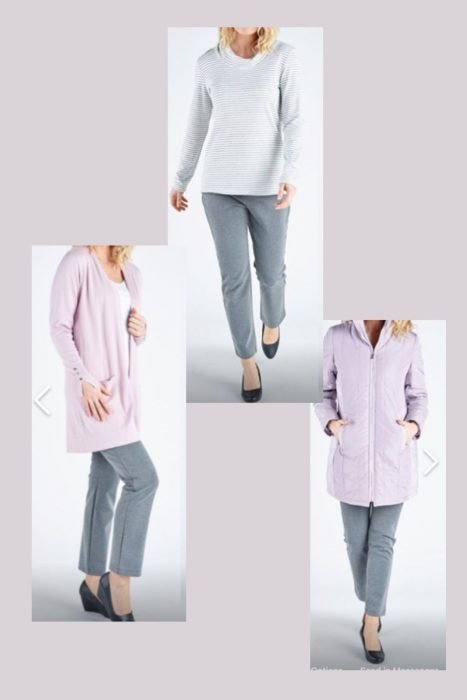 If your grey pants are are in a light grey then black will go well, and if they are in a dark grey then white will look stunning.
Wardrobe basics: What goes with Grey Pants might surprise you.
Because grey is a neutral colour, a great fitting pair of grey pants can and should form one of the basics of your capsule wardrobe. You'll soon find out that they are versatile and serviceable and go with lots of things you already have in your wardrobe.
Don't just stick to block colours. Do try wearing different designs with your grey pants.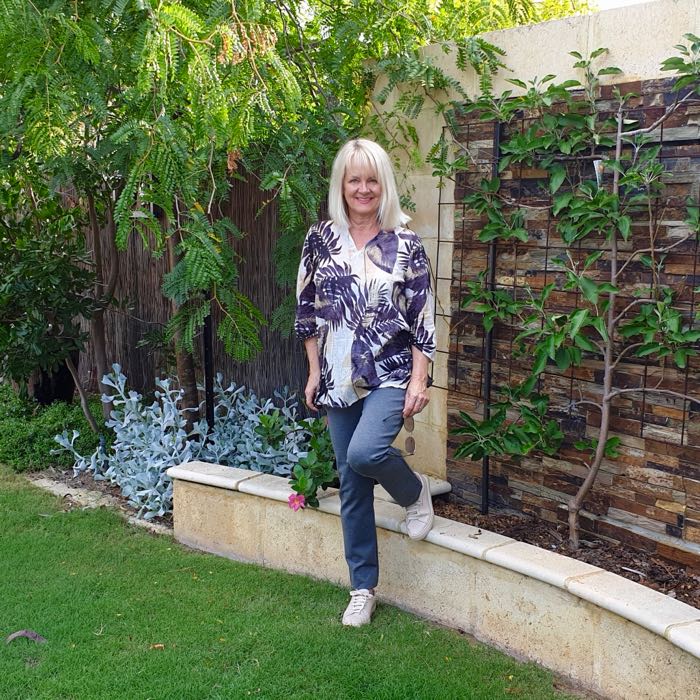 What goes well with grey pants might surprise you. Because grey is not a show pony colour you can experiment and have fun with what you wear on top – be bold and team your pants with polka dots or stripes, both of which can look really eye catching.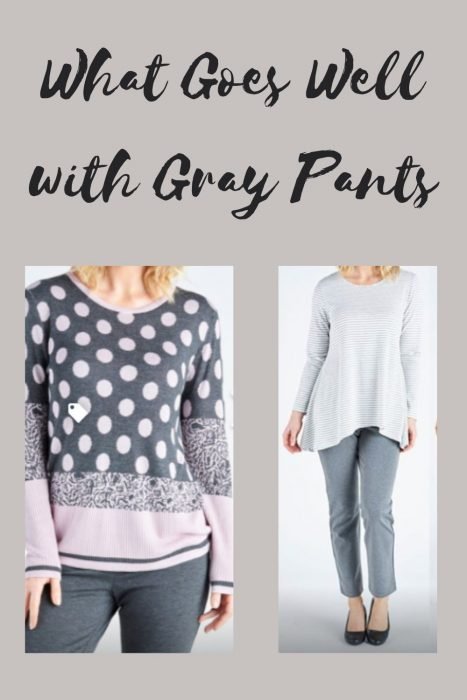 What Can I Wear with Grey Pants
If you are going to buy one pair of grey pants then I'd encourage you to buy a light, vole grey.
I think this is such a classy colour with which you can match a whole host of other muted shades for a country classic everyday look.
Dark steel grey is dominating, and in my mind you might as well go for a more dramatic look and wear black pants instead.
A lighter softer grey gives you way more colour options to look understated and elegant, rather than starkly dazzling which often dark grey or black demands.
Mid season? Try adding the luxe, fluffy Fiona faux fur vest in silver featured below. It will keep you warm and cosy in spring or autumn and it's a perfect statement piece – layer it over a plain top, or pop it over the Polly printed top in Moss, another unusual print with flexible colourways that's soft and stretchy and user friendly.
Think muted shades of dusky pink, peppermint green, baby pink, caramel, ivory and you'll create a seriously chic look.
A light beige jacket will look on point and stylish with your grey pants, while a white t shirt and a pastel dual coloured cardigan in soft pink and birds-egg blue grey will give you a more casual, work at home appearance.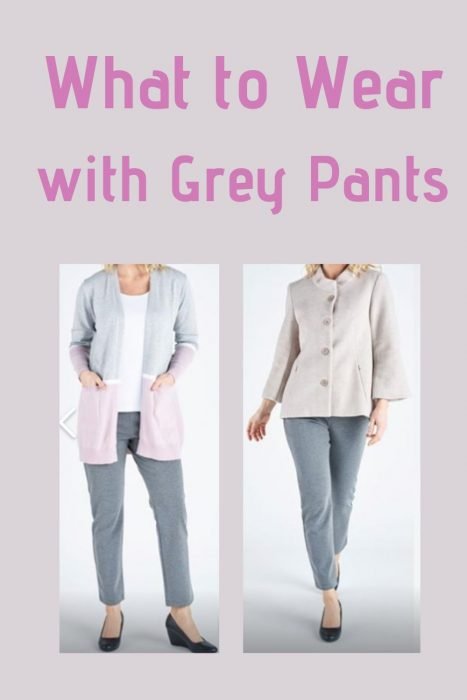 Or try a slinky, long sleeve swing top in a beautiful sandy fawn. Alternatively contrast with a chunky black cardigan.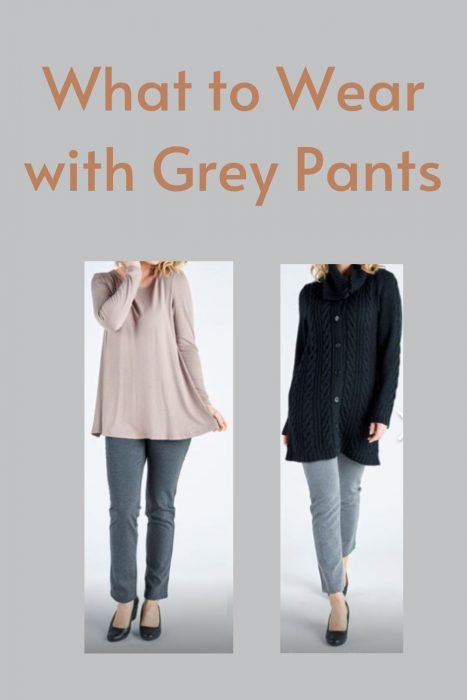 What Colour Shirt Goes with Grey Pants
If you're going for a more formal, more tailored look to wear to work perhaps, then a crisp collared shirt in white, blue or black will look smart.
To add a feminine touch to this more masculine look consider buying a tailored shirt or blouse which has floaty arms rather than ones that button at the wrist.
What Shoes to wear with Grey Pants
Black court shoes are an obvious choice.
So are trendy sneakers – white, black or dusty pink such as these Stylish Walking Shoes the MiM sneakers from FRANKiE4.
If you're wearing block colours you could team your grey pants with black and white or grey and white sneakers.
In warm weather a pair of black or brown strappy sandals would look great.
If the weather is cool then bring out your ankle boots ladies! Brown leather ankle boots and a beige top with a leather handbag looks really classy. Or you might choose black ankle boots, and a black jacket with a crisp white shirt in the mix.
I hope this post has given you some inspiration about what to wear with grey pants – have fun!
Related Posts
If you've enjoyed this post you might also like :
The Ultimate Guide to Fifty Plus Womens Fashion
How to Wear Ponte Pants and look a Million Dollars!
Stockists
All the above clothing styles are from Vivid International. You'll love their mix 'n match ranges available online. Styles ship internationally. Use code JO15 at checkout for 15% discount. Sneakers are from FRANKiE4 footwear. Check them out online and support small retailers.
Follow me on Instagram
This post contains affiliate links from which I stand to earn a small commission but at no expense to you. Some garments and shoes in this post were gifted, and are marked with an *. Lifestyle Fifty Website is a participant in the Amazon Services LLC Associates Program, an affiliate advertising program designed to provide a means for sites to earn advertising fees by advertising and linking to Amazon.com. Please read my full disclosure here.