Updated: July 2023. Finding the best shapewear for a lower belly pooch can make so much difference to how you look and feel. You might want to look great in a figure hugging sweater dress, or slim and trim in a slinky cocktail dress. You most definitely want to feel fabulous in a ball gown or your wedding dress (and let's face it, shapewear bridal lingerie should be extra special!)
If you decide to buy shapewear then it's imperative to find the the best, because it's expensive, and you'll want it to last.
So if you've ever searched for "the best shapewear to flatten tummy," then you've come to the right place.
Getting the right size shapewear to go under the style of dress you choose and finding the best undergarments might take a while to decide upon. My advice is – don't rush your underpinnings! They are important.
The trouble is there's no denying that gravity and time start to make their mark on how we look, and finding the best shapewear to buy that holds our tummies in becomes important to the way our clothes hang on us.
With everything beginning to head south it can affect not only how you look but how you feel too.
As a result this can negatively affect your self-confidence, and perhaps make you feel more self-conscious too. Not the best start to a good day or night out.
Click here to see the number one pick as best shapewear for the lower tummy
We rate this range highly as it offers so many options to suit every figure. Take a peek at their attractive designs! I think you'll see why no-one would even know you're wearing shapewear!
Your Guide to The Best Shapewear for Lower Belly Pooch
The brutal truth is that lower belly pooch shapewear is a particularly popular underwear item, especially among women who've borne children or had any kind of abdominal surgery in the past.
Whether you are petite or plus size there is shapewear to suit you.
So what's the very best shapewear to hide a lower belly pooch?
Which brands can you rely on, and what are the pros and cons of the best shapewear for tummy control? What should you consider when buying shapewear?
This guide will answer these questions – and recommend our top picks for the best shapewear for tummy pooch that you can buy right now.
So stay right here, and read on to find the ideal lower belly shapewear for you.
Best Shapewear for Lower Belly Pooch Comparison Table
Name
Shape
Features
Price
Honeylove Sculptwear
Briefs, shorts,
thongs, bodysuits and leggings.
Lots of options, looks stylish, smooths,
lifts & supports.
Click here
Modibodi Tummy Taming Underwear
Full brief
Absorbent, leak-free shapewear, environmentally friendly
Click here
Spanx Shapewear for Women
Mid thigh shorts
Seamlessly smooths thighs, hips,
tummy & waist. Fully-bonded front-panels.
Click here
Bali Lace Body Shaper
Bodysuit
Pretty lace bodysuit, smooths stomach, waist and breasts.
Click here
Maidenform Firm Foundations
Bodysuit
Firmer control, smooth anti-static fabric, cool feel.
Click here
How does shapewear help you achieve a streamlined silhouette?
Shapewear is a brilliant answer to help you flatten lumps and bumps around the tummy and thigh areas.
It offers targeted support and compression in all the right places without making you feel trussed up like a turkey at Thanksgiving!
Honeylove comes out tops for me, having tried them – and practically lived in them!
Shapewear should smooth out and gently contour your problem areas to help your clothes fit better no matter what your body type.
It should help your dresses drape more elegantly, making you look immediately more polished, and sleek, in general.
By choosing to wear shapewear whether it's underwear or activewear you can almost instantly look slimmer and conceal any lower belly pooch, which may in turn boost your confidence and self-esteem.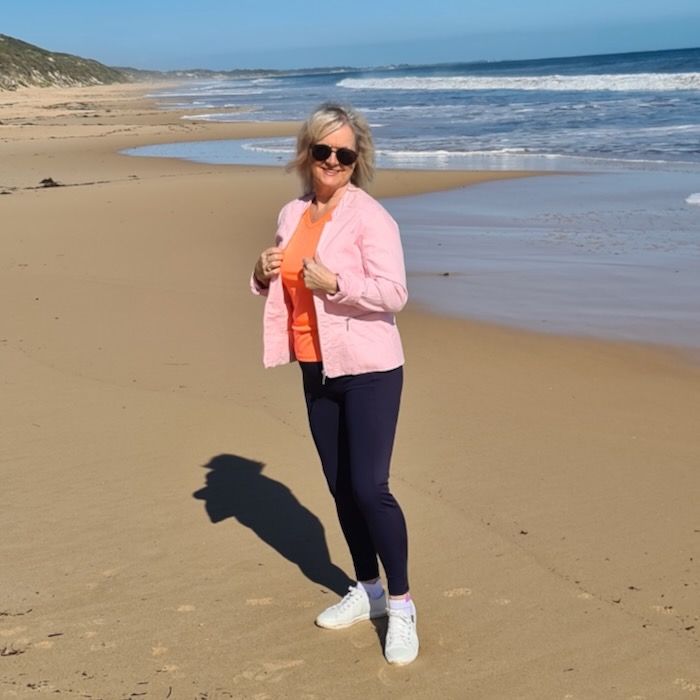 How to Choose the Best Shapewear to Flatten Tummy
Trying to choose the best shapewear to hide a tummy? First of all make sure to read the best shapewear reviews for suggestions and advice.
Here are some of the main factors to consider when deciding what to buy:-
Level of control
Do you want firm control, or just a little extra contouring? Although all products listed are designed to be as comfortable as possible, a higher level of control usually means a little less comfort.
However, please don't buy something so tight that you feel as if you can't breathe! There are limits to beauty after all, and we are not living in the 19th Century!
Shape control for other areas
Some of the shapewear listed here can also smooth the breasts, waist, hips and thighs – as well as being the best shapewear for your stomach. If you have other areas of your body that you want to smooth down or minimise, these products may be worth a look.
Looks
Do you mind what your shapewear looks like, because let's face it, it is shape wear and it needs to be made of a firm, stretchy material. Would you prefer something less obvious? With some styles, especially shapewear underwear, you would never know it's shapewear, while some of the other more 'hold-in' styles that contour more of your body may be more pronounced.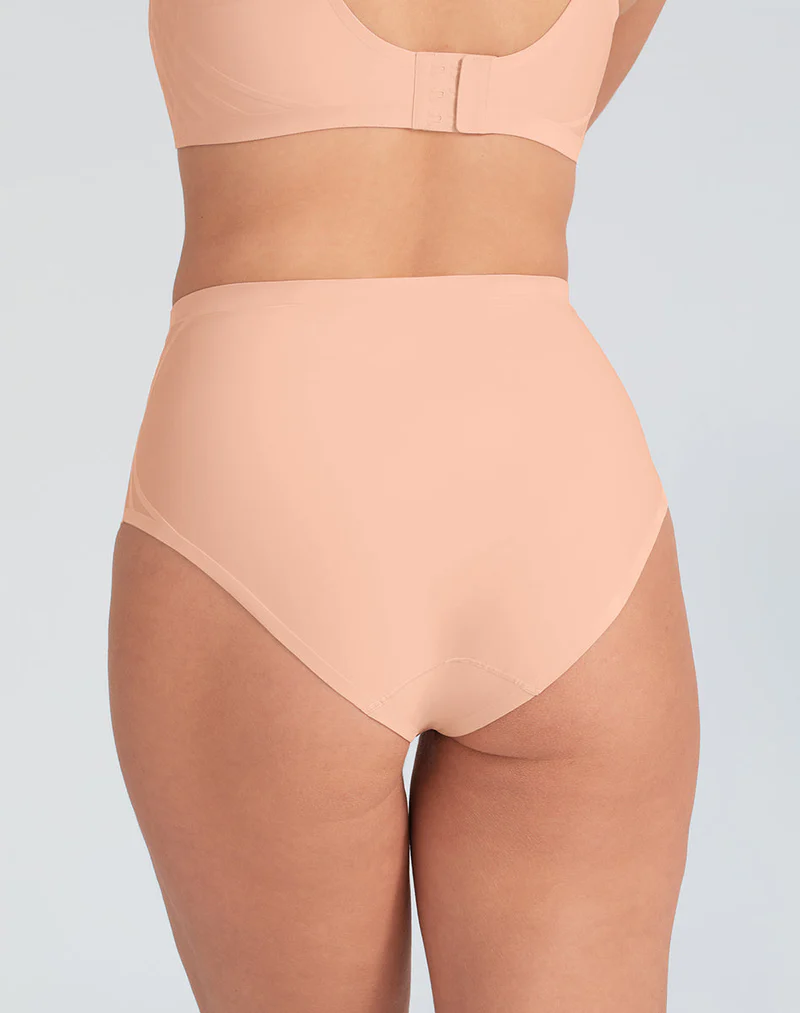 Other helpful features
One of the garments listed in this article is not only the best control pants for a tummy that needs holding in – but also doubles up as incontinence pants or sanitary wear. Win Win!
Shapewear for the lower stomach – frequently asked questions
Here are the answers to some questions often raised by customers considering tummy control underwear.
Why wear Shapewear?
Will wearing shape wear make you enjoy your day or evening more?
If you find it gives you extra confidence then the answer is, Yes!
We all need a boost sometimes, and if shape wear gives you that then surely it's worth every penny?
It may also mean you can now wear garments you'd previously dismissed as too form-fitting or unflattering!
What are the pros of wearing Shapewear?
Having some great shape wear at your disposal means feeling and looking great when you go out. It can also open up new possibilities in terms of the outfits you can buy and wear.
What are the cons of wearing Shapewear?
There are two main cons. Buying shapewear clearly has a cost implication, although you can wear one piece under a range of different outfits. The other con involves comfort – shapewear will generally feel a little more restrictive than standard underwear.
Which are the best Shapewear Brands?
While it does depend on each individual product, we rate the brands featured here. These are Honeylove, Bali, Spanx, Maidenform and Modibodi.
The 5 Best Lower Belly Shaper Products
Honeylove's great range of underwear shapewear includes shorts, thongs and briefs, as well as the Queen Brief and a cross over cami bodysuit.
Whether you want the best plus size shapewear for a lower belly pooch, or are slender all over but self-conscious about your tummy, this range is ideal.
Below is the silhouette brief, everyday smoothing undies featuring a fabric that moves with you. In this range you can choose from three different support levels.
If comfort is key you might like to go for the smooth Silhouette brief, while the CrossOver Brief has mesh side panels that offer a bonded tummy panel for targeted compression.
Those who want to look super trim in a panty style might prefer the ShineTech Brief that has a compressive shine doubleknit panel at the lower tummy level.
For ultimate control why not try a body suit or the Queen Brief that features an hourglass compession panel and smotthing brief bottom, to give an all-over shaping without sacrificing comfort or style.
Pros:
Stylish range
Lots of options
Lifts, smooths and supports.
Cons:
Strong compression garments can be less comfortable
Click here to view Honeylove's body shaper for lower stomach range
If you want the best belly shapewear that's also comfortable, then this simple full brief from ModiBodi should fit the bill very nicely.
This is also a multi-purpose product, as it acts as leak-proof underwear while shaping and sculpting the area between the hips and the natural waistline.
There's no need for tampons, pads or pantyliners when wearing this lower tummy control shapewear, as it can cope with discharge, menstrual bleeding or bladder leakage that is light to moderate.
It's even made using 78% recycled material and supports your back as well as your belly too.
Pros:
Absorbency and shaping in one
Perfect for periods or weak bladders
Kind to the environment
Cons:
Covers lower belly and back only
Click here to see Modibodi's absorbent body shapers that flatten the stomach
If you're seeking the best Spanx for a lower belly pooch, look no further. The original brand has come up with this fabulous pair of shorts that are not only the best Spanx for the lower tummy – they shape the hips and thighs too.
Available in a range of skin tones as well as black, this may be the best stomach flattening shapewear when you want to feel comfortable. The smooth, seamless design offers lightweight shaping for all-day wear.
Pros:
Waist, stomach, hip and thigh shaper
Smooth, seamless fabric
Designed for all-day wear
Cons:
May roll down during activity
Click here to view the best Spanx for your stomach
You have to love this body shaper for the fact that it doesn't look like an item you're wearing to provide lower belly support.
While it is shapewear to flatten the stomach, all it actually appears to be is a pretty, lacy bodysuit in black, ivory or white.
With 28% spandex, this is among the best tummy flattening shapewear that also feels comfortable. As it covers the breasts, crotch and the area in-between, there's no risk of any bulging areas as long as you order the right fit – and that's easy as you simply go for your usual bra size.
Pros:
Attractive, lacy bodysuit
Covers stomach, waist and chest
Also available as two-pack
Cons:
Less firming than other options
Click here to see this comfortable and attractive Bali belly shapewear
From a respected lingerie brand comes this seamless, shaping bodysuit.
This is not only amongst the best underwear for tummy control, it also has a built-in smoothing bra. With 36% spandex, this is a great option for those who want comfort as well as control.
Again you simply order according to your usual bra size, and there are adjustable straps to ensure the perfect fit.
A key benefit of this product is the anti-static fabric that is also designed to stay cool all day long. Certainly one of the best body shapers for the tummy that we've found.
Pros:
Firmer control than other bodysuits
Smooth, anti-static, cool feel fabric
Supportive, built-in bra
Cons:
More restrictive than other choices
Click here to view this Maidenform best rated shapewear for your tummy
Frequently Asked Questions
What is the Best Shapewear for Plus Size Brides?
Your wedding day is your big day, and should be one of the best days of your life. The best shapewear for plus size brides is really no different to the shapewear any curvy woman might choose. But it needs to be comfy because you are probably facing a long day!
Finding the right wedding dress that you feel comfortable in and which looks great isn't always easy, and with the best will in the world it's not always possible to find one that exactly fits your body type, whatever size you are.
Bridal lingerie should be special. If you decide to wear shapewear then it's imperative to find the right size wedding shapewear to go under the style of dress you choose, to make you look the very best on your big day.
What is the best bridal lingerie? Choosing the right undergarments
For your special day sexy lingerie and the right size undergarments are more important than ever.
They need to give you a little extra coverage, they need to be the right fit, they need to lift, support and outline without showing seams.
The best bridal shapewear or sculptwear needs to have great tummy control and a bit of extra support to help hide any problem areas, and give you an hourglass shape without disguising your natural shape.
You might need to think about buying underwear that doesn't show panty lines.
Seamless shapewear is imperative.
A great choice is Modibodi Tummy Taming Underwear because not only do they have a great range of seamless briefs in comfortable fabric, but they also have a selection of leak proof underwear too which is a great option because it will give you more confidence throughout your long day and into your wedding night.
For a curvy bride you might choose a more full bridal gown under which you could wear firm control shapewear such as this full body shapewear.
The best shapewear pieces have come a long way over the years, and there is now every type of shapewear imaginable for all size women with new products coming out all the time.
So don't be afraid to experiment before the day and find the best wedding shapewear to go under your perfect dress.
Waist cinchers, thigh shapers, full body shapers, adjustable straps and medium compression, are all words to look out for when you are choosing the best body shapers and the right shapewear to ensure your dream dress has smooth lines – especially in the wedding photos or on the dance floor!
The good news is that the right fit shapewear, to give you great support under your figure-hugging dress is out there.
What is the right bra for a wedding dress?
Your own bra that you use for everyday wear is not going to be the best bra to wear for your special occasion! And a plus-size bride needs to choose carefully.
Supersoft bras that eliminate bulges should be your prime aim when choosing a bra to take you through your big day.
A wedding gown might have an open back, or it might be a strapless dress, so it's a good idea to choose a strapless bra, and the best of these typs of bras can still lift you up in the right places without showing ugly straps.
You might choose to buy an adhesive bra without bra straps. This will most likely offer light control but not full control or lift.
If you are wearing a wedding dress with a plunging neckline then you can choose a lift-up bra, it might even have wide straps with adjustable shoulder straps or be an underwire bra. Just make sure it's comfortable as well as sexy!
Check out this post to help you find the right bra: Best Bra Ultimate Guide (it contains a huge selection of bras with descriptions about them and where to buy and it also contains a section on how to size your bra correctly).
You might also find this post helpful: Best Comfy Bra (for women who demand comfort.) and this post about underwear How to Wear Yoga Pants without Underwear Lines.
How can shapewear help flatten your tummy and improve self-confidence?
Shapewear has been around for many years.
Think back to Victorian times and you have corsets.
Thank goodness the best tummy-control shapewear these days has improved technology and is not nearly as uncomfortable! However, it still has the benefit of flattening the tummy area.
Its unique design and materials offer targeted compression, from high compression to low compression and firm control that offers extra support in particular body areas, or gentle support in a more lightweight fabric if you just want to smooth a certain area out.
The overall effect of compression fabric is that it effectively smoothes out bulges and creates a more streamlined midsection.
The compression technology is aimed to help redistribute and flatten your fatty areas, giving the appearance of a slimmer waistline and a flatter tummy.
By wearing shapewear you can confidently pop on your tightly fitted garments, or favorite garments which are now perhaps a little tighter than they once were, and not worry about bulges or imperfection.
Feeling great about the way you look, and knowing that your natural shape now has an enhanced appearance without resorting to cosmetic surgery can definitely lead to a boost in self-confidence.
Shapewear's ability to improve body proportions, and enhance your natural curves to give you an hourglass look can help instill a positive body image, encouraging you to embrace your shape with pride and poise.
Great shapewear can be especially empowering when worn under tight fitting cocktail dresses or ball gowns for special events or special occasions when you want to look fabulous. Knowing that to all intents and purposes you look as if you have a sleek and toned tummy can help you focus on enjoying the moment and not worrying about having to hold your tummy in!
However, shapewear isn't the be all and end all, and it's important to acknowledge that all body shapes are beautiful, and you can feel great whatever your appearance while appreciating your unique beauty.
Shapewear is just a top pick for some people to give a little bit of additional support and can be a great option to make your everyday wear look more fabulous.
What is shapewear and how does it work?
Shapewear is essentially a type of undergarment or clothing that's designed to shape and contour the body, providing a more streamlined appearance.
Typically it's made from a blend of elastic and compressive materials, such as spandex, nylon, or polyester, which offer varying degrees of support and control.
Shapewear works by using targeted compression to smooth out and redistribute body fat, creating a more toned and sculpted silhouette.
The tight-fitting nature of shapewear holds the body firmly and helps to compress areas like the tummy, waist, hips, and thighs. This compression can temporarily reduce the appearance of bulges and create a slimmer look.
The construction of shapewear may include different panels or layers, each with specific levels of compression to address specific problem areas.
For instance, shapewear designed to flatten the tummy may have extra reinforcement in the abdominal region, while thigh-slimming shapewear might have added compression in the thighs.
Shapewear can be found in various styles, and the best shapewear pieces include high-waisted panties, shaping shorts, waist cinchers, bodysuits, and camisoles, among many others.
It can be worn discreetly under your clothes, and nobody need be any the wiser that it is shapewear that's providing an immediate smoother appearance.
What Types of Shapewear Target the Tummy Area?
There are several types of tummy control shapewear specifically designed to target the tummy area and provide a flatter, more contoured appearance. These include: High-waisted tummy control panties, tummy control shaping shorts, waist cinchers, corsets, full body suits, and shaping camisoles.
Top Shapewear Options for Tummy Flattening
1. High-Waisted Tummy Control Panties
This is underwear-style shapewear that goes up to the waist, offering targeted compression and support to the tummy and waistline.
This kind of shapewear offers the best tummy control. It's generally seamless and discreet under clothing, providing a smooth look.
2. Tummy Control Shaping Shorts: High-waisted shorts not only cover the tummy area, but also the hips and thighs. They are designed to eliminate a muffin top and provide a seamless look under dresses, skirts, or pants.
3. Waist Cinchers: Waist cinchers are narrow belts or bands that wrap around the midsection to cinch the waist and flatten the tummy. They offer firm compression and can be worn under various outfits.
4. Corsets: Corsets are more rigid and structured garments that provide strong compression to the tummy and waist. Traditional corsets lace up at the back.
5. Full Bodysuits and Shaping Camisoles: These offer complete coverage from the bust to the thighs, including tummy control. Full bodysuits and camisoles help to smooth out the entire torso, providing a streamlined look under dresses and tops.
What to Consider When Choosing Shapewear For Tummy Control
When choosing shapewear for tummy control, several factors should be considered to ensure a comfortable and effective fit. Here are the key factors to keep in mind:
1. Compression Level: Determine the amount of compression you need based on your desired level of tummy control. Shapewear comes in different compression levels, ranging from light to extra firm. Choose one that suits your comfort and the level of support you require.
2. Size and Fit: Shapewear comes in many different size options. So do make sure to select the right size to avoid discomfort, and to ensure your shapewear functions properly. Make use of the tmanufacturer's size chart, and do take accurate measurements of your waist, hips, and sometimes your bust to find the best fit.
3. Type of Shapewear: Decide on the type of shapewear that best suits your needs. Consider options like high-waisted panties, tummy control shorts, waist cinchers, or full bodysuits, depending on the coverage and support required for your specific outfit.
4. Fabric and Breathability: Opt for shapewear made from a breathable fabric, or a moisture-wicking fabric. Choose pants with a cotton gusset when possible.
5. Seamless Design: Look for shapewear with seamless construction to minimize any visible lines (VPA) under clothing, providing a smooth and natural look.
6. Waistband and Boning: Check the waistband and ensure it stays in place, without rolling down or digging into your skin. Some shapewear may have boning or stays for added support and structure. Make sure these are comfortable.
7. Ease of Use: Consider how easy it is to put on and take off your shapewear. Some designs may have hooks, zippers, or various adjustable closures for convenience and easy access.
8. Occasion: Think about the specific outfit or occasion you intend to wear the shapewear for. Different types of shapewear may be more suitable for casual wear, formal events, or exercise purposes. Think about different colors – do you need a nude color that will not show through your outer clothing at all, or would you prefer black or white to match up under a particular outfit?
9. Comfort and Flexibility: It seems obvious, but do make sure your shapewear allows for comfortable movement and doesn't restrict your activities or blood flow. Flexibility is crucial, especially if you plan to wear it for an extended period.
10. Health Considerations: Shapewear is not right for everyone. Personally I don't like underwear that is too tight in any way, so really firm compression underwear is not for me. Additionally I don't wear any kind of shapewear for any longer than a few hours. If you have any concerns or medical conditions then you must consult with a healthcare professional before using shapewear to ensure it's safe for you.
By considering these factors, you can find the right shapewear for tummy control that suits your body shape, outfit needs, and personal comfort preferences.
Which is The Best Lower Tummy Shapewear For You?
We hope this guide has helped you to find the right option from the best shapewear we've come across.
From firm tummy control shapewear to a subtle, lacy bodysuit, we hope you'll find the best shapewear to suit you in this blog post.
Final Thoughts About Shapewear For Tummy Control
Each type of tummy-targeting shapewear offers various different levels of support and coverage.
The best body shapers won't have visible panty lines.
Ultimately, you'll find you have plenty of options, but it's down to personal preference to find which piece of shapewear suits your needs the best.
Whether you choose medium compression, or firm compression it's up to how it makes you feel and look.
Don't wear compression garments for long periods of time. Do consult your health professional if you are going to wear tummy control garments or compressive garments and have any concerns or worries.
Finding your favorite shapewear pieces that offer both support and also feel good on you might mean sometimes choosing the most comfortable thing, rather than the most compressive garment.
Uncovering the shapewear style, and the shapewear brands that give you the perfect fit, and best suit your body type may take a while, but once you know – then you know!
Don't forget to follow Lifestyle Fifty on Instagram and Lifestyle Fifty on Facebook if you'd like to keep up with all the new posts and updates.
Recent popular posts include:
How to Wear Leggings for Women Over 60
Classy Casual Outfits for Ladies Over 50
Best Style Dresses to Hide Tummy
Best Washable Incontinence Underwear
The Ultimate Guide to Fifty Plus Women's Fashion
How to Wear Ponte Pants and Look a Million Dollars
How to Wear Yoga Pants without Underwear
How to look Younger than you really are
Best Yoga Pants (that will hold you in)
All posts on Lifestyle Fifty are copyright © Lifestyle Fifty
This post "Best Shapewear for Lower Belly Pooch," contains affiliate links from which I stand to earn a small commission but at no expense to you. Any gifted items are marked with an *. Lifestyle Fifty Website is a participant in the Amazon Services LLC Associates Program, an affiliate advertising program designed to provide a means for sites to earn advertising fees by advertising and linking to Amazon.com. Please read my full disclosure here.
Please Pin or Share This Post for Future Reference!