In the colder months your clothes need to work hard for you. But don't pack away all your summer clothes because many of your summer dresses can be styled-up to give you extra warmth even if the temperatures dip to freezing point.
You can easily adapt most of your summer wardrobe to make garments work just a little bit harder and longer. That way you have a more effective winter wardrobe without having to pack away or store a lot of clothes in the spare bedroom cupboards! (Guilty as charged!)
The good news is that there are plenty of ways to extend your wardrobe without breaking the bank by going out and buying a whole lot of new garments for the colder time of year.
So, let's be clear! Don't pack away all your beautiful cotton summer maxi dress, or the jersey dress that's just a bit too thin on material, or your little black slip dress.
But do experiment.
What else can you wear with that dress to take you into the colder days and nights of your winter season without freezing to death?
A fun way to add extra life to a summer dress is to wear skinny jeans, cut off capri pants, or leggings underneath it. This works really well with dresses that fall above the knee. However, you can also do this with midi or maxi dresses as I'm sharing in the image below.
The Ultimate Guide – How to Wear a Dress in Winter
A complete winter wardrobe might include additional garments such as trench coats, black tights, long sleeve cardigans, a beautiful long coat that goes with lots of outfits, and perhaps sweater dresses suitable for the cold weather of your winter season wherever you are in the world.
Many of these garments you'll most likely have already, as they should form part of your winter capsule wardrobe.
Today we'll specifically take a look at how to wear a dress in winter and still look fabulous while keeping warm.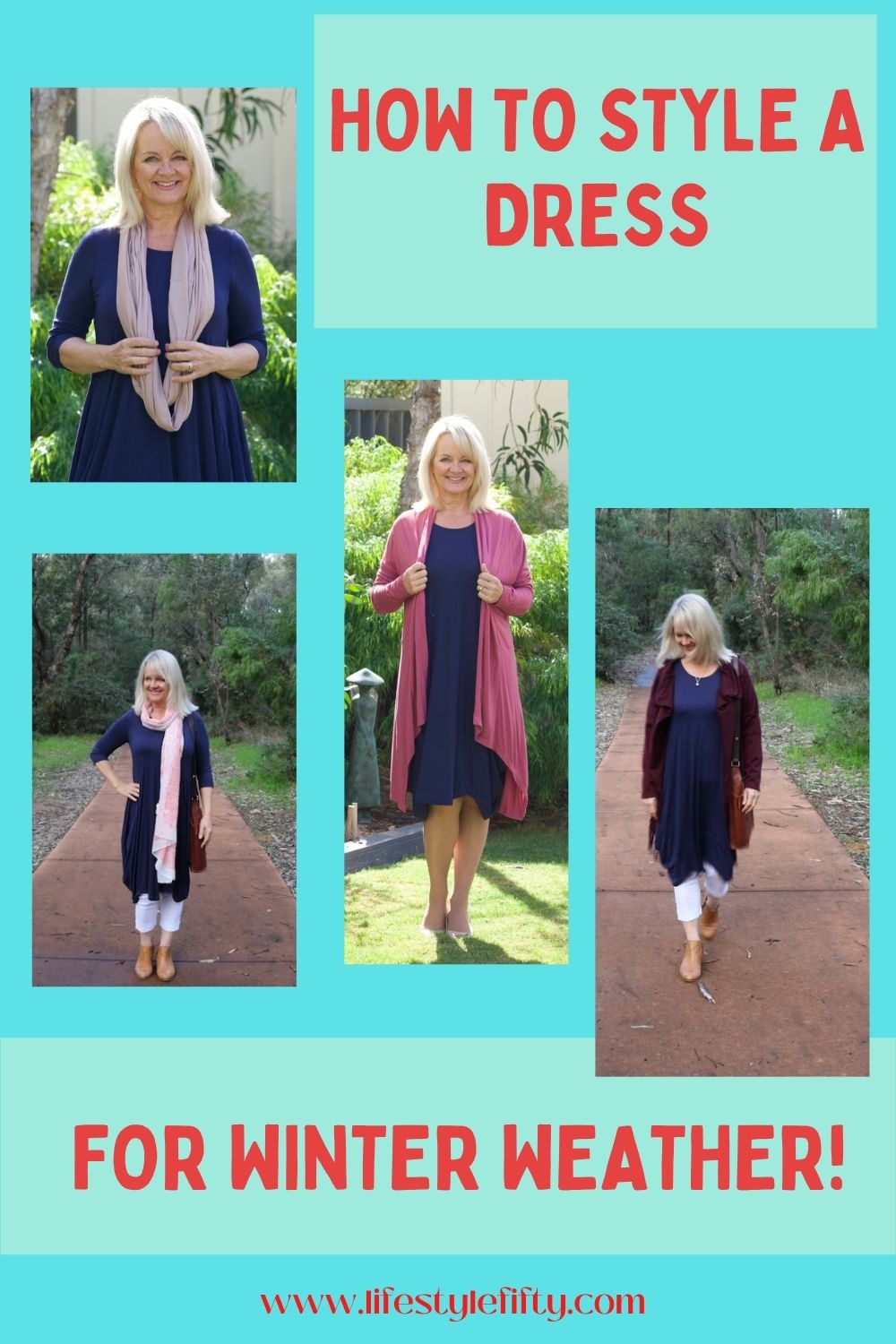 How to Style a Dress for Winter Weather
Lots of us (me included!) will default to jeans, joggers and sweat pants during the cooler months of the year, but why pack away all our summer dresses?
Obviously those who live in warmer climates will be less inclined to pack them up in the spare wardrobe or boxes for winter, but those of us who live through hard or wet winters we may not feel quite the same about thin fabrics.
There's actually no need to pack them off into winter hibernation, because one of the best ways to wear a dress in winter is to learn the art of layering.
Fashion bloggers with years of experience at styling different looks are professional at this.
They know that a great way to ward against the winter chill in colder weather is to pair a fabulous winter coat with a little black dress, or to wear a long-sleeve mini dress with basic black boots and add a pop of color with a beautiful winter jacket or long line cardigan on top.
Other great options include teaming skinny jeans and fur lined tall boots with simple summer dresses for a hip and happening winter look.
Oh yes, we have come a long way in fashion! The dictates of what to wear and when are fading.
The best part of it all is that mostly all that matters today is that you feel good in what you wear and get out in the world and have a great time!
Just make sure to use of your favorite cozy staples, and pair them with your best dresses from warmer months.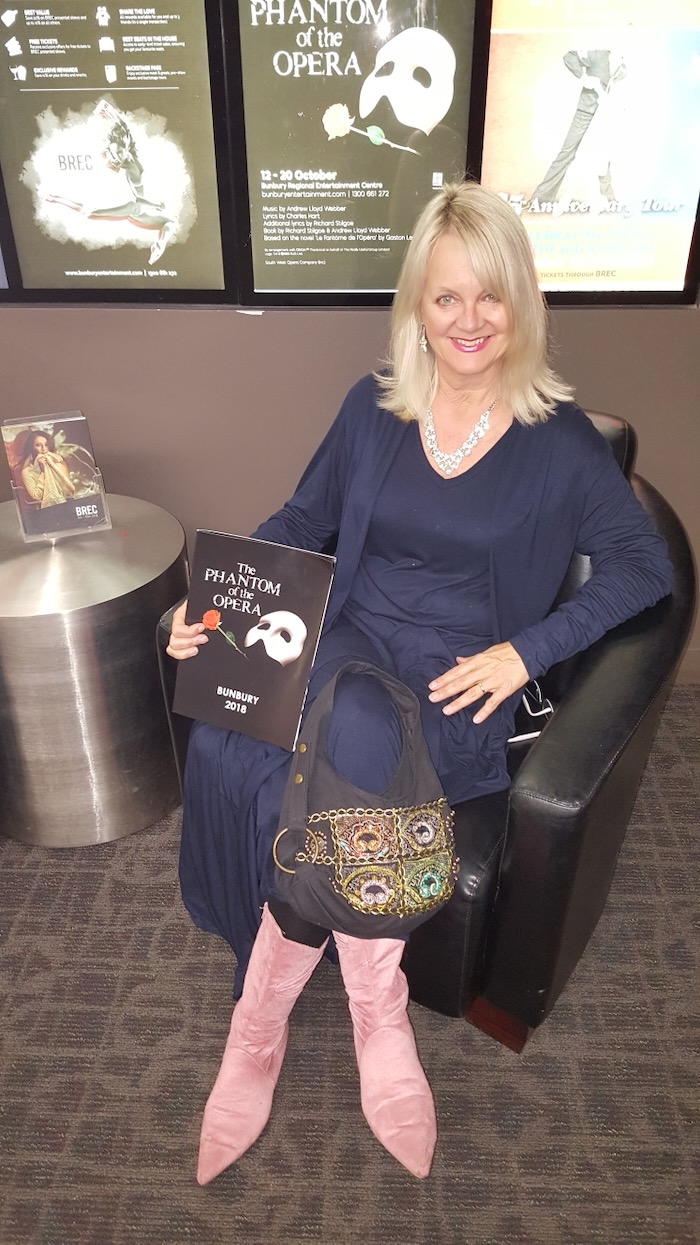 Winter Wardrobe Layering
In winter, it's important to layer-up, or wear a thicker dress that will keep you warm. There's nothing worse than feeling chilled to the bone for the sake of fashion!
Just think about how you can pair dresses of different lengths with tights, leggings or trousers underneath.
You can also very simply wear a summer dress with a cardigan or coat over the top.
Cozy sweaters and long-sleeved tops are fabulous worn under or over summer dresses, and can give your floaty cotton day dresses a whole new look.
Don't forget faux fur – a faux fur vest can add a touch of glamour to a dress in winter.
Accessorising is also important in winter. You can add scarves, hats and gloves to your outfit to make it more stylish and keep you warm at the same time.
Don't forget to stock up on thick socks, winter tights and black leggings that you can easily wear beneath knee-high boots or knee boots.
Sweater dresses are also fabulous for winter because they add extra warmth and you can still add an extra layer.
Ankle boots are a must. They can look fabulous with summer maxi dresses that you layer up with a pair of tights, a silky slip, and a great fitting blazer or jacket in the colder months.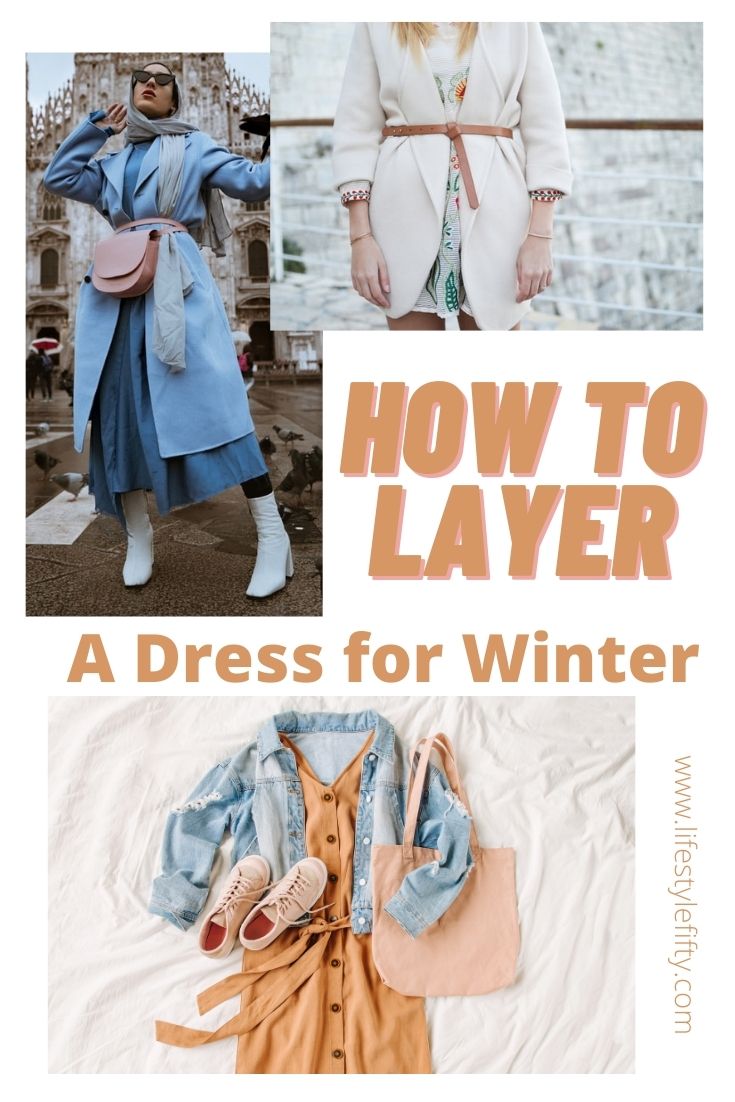 How to Layer a Dress for the Perfect Winter Look
If you don't want to freeze, dressing stylishly for winter can be a bit of a challenge. Whereas slipping into comfy-womfies like ill fitting tracksuits is very easy, but not very stylish!
However, with the right layering techniques, you can stay both warm, comfy and fashionable.
Pop on a lovely leather jacket with your dress – you might also like this post How to Wear a Leather Jacket with a Dress.
For some fabulous leather jackets, take a look at all the current styles at The Jacket Maker. You can customise your jacket for a perfect fit online!
The first layer under a dress is the most important one. It should provide warmth and should be made of something that will not irritate your skin. Thermal vests are of course a great option if you live in a seriously cold climate. These days you can buy pretty thermal underwear, and it need not show beneath your dress.
Also think about an old fashioned petticoat or slip, as this will give an extra layer of fabric to keep warm air trapped around your legs and bum.
The second layer (or a thicker first layer) could be a long sleeve shirt or sweater worn beneath your dress. If you have a summer dress with thin spaghetti straps try slipping on a long sleeved T shirt underneath.
The third layer is an outerwear piece like a snug sweater, coat or jacket that will keep you warm in colder temperatures. It's amazing how trendy a summer dress can look when worn with a winter sweater or a loose fitting woolen jacket belted over the top.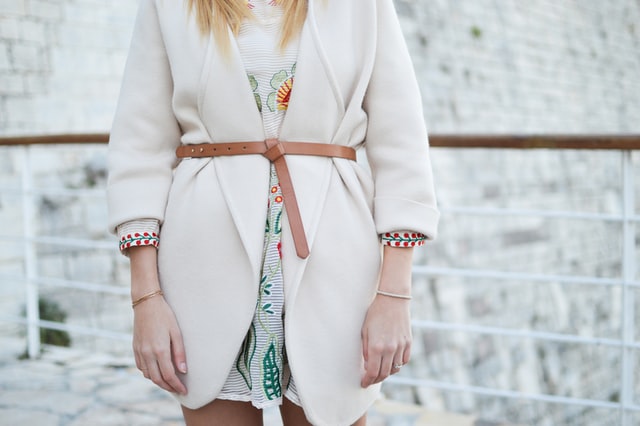 15 Ways To Wear A Dress In Winter
A dress is a perfect outfit for winter. It can be worn to work, for a casual date or even for some formal occasions. Here are some top tips, and important things to consider, so that you can trial many different ways to wear your dresses in winter:
Wear your dress with a fashionable well cut blazer and a pair of boots.
Wear it with a sleeveless puffer jacket that stops at your hips, or try it with a long length full sleeved puffer.
Add a thermal vest underneath that nobody can see, and pop on some thermal tights.
Wear it with a trendy thick jacket – your new best friend in winter months.
An easy way to wear a summer dress in winter is just to add a thick bright cardigan.
For an evening look cover up your bare legs with thicker tights and pop on high heel shoes.
Wear your dress with warm fashion tights and flat shoes.
You can ditch the summer sandals, and wear a thin summer dress with leggings, and warmer ankle boots or sneakers.
A great idea is to layer up your dress by wearing it with a block color sweater or turtleneck jumper.
A stylish look can be achieved by wearing a dress with a bright coloured, really big, oversized sweater over the top.
In chillier temps wear a shorter dress with the added layer of a longer, floaty kimono on top.
The easiest way to get a sophisticated look is to pop on a great leather jacket as your top layer.
Wear your favourite frocks with the right accessories in winter colors.
Nothing shouts classy better than keeping things simple. So do consider wearing a simple frock with something understated like a black turtleneck sweater.
Sometimes all you need to add is a waterfall cardigan and a pretty silk scarf.
How to Style Your Dresses with Boots and Scarves for Winter
A scarf is a versatile accessory that can be worn in many ways to create a fresh looking, winter outfit.
You can wear it as a belt, wrap it around your neck, or even tie it to your bag.
There are many ways to style your favorite frocks with different boots and scarves.
For instance you could wear a short dress with tall boots and a warm winter jacket for an edgy fashionable look.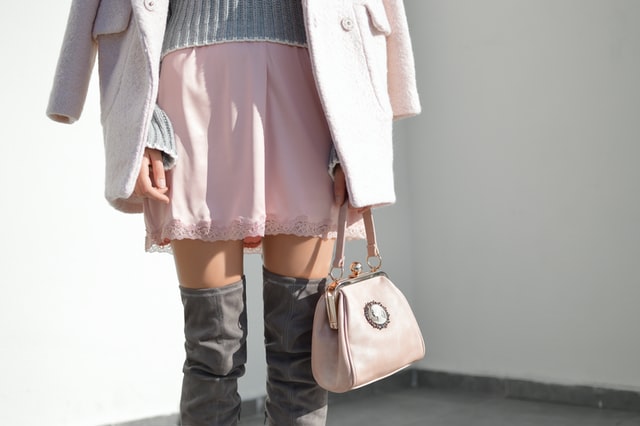 A great way to accessorise a winter dress is with a long scarf wrapped around your neck or shoulders. This will give you a 'le weekend' look that's perfect for going out on a casual outing at the weekend.
You can also wear a long dress with a winter coat, ankle boots and a shawl or stole. This will warm you up on a cool day, while still looking sophisticated and fashionable. Pop on a big pair of sunglasses and grab a leather handbag and you're good to go.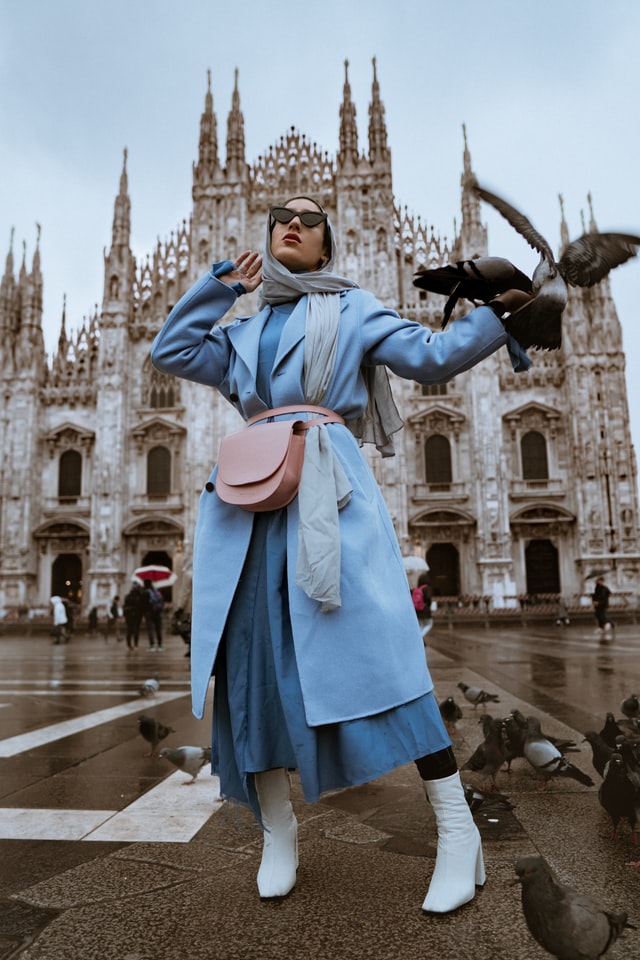 Best Styling Tricks for Sleeveless Dresses
Don't banish your sleeveless dresses to a pile in the store cupboard this winter. Do try them with different things.
Separate sleeves, whether mesh or lace, can give you another welcome layer and turn your dress into something that looks brand new.
If you would like to see a selection of sleeves, check out this post "Best Sleeves for Under Dresses".
Wearing arm cover ups is one of my favorite ways to style slip dresses, strappy or sleeveless dresses in winter.
Along with a vest, a slip, the slip on sleeves I also wore some fashion tights with the dress below and was perfectly warm enough for the winter evening event which was held in a draughty old hall!
What to Wear Under a Winter Dress
Thermal intimates, half slips, full slips which can either be of the no visible panty line variety or silk slips are ideal for layering.
Slip on sleeves are a great addition to add an extra layer of warmth to a dress that doesn't have sleeves built in.
The gorgeous lacey slip on sleeves below, are a really versatile way to adding an extra layer.
Make sure you have a variety of tights in your underwear drawer. Have a selection of thick tights, and sheer tights, plus don't forget some pretty fashion tights in mesh or fishnet.
Here's a selection of undergarments to wear under dresses.
What is a Sweater Dress?
A sweater dress is a knitted dress that makes a fabulous winter dress.
It's generally a dress made of a knit fabric that has been knitted in a pattern.
The first sweater dress was created in the 1940s by designer Elsa Schiaparelli. She used the fabric to create a fashionable, yet warm, garment for women.
Sweater dresses are popular because they are comfortable and stylish at the same time. They can be worn as an everyday dress or jazzed up with accessories for any occasion.
What to Wear with a Sweater Dress
If you're wondering what shoes go with a sweater dress, then don't panic! You can wear it with ankle boots, knee length boots, sneakers, court shoes or stilettos. Just be guided on the occasion you'll be wearing it for and what looks good and feels comfortable.
Accessories look great with a sweater dress, particularly scarves or chunky jewellery because they both help to break up the longer line of the dress.
How to Style a Sweater Dress for Fall – Fall Style Guide
The thing about Fall or Autumn is that it can be unpredictable. Some days might be warmer and others colder so you don't want to overheat in a sweater dress, nor do you want to feel chilly.
Again the best way to style a sweater dress is to think about layers, and accessories.
Fall fashion trends give you lots of scope to be individualistic and imaginative.
You could choose to team it with a beautiful silk scarf or art scarf on a warm day, and a thick chunky knit woollen scarf on a cold day.
Wear a beautiful hat if you'll be outdoors. A wide brimmed sunhat or a trendy beanie depending on the weather.
Fashion jewellery, long necklaces, dangly earrings and lots of bangles will add interest to a plain sweater dress that's in a block colour.
The fashion industry might prefer you to go out and buy a whole new winter wardrobe, but I say get out the weather apps on your phone, check the weather, then grab a pretty dress from your wardrobe, start layering up this part of your outfit accordingly, then get out and just have a Good Time!
Related Posts
How to wear Ponte Pants and Look a Million Dollars
How to Dress Younger and Shave Years off Your Age
How to Dress Well if You're Short
Ultimate Guide to Fifty Plus Womens Fashion
Disclaimer: This post "How to Wear a Dress in Winter" contains affiliate links from which I stand to earn a small commission (if you buy from them) at no cost to you. Lifestyle Fifty Website is a participant in the Amazon Services LLC Associates Program, an affiliate advertising program designed to provide a means for sites to earn advertising fees by advertising and linking to Amazon.com. Gifted products marked with *