I was sceptical about writing a post entitled 'How to dress well if you're short,' in case it sounded derogatory. I can assure you that it's not in any way meant to be demeaning because I'm short, and I'm proud of it.
Well, in all honesty, you're either short or tall or somewhere in between, and the word tall doesn't have any prickly connotations attached to it so why should short?
But lots of women of short stature find it hard to decide which clothes look best on them.
Now I do understand that short can mean different heights to different people, and some people might class petite women in the short category too.
Body Type Referred to in this Post
In this post we're looking at the best way to dress a more petite body type, which is most likely not extremely tall in stature. It might be voluptuous or slim, but it's not long and leggy.
This type of body shape can be tricky to dress because so many clothes are designed for taller women.
In this article, we're taking what some consider the average height of a woman, 1.65m or 5ft 4 inches, as the top height to define petite and short women.
If you want to know more about finding your style for the body you have, then have a quick look at this previous post about Dressing for Your Body Shape and then pop back here to read more.
What's in this Blog Post?
Are you short? Do you have a petite frame? Do you have short legs?
Get your outfits on point with our comprehensive guide and style tips for short and petite women.
This post covers:-
Tips about how to dress well if you're short.
Tips to dress well if you are petite.
Suggestions about what not to wear if you're petite.
Fashion tips to help you look longer and leaner.
The best fashion brands for petite women.
Discover how to dress fabulously at 5'4" and below.
Avoid the most common style mistakes made by small or petite women.
Do you feel like fashion is not for you because you are shorter than average?
Let us show you how to dress well if you are short in height! We want to show shorter than average people that they don't have to give up their fashion passions just because they are a little bit smaller.

So I'm betting that at some point you've found it difficult to find clothes that flatter your petite frame?
Perhaps you find that most clothing retailers only carry items in sizes that are either too large, and too billowy for you?
The fashion struggles of being short go on and on! I know, because I'm under 5ft 4 inches.
Sometimes the best way to find out what suits you is to go shopping with a trusted friend, and get a second opinion on everything you try on because what you love to look at on the rails, might not actually look fabulous on you.
You need to search for and find boutiques and brands that cater specifically for petite women, because then you're more likely to find flattering outfits to suit your shorter size.
When you look at fashion sites, or fashion magazines and IT girls and Influencers on Instagram do not be fooled. Most of those women are gifted with long legs and short torsos, or are just generally tall and slim.
Anything looks great on them. They can wear frills and fru-fru, high fashion garments not destined for the high street, outlandish one-offs, garish prints, different colours, and everything in between – and still look fabulous.
But that's not the case for most of us, particularly if we have a shorter frame, or are petite in stature.
Now I'm not saying you shouldn't wear clothes that make you feel great. You should! Your personal style is yours to own and should not be dictated.
But do take note of fashion tips and adapt them to suit your body shape, and NO you don't need to spend a ton of money to look fabulous.
Wear anything that makes you feel confident, and when you look in the mirror (or don't look in the mirror) you think I love what what I'm wearing and I feel great in it.
If you don't, then what's the point?
We have so many choices. It's up to us to choose what we want to have hanging in our wardrobe and wear.
And by this the active words are 'and wear.'
Having clothes you like or love hanging in your closet which you don't wear are of no use to you at all whether you are long or short.
In general though, when you're buying clothes, there are some sensible fashion tips to remember which will stand you in good stead if you are short, or in anyway petite.
Cropped Tops – Why Wear Them?
Cropped tops which stop just at your waistline are an easy way to elongate your overall look.
Wearing a cropped top rather than a tight body hugging top (that you might tuck) can actually give you more movement, which in turn makes your silhouette appear more fluid especially if you have a long waist and shorter legs.
Wear cropped tops with jeans, trousers and skirts that sit on your waistline.
Why Do Vertical Lines Make You Look Slimmer?
Vertical stripes and vertical patterns tend to give an illusion of length, and can help you look taller.
There is some controversy about vertical lines, but it appears that they play a trick on the brain and because they draw the eye downwards instead of outwards, and objects appear thinner.
Try to create vertical lines in your overall look by any means; perhaps with a lapel stripe that goes down, or some pattern swirls that descend down rather than across a dress.
You could also try accessorising with a long looped scarf.
A long length cardigan, the same length as a skirt or dress, will also tend to draw the eye downwards and so make you appear taller, giving you a nice vertical line.
Horizontal Stripes are they a No-No?
Horizontal stripes are inclined to draw the eye across the body in a horizontal line, and so can shorten your overall look and make you appear wider. They are not a fashion no-no but they can make you look shorter and broader than you really are.
But not all stripes are equal!
If you do choose horizontal stripes it's best to go for slim pinstripe hoops rather than wider stripes.
That's not to say you shouldn't wear horizontal stripes, but just be aware you will be stretching your look rather than lengthening it.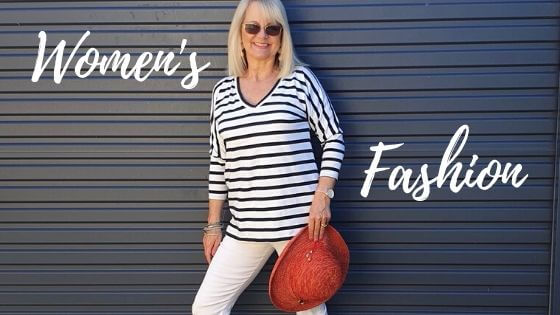 High Heels for Short Women
While high heels might have been your friend when you were young, I think that as we grow older (and wiser!) teetering around in stillettos is not recommended for your feet, your joints or your balance, and therefore safety!
I know, those beautiful stilettos with pointy toes look really gorgeous and would definitely give you longer legs but in reality you don't need to wear high heels in order to appear taller.
Wear heels that are comfortable and give a stable ride. You don't want a cupboard full of 'restaurant to car' shoes only now do you? You want to be able to walk from the car park far away, and then dance all night in them!
Kitten heels are a better option to stilettos, and just as flattering for short people, so too are small wedge heels.
Beware big platform heels – although more stable, they can make you look altogether shorter and chunkier.
A pointed toe is a good idea as it extends your ankle to the maximum, and can make your appear taller. Think elegant court shoes – especially in nude, a colour which tends to extend, rather than shorten the ankle.
A little bit of height can go a long way to make a shorter woman look taller so wear shoes with a little bit of heel, but which are comfortable!
Shoes with Ankle Straps
Ankle straps can cut your legs off at a bad point.
The right way to wear ankle straps is to choose those that sit on above your ankle joint, rather than strappy shoes that have ankle straps cutting across your lower ankle or mid foot. This can look very frumpy!
The higher the ankle strap is the more flattering it is.
Long Tunic Tops and Long Length Vests
If you have a short torso, longer tops, especially straight tunic tops can make you look altogether taller.
You could wear a long tunic top with straight-leg trousers or skinny jeans.
Too hot for a cardigan? Then a simple change is to wear a long length vest over your top and trousers.
And a luxe long length faux fur vest is ideal for winter.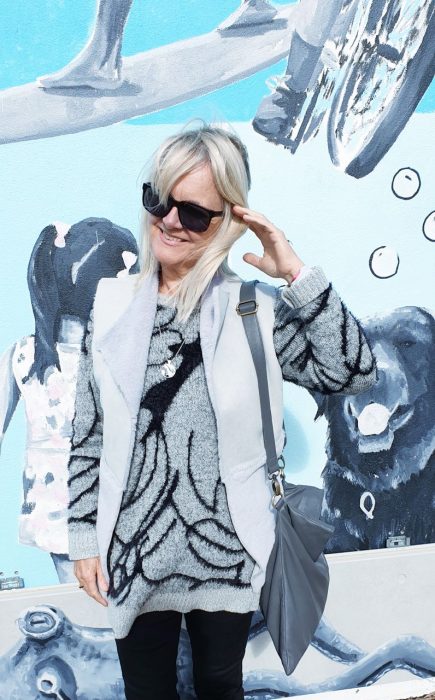 Can you Wear Wide Belts if you're Short?
Yes!
It's great to define your waist with wide belts or belts of any size for that matter.
A wide belt worn with a suitable outfit such as an A-Line dress or retro style dress can look fabulous on a petite frame.
Or buy dresses with belts already attached to them.
The Right Fit is Essential
Do make sure your clothes fit you well.
Let me repeat! The right fit is important!
Smaller sizes that tug at your flesh do not mean they will make you look thinner, and larger sizes or oversized garments do not necessarily disguise bulk.
Clothes that don't fit at the shoulders or are unecessarily baggy around your bust or bottom just spell SAGGY!
Wearing the correct fitting clothes is your best bet to appear more stylish, longer and leaner effortlessly.
Any clothes that are tailored to create a more fitted silhouette will make you look leaner and taller.
So always either try clothes on until you find the perfect fit, or make sure your measurements are correct and check the online sizing guide to ensure you get a good fit before that package arrives in the post.
Scoop Neck vs V Neck?
What is the best choice – a scoop neckline or a more precision V neckline?
Wear V-Line tops to help draw the eye downwards, thus creating a longer line over your upper body.
Scoop necks are preferable to high necks, and are a good alternative to V necks. But personally, I will always choose a V neck first, and a scoop neck second, and definitely stay away from anything that has a neckline up around my throat.
If you're going to choose a scoop neck then the general rule is to make sure that you keep it in proportion with the rest of your look.
Too deep a scoop will alter the ratio of your top to your bottom, just right and it's as flattering as a V neck.
Best Dresses for Petites
The best dresses for short or petite women are wrap dresses, simple shift dresses, structured dresses, and anything that falls just above or on the knee.
If you are short it's always best to opt for dresses that end just above the knee. A good thing is to choose daytime dresses that fall above the knee rather than mid calf. But having said that, midi dresses with a waistline can look great on smaller women.
Maxi dresses in block colours or delicate prints also suit petite women while wrap dresses, of all description, are everyone's friend.
But beware of billowing kimono style dresses, which no matter how pretty, can swamp a small woman.
Take a look at this post What's so Great about Jersey Dresses for more inspiration about wrap dresses.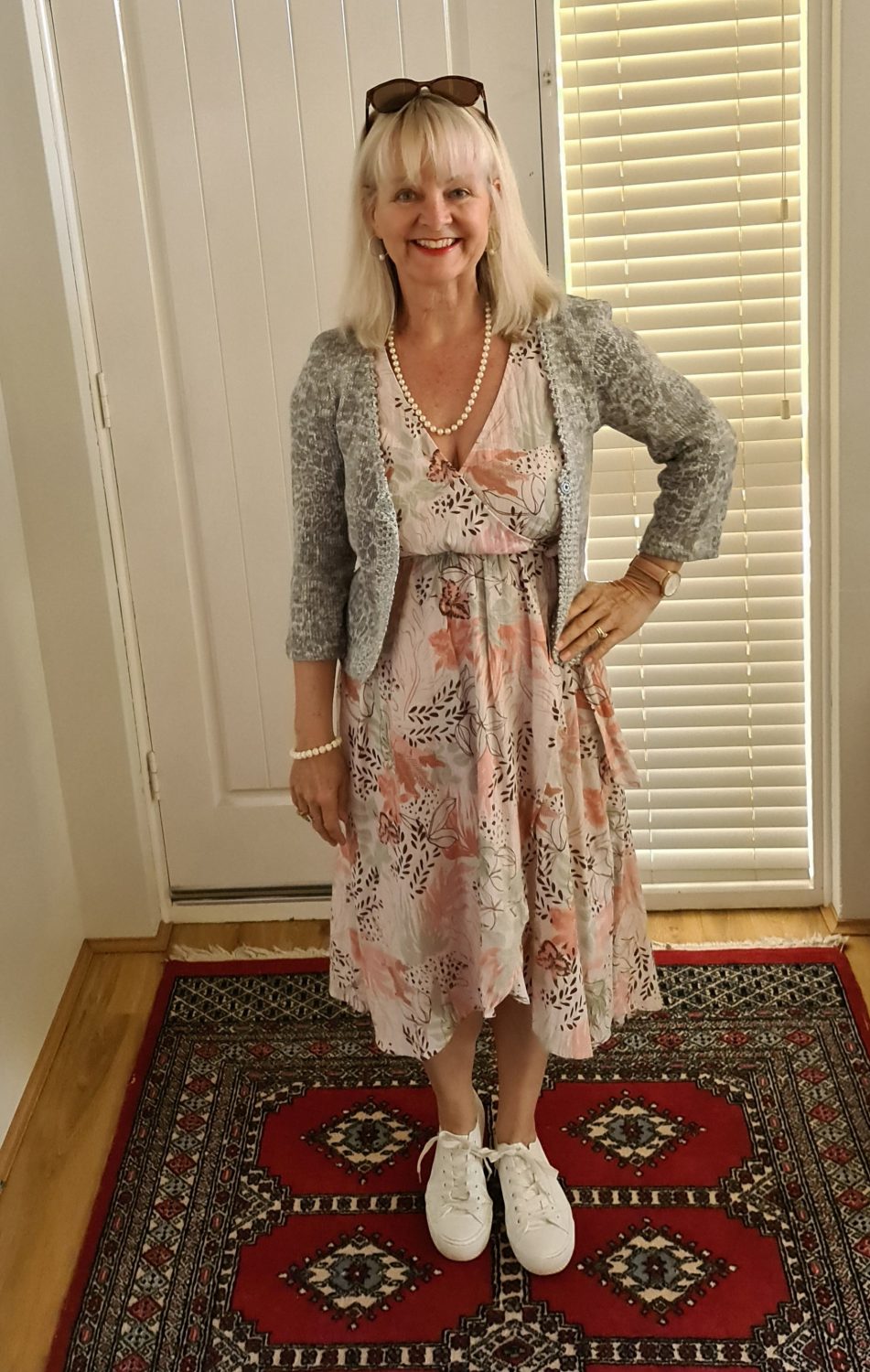 Simple Shift Dresses
Ironically a shift dress, which has more of a box shape, can flatter a shorter women.
It's best to choose a block colour in a neutral colour to look perfectly stylish, or perhaps something with a vertical stripe for maximum effect.
Make sure the dress ends just above, rather than below, your knee for a more stylish look. The top of the knee should be visible.
Wrap Dresses
There is nothing more flattering than a wrap dress because they give your body a beautiful shape.
They cinch you in at the waist and are definitely a good style for both day time wear or for night-time glamour.
Structured Dresses
Structured dresses can give an illusion of greater length because they accentuate your figure.
Structured dresses with lacy veils, like these below, are a great way to show off your shape, but discreetly play down parts you might want to hide.
Roll Up Your Sleeves!
A style trick that deflects attention from everything is to roll up the sleeves of your shirt.
Rolling up your sleeves is the best way to create an illusion of high style and will draw the eye to you making a statement about how you dress, and not about how short or tall you are!
The Right Dimensions
Don't wear baggy on your top half, and baggy on your bottom half too. This isn't a good look.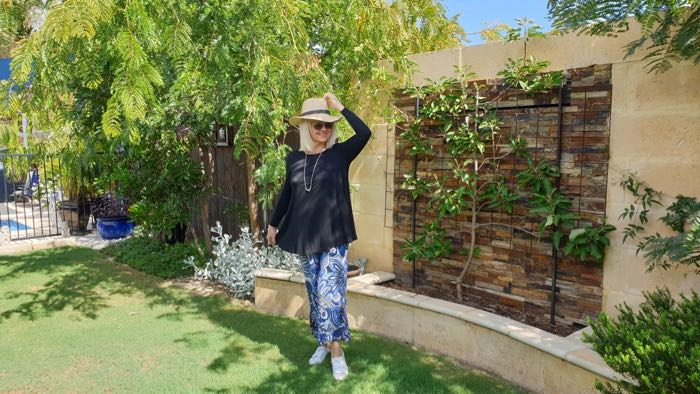 Do wear tight on your top body and baggy on your lower body.
Or do wear something tight on your lower half and a blouson top above it.
Unless it's really hot and you just need space and cool air around your body on a warm summer's day, then don't wear baggy dresses.
Are Block Colours or Prints better for Petite Women?
Best colours for petite ladies are block colours. A single color always look classy, and block colours tend to make more of a statement, which for petite women can be a plus! So choose block colours rather than fussy prints if you are a short lady, and remember – Monochromatic outfits may not look ritzy on a hanger but they are fabulous on!
Beware of big, bright, cabbage style print dresses which can overwhelm a small framed woman.
But who am I to lecture here? I have a favourite bright, flowery, billowy cotton summer dress that I love! You have to break the rules sometimes don't you!
For all the rebels amongst you, here are 11 Fashion Rules To Ditch Right Now!
Seriously though, neutral colors such as caramel, dark grey, navy blue, ivory or oatmeal can look beautiful on petite women.
Black is always your fashion friend if you want to look slimmer.
There is nothing classier (or more conservative) than a pair of tailored black pants teamed with a classic white shirt. But it's a look that has withstood the ages, and it's considered a classic. As is an Essential Little Black Dress.
Best Jeans and Trousers for Petite Women
High waisted jeans can make your legs look longer, and tailored straight leg trousers look good on women who are shorter.
Low-rise pants will make your torso appear longer, and your legs look shorter. Rather choose a classic pair of trousers that sit neatly on your waist.
Don't wear baggy wide leg jeans as these can overwhelm a small figure.
Do wear straight leg jeans, or bootleg jeans as they can give you the illusion of extra length.
Bootcut jeans are our friend because the A-line slight flare at the bottom can make your calves and thighs look slimmer.
Skinny jeans can make your legs look shorter rather than longer because they stop at your ankle.
Best Skirts for Petites
Mini skirts and skirts that fall just above the knee are great for petite women.
Do wear mini skirts if you are petite and still have the legs for them.
But remember, short skirts are fine as long as they are elegant – avoid mutton dressed up as lamb! You don't want to look like your 20 year old daughter, and she doesn't want you to either! So, don't show too much leg over the age of about 40 as it can look just cheap.
Long maxi skirts can make you look taller if they are not too voluminous, so choose a straight skirt, or wrap skirt if possible.
And maxis are even better if you team them with ankle boots or knee high boots in a matching colour.
Pencil Skirts with a small slit at the side or the back are flattering for petites.
Handbags for Petite Ladies
A good tip for a smaller person is to choose a small handbag, because a small bag will keep your whole look in proportion. On the other hand a large tote bag can overwhelm a petite woman and detract from what she's wearing.
Here's a great example of a leather crossbody bag …
Large bags can dwarf a small lady. So stay away from big tote bags, unless you are travelling and need a big carry bag!
Shorter women should stick to clutch bags or small shoulder bags to keep things in proportion.
Dainty crossbody bags are also great when you want to appear taller.
Finally
Play up your best features, downplay the ones you don't like so much.
Enjoy your body shape, enjoy being shorter! Having petite sizing is wonderful!
Everyone can enjoy fashion whether they are short, long, small, wide, petite, long tall Sally's, skinny, plus-size, whatever!
You have a body.
Just dress it and have fun!
Related Posts
The Ultimate Guide to Fifty Plus Womens Fashion
How to Wear Ponte Pants and Look a Million Dollars
Disclaimer: This post may contain gifted products – which will be marked with an * and affiliate links from which I stand to earn a small commission but at no expense to you. Lifestyle Fifty Website is a participant in the Amazon Services LLC Associates Program, an affiliate advertising program designed to provide a means for sites to earn advertising fees by advertising and linking to Amazon.com. Please read my full disclosure here.