Maybe it's old fashioned, but I think the saying "first impressions are lasting impressions" holds true in so many facets of life, including the way we present ourselves via fashion, and the clothes we choose to wear. Looking the part and choosing 'dress to impress outfits' that not only turn heads, but which help you feel more confident, is a formidable social tool.
Dress to Impress Outfits That Wow!
The importance of making a positive first impression with the clothes we choose to wear is powerful. Confidence in couture is a real thing!
Importantly our 'dress to impress outfits' need not be loud or brash. Rather they should be garments that have been thought about, and carefully put together, rather than just thrown on.
Dressing well can so often shape perceptions, open doors, and leave a lasting impact on the people we meet. And I don't think that changes as we get older. In fact I think the opposite is true. 
It goes beyond mere aesthetics.
In fact it's a reflection of our personality, of our individual taste, and of our attention to detail.
When we dress to impress, we send a message of self-assurance and professionalism.
This confidence has a way of radiating outwards, influencing the way others perceive us.
I very much saw this with my mum and her partner. Except when they were gardening, they always dressed well, and paid attention to the way they presented to the world up until their late 80's. It was lovely to see, and people always commented about how well dressed they were.
Essentially though, one of the key benefits of dressing well is the boost in confidence it provides.
Why Elevate Your Fashion Game?
When we put on an outfit that makes us feel great, it positively affects our self-esteem and attitude.
This confidence helps us to tackle challenges or situations with a sense of assurance, whether it's attending an event, or perhaps having dinner with new friends, or maybe attending a workshop.
Think about the colors that suit your complexion, and clothes that you feel comfortable wearing. You don't have to wear tight clothes in order to look great. Below I'm wearing clothes that were suitable for lunch with friends followed by a walk.
Wearing clothes that you feel great wearing might also be giving you the confidence to ace a job interview, or maybe if you're generally shy, just navigating social interactions with ease.
Moreover, I think it's true to say that how you dress can significantly impact professional job opportunities.
In many industries, appearances do matter, and people who present themselves with style and professionalism are more likely to be considered for promotions or leadership roles, and important assignments. 
Employers may perceive that well-dressed people are reliable, detail-oriented, and capable of representing the organization with integrity. 
In addition to all the professional benefits, dressing well enhances our social interactions.
When we put some effort into our appearance, we signal to others that we value their presence and the occasion. It's important.
At the end of the day, paying attention to the way we dress creates an impression of respect and attentiveness, making for more positive and memorable connections.
Why You Should Understand the Occasion
When it comes to dressing for formal occasions, such as weddings, galas, and black-tie events, understanding the dress code is crucial.
These special occasions call for formal wear, and attire that exudes elegance and sophistication.
Anything less could be considered disrespectful.
How to Steal The Spotlight at Formal Events
Let's talk about dress to impress outfits suitable for weddings, galas, formal cruise nights, and black tie events.
For weddings, the dress code can vary depending on the invitation and location.
If the invitation specifies a black-tie dress code, men should opt for formal attire such as a tuxedo or a full suit.
The same goes for formal nights on cruises – a full suit for men will never go amiss, although formal nights on some cruise ships are becoming more relaxed, and a jacket, shirt and tie worn with smart slacks is also an option.
Women have many options when it comes to formal occasions, including floor-length gowns, or elegant cocktail attire such as knee length cocktail dresses, or dressy separates paired with statement accessories.
Don't you love elegant cocktail dresses, and how they make you feel?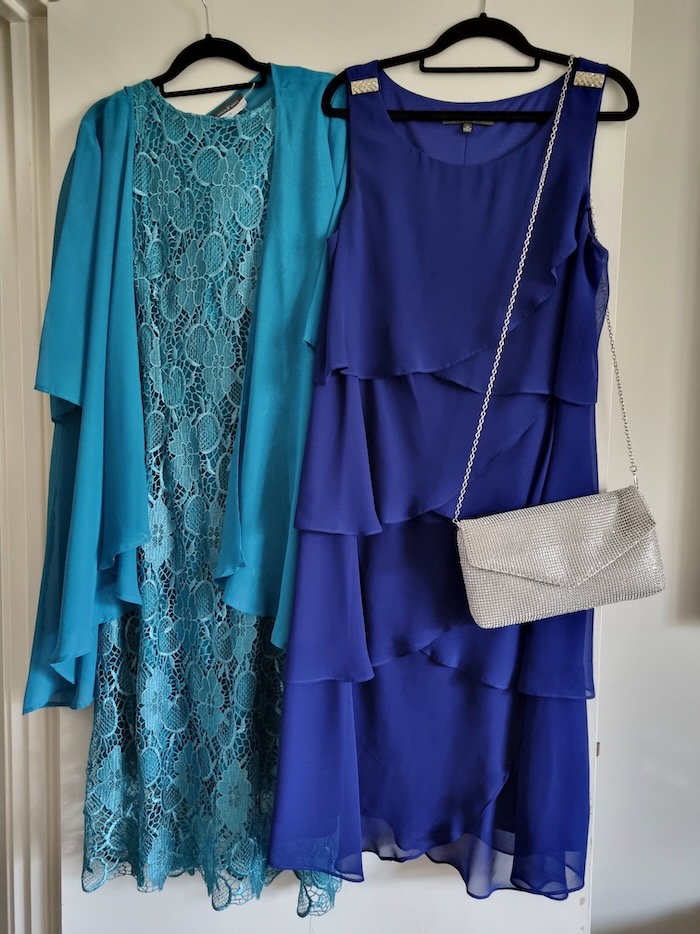 Evening dresses in blocks of color in shades of jewels such as; emerald, saphire, ruby and pearl will always command attention and look stunning at formal events.
While neutral colors like black, navy, ivory and charcoal gray are popular if you want to dress to impress but don't want to stand out  because neutrals will always have a timeless appeal and versatility. They ensure a classic and refined look.
Dress to Impress: 5 Outfits That Command Attention
Show pony prints and bright colors are a sure way to gain attention if you want to be bold and sassy, or if the occasion demands it. 
If you love cerise, or lime green – wear them!
A bright Barbie pink is a delightful color to wear if you dare!
Black is always elegant and timeless.
Bright colors can bring light and joy to any occasion.
How to Dress for Interviews, Meetings, Conferences
When it comes to dressing for business occasions, such as interviews, meetings, and conferences, choosing the right clothing is important as it can significantly impact the impression you make. 
For interviews, it's best to opt for a polished and professional outfit.
A classic interview outfit for women might consist of a tailored blazer paired with a well fitting skirt or tailored pants.
It's essential to choose attire that fits well and makes you feel comfortable and confident. You don't want to be tweaking, or pulling at your clothes, and you want to be able to sit comfortably!
Afterall, at meetings and conferences, dressing appropriately and comfortably is key to projecting a professional image. 
Depending on the work environment, various forms of business casual or formal attire may be suitable.
For women, a well-fitted blouse or button-down shirt paired with dress pants or a knee-length skirt can be a great option for a business casual setting.
Regardless of any specific dress code, the most important thing is to appear neat, well-groomed, and put-together.
Pay attention to details such as ensuring your clothes are clean and wrinkle-free, and your shoes are polished.
Avoid excessive accessories, and skimpy or flashy garments that may distract from your professionalism.
Remember, dressing appropriately for business settings conveys respect for the work environment and the people you interact with.
By dressing in a way that ties in with the expectations of the setting, you can create a positive impression, look confident, and show your understanding of professional etiquette.
How to Dress for Casual Outings
When it comes to casual settings like parties, outings with friends, dates, or perhaps celebrating a special occasion at home, then dressing to impress while maintaining an informal, relaxed and effortless vibe is key. 
A casual outfit need not be slouchy. Creating a stylish casual look with comfortable clothing is easy if you pay a little bit of attention.
The first step to creating a good first impression without appearing overdressed or underdressed for the occasion is to assess the event's dress code, understand the appropriate level of formality and think what other people might be wearing.
By doing this you can ensure that your outfit is in keeping with the expectations of the occasion.  
The best way to do this is to undertake a little research. Think about the details of the event, such as the location, the purpose, and who will be there. All of this can provide valuable insights and give you a better idea of what to wear.
The next key aspect is to focus on dressing in a way that reflects your personal style.
Choosing casual clothing that complements your body shape and fits well will boost your overall appearance and confidence.
Remember, feeling comfortable in what you wear plays a crucial role in leaving a positive impression on others.
It's also essential to pay attention to the small details, such as looking well groomed, or having clean and polished shoes, and wearing appropriate accessories.
Casual attire allows for a wide range of options, giving you the freedom to express your personal style.
A simple yet effective strategy is to start with well-fitted basics as the foundation of your outfit. Plain t-shirts in neutral or bold colors are versatile and can be easily paired with various pieces. Pairing a stylish t-shirt with a well-fitting pair of jeans is a classic choice for casual outings. 
To lift your casual look, you might consider adding layers or statement accessories.
A denim jacket, a leather jacket, or a stylish cardigan can add depth and style to your outfit.
Why not experiment with different textures, patterns, and colors to showcase your individuality and create varying, visually interesting ensembles?
Footwear is another important aspect of dressing to impress for casual outings.
Depending on the occasion and your personal style, you can opt for clean and sleek sneakers, stylish boots, or even casual loafers to complete your look.
Simple Tips, Hints and Dress Hacks
There will always be family photos at weddings, or birthdays or special events, so it goes without saying that your best outfit should be clean, ironed and ready to wear.
Brand new outfits are great as long as you have figured out which shoes, hats and accessories you'll wear with them. Haven't we all been there done that when you put something on at the last minute and scrabble to find the right shoes and right jewelry to go with it?
There's no need to be a spendthrift though. You can just as easily create the perfect look, and dress to impress wearing outfits bought from a thrift store.
They're perfectly fine for weddings and events as long as they're in overall good condition and fit you well.
Over the years I've bought some gorgeous, inexpensive items from charity shops around the world. Like the flapper dress in the image below that I wore to a 1920's themed birthday party.
Remember that formal occasions and special events call for a level of sophistication and elegance that sets them apart from everyday dressing.
You'll have to get out of your comfort zone a bit, and feel perhaps a little 'trussed up!' Casual clothes that you can just throw on are probably not going to make the grade if you want to make a great first impression as you walk in the door!
7 Tips for Dressing to Impress
Pay attention to the fit of your outfit. Our bodies change over the years, and that ballgown that you've had for 10 years may need a little bit of alteration.
Ensure that your clothes are fitted to enhance your body-shape. For a polished appearance the overall fit makes a huge difference to the way your clothing falls.
When it comes to anything fitted, remember that tight clothes should hug you and accentuate your clothes, rather than defining every lump and bump.
Choose accessories that complement your attire, such as a sleek clutch or a tasteful tie clip.
Creating the right balance between what you're wearing and the jewelry you choose to put on is also quite important.
Your best options when it comes to jewelry for formal occasions are classic styles in gold or silver, rather than chunky fashion jewelry, but do try different things and think about the overall effect you're trying to achieve.
By adhering to the dress code and selecting appropriate attire especially for formal occasions, you'll not only show respect for the event and the time and effort organizers have gone to, but you'll also create a memorable impression. 
How to Unleash Your Style Power
Remember that confidence is a vital component of making a strong first impression.
Stand tall, maintain good posture, and make sure you ooze positivity through your body language and facial expressions. Smile!
When you feel confident in your outfit and demeanor, it will radiate to those around you and leave a lasting positive impression.
Where to Buy My Dress To Impress Outfits
Remember, the right outfits for casual outings strike a balance between comfort and style.
By choosing well-fitted clothes, incorporating trendy or unique pieces, and paying attention to the details, you can effortlessly create impressive and fashionable everyday wear that reflects your personal style and leaves a lasting impression on others.
Here are some of the stores I love to buy from.
Styling You The Label (Get 15% discount using code JoCastro15)
Salty Crush (Get 10% discount using code LIFESTYLEFIFTY10)
Check out the fabulous anniversary sale at Nordstrom – prices go up soon!
Related Posts You Might Like
How to Wear a Maxi Dress in Winter
Best Style Dresses to Hide Tummy
How to Wear a Maxi Dress if you are Short and Curvy
Best Dresses for Women Over 50
The Best Casual Wear for Women Over 50
Best Boho Dresses and Affordable Boho Clothes
Disclaimer:This post "Dress to Impress Outfits" contains affiliate links from which I stand to earn a small commission but at no expense to you. Any gifted items are marked with an asterisk *.  Lifestyle Fifty Website is a participant in the Amazon Services LLC Associates Program, an affiliate advertising program designed to provide a means for sites to earn advertising fees by advertising and linking to Amazon.com.  Some images in my blog posts may have been sourced with permission from (affiliate partners) Styling You The Label and Salty Crush websites. Please read my full disclosure here.