Do you love shoes? Do you need lots of shoes in your closet? Or are you a minimalist when it comes to footwear? Have you ever asked yourself how many shoes should I own, or how many shoes does the average woman own?
Maybe you couldn't give a fig! Yet, footwear is a contentious issue. Just ask Imelda Marcos! Her collection of shoes totalled 749 pairs (as of 2020) according to Wikipedia/
This post contains the results of an anonymous survey to understand how many shoes women own, and what their favourite brand of footwear is.
There were over 80 responses from Lifestyle Fifty readers.
I hope if you're looking for new footwear brands to try, this post will help you too!
How Many Shoes Should I Own?
If you love shoes then you'll know the feeling, when you walk into a store and can't help but notice the rows of shoes.
Every single pair just seems to call out your name!
And as most of us will agree, there's nothing more frustrating than not having the right shoe for a particular event.
But how many shoes should you own? Is one pair enough? Or do you need 20 pairs? Do you prefer trainers, or sandals, or boots?
The answer is that everyone has different needs! You may want an entire shoe collection because you live in Texas with tons of rainy days per year, or you only need mostly boots and wellingtons because you work on a farm, or mostly flip flops because you spend all year on vacation by the beach. Lucky You!
And then there are people living in small apartments who might cut down to just a couple of pairs of shoes, and people who've lived in the same house for 30 years and have storage space for a lifetime's collection!
Can you still wear stillettos? Now there's a question! Aren't these pretty?
Just like our wardrobes, shoe collections are always evolving.
It's only natural that you'll go through phases where your collection grows and shrinks with the seasons or your lifestyle.
How many pairs of shoes should you own? Well, essentially there is no set number of shoes that a woman should own, but there are some guidelines to follow when considering what types to add to your wardrobe!
Read on for some amazing facts about your soles, Lifestylers!
Lifestyle Fifty Survey – Shoes Glorious Shoes!
How Many Pairs of Footwear Do you Own in Total?
We asked readers to count the shoes in their wardrobe, all footwear in fact, to come up with their total number of everyda shoes, boots, sneakers, trainers, going out shoes, and sandals.
| | |
| --- | --- |
| Number of Footwear in Total | Responses |
| 0 – 5 | 2 |
| 6 – 10 | 8 |
| 11 – 20 | 32 |
| 21 – 30 | 21 |
| 31 – 40 | 14 |
| Other (please specify) | 9 |
Other Responses – Total Number of Footwear
More than 40 pairs
56 pairs
More than 75 pairs
80 pairs
50 plus
75
47
40 plus
Maybe 60 pairs
How Many Pairs of Boots do you Own?
For those of you living in cooler climates, boots obviously are important. Having said that, I live in Australia and I have a collection of both ankle boots and calf length boots that I wouldn't be without.
Click here for a super collection of all kinds of boots for women.
Whether you have boots for going out, walking boots or hiking boots, these are your answers.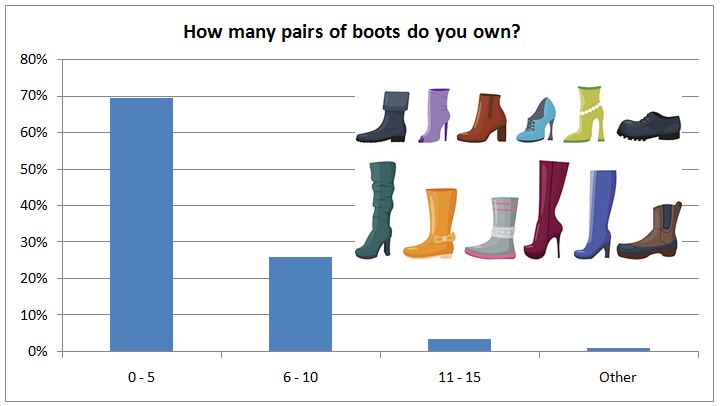 | | |
| --- | --- |
| Number of Boots | Responses |
| 0 – 5 | 59 |
| 6 – 10 | 22 |
| 11 – 15 | 3 |
| Other (please specify) | 1 |
Other Responses – Boots
How Many Pairs of Sneakers Do You Own?
We might all have trainers for jogging, gym or working out, but what about more fashionable flat shoes that you can wear with dresses or jeans?
Yes, we are talking sneakers. Fashionable lace-up shoes that your grandmother would not have been seen dead in!
| | |
| --- | --- |
| Number of Sneakers | Responses |
| 0 – 5 | 67 |
| 6 – 10 | 16 |
| 11- 20 | 0 |
| Other | 2 |
Other Responses – Sneakers
How Many Pairs of Sandals Do You Own?
Of course sandals come in all shapes and sizes, so this question was generalised to include any kind of open sandal, from strappy to pretty to hard working.
| | |
| --- | --- |
| Number of Sandals | Responses |
| 0 – 5 | 43 |
| 6 – 10 | 30 |
| 11 – 20 | 12 |
| Other (please specify) | 3 |
Other Responses – Sandals
Maybe 30
5 Pairs Birkenstock's, 4 pairs of sandals, 2 pairs of thongs, 1 pair of crocs
30
How Many Pairs of Trainers do you Own?
Trainers was the term to include shoes that you might wear for working out, running, power walking, or going to the gym. Of course some of us will wear them with jeans and trousers for long days on our feet or sightseeing too.
| | |
| --- | --- |
| Number of Trainers | Responses |
| 0 – 5 | 81 |
| 6 – 10 | 4 |
| 11 – 20 | 0 |
| Other (please specify) | 2 |
Other Responses – Trainers
I don't own any.
Included in sneakers above.
How Many 'Going Out' Shoes/Footwear do You Own (That you might wear to Events, Restaurants, or Parties etc)
We asked you about your going out shoes. The kind of shoes you might wear to a party, or to a restaurant or an event. Probably the kind of shoes that you may not want to spend a whole evening dancing in, but which look pretty and elegant, and are comfortable at least for a short period of time.
| | |
| --- | --- |
| Number of Going Out Shoes | Responses |
| 0 – 5 | 61 |
| 6 – 10 | 18 |
| 11 – 20 | 8 |
| Other | 1 |
Other Responses – Going out Shoes
Do You Have a Favourite Brand/Style of Shoe?
We asked what brand or style of shoe you prefer and wear the most, and included popular categories such as trainers, boots, sneakers and comfy walking sandals.
| | |
| --- | --- |
| Favourite Brand/Style | Responses |
| Trainers (like Nike, Puma, Adidas etc. Please specify in 'other' below.) | 18 |
| Boots (Please specify brand in 'other' below.) | 10 |
| Sneakers (Please specify brand in 'other' below) | 11 |
| Comfy Walking Sandals (like Teva, Planet, Merrell, Birkenstock. Please specify in 'other' below) | 21 |
Popular Brands of Shoes
The perfect pair of shoes can make you feel like a million bucks.
They elevate your mood, and turn even the most basic outfits into something special.
So it's no surprise that women spend over $150 billion on shoes each year!
But with so many brands to choose from, how do we decide which ones are best?
Some people like New Balance, Asics, Adidas, FRANKiE4, Sketchers and Birkenstock.
Some people love FitFlop, Clarks, Merrell, Puma, Asics, Ezy Steps, andTeva.
With so many different brands and styles to choose from, it can be difficult to know which one will work best for you.
But If you're looking for shoes that are stylish, comfortable, and affordable then the answers from Lifestyle Fifty readers in the recent survey below offer some great suggestions!
Favourite Brands of Footwear – Your Specific Responses
These are the survey respondents' favourite brands of footwear, as specified under 'other responses' for the favourite brand of shoe category.
In no particular order, these are your favourite shoe brands.
If you specified boots, heels, sandals or trainers then I've added this as a comment to the side.
Click on the links to view styles and prices.
In the Media : How Many Shoes Should a Woman Own?
In an article in the Daily Express, Would Shoe Believe it was reported that …
"One in 8 British women own a staggering 100 pairs of footwear, with up to 4 million passing the century mark."
And in News.com.au it was found that …
"The average woman owns 20 pairs of shoes but wears only five of them regularly."
According to The Budget Fashionista …
A 2010 study from Gocompare.com found that the average woman owns 19 pairs of shoes.
A 2011 study from ShopSmart found that the average woman owns 17 pairs of shoes.
My shoe count today (in 2021) is 27 pairs.
Philippine First Lady Imelda Marcos was rumored to have 3,000 pairs of shoes, but the actual number was probably closer to 1,000.
And in the Islander Online an organisation called Tread Lightly conducted a survey and found that …
A quarter of the survey respondents hang on to their old shoes "for a rainy day or sentimental reasons.
Women are more likely to keep shoes they don't wear, holding onto an average of seven pairs – while men keep about three pairs.
And more than half of females buy shoes every six months or more, with most owning an average of 11 pairs.
How Many Shoes Do You Need? My Personal Take
In an ideal world, I think a woman with an active lifestyle probably needs the following …
Trainers x2 (1 x smart and 1 x working out)
Walking shoe x 3 (sandals x 2 and bushwalking x 1)
Ankle boots x 2 (black and brown)
Calf length boots x 1
Flat shoes or pumps x 1 in a neutral colour
Sneakers x 1 in white
Going out shoes with a small heel or high heel x 2
Do I stick to my advice? Of course not!
I have winter shoes and summer shoes, and in total I own around 30 pairs of footwear.
Brands I love: FRANKiE4, Homyped, Asics, Merrell sandals.
Tell Us In the Comments! How Many Shoes do You Own?
Over to you! Please share in the comments section!
How many pairs of shoes/boots/sneakers/all footwear do you own in total?
What is your favourite brand of shoe?
How many of your shoes do you wear regularly?
Related Posts
Infographic – Share This Post
Video – How Many Shoes Should Women Own?
Here's an interesting video about the state of our shoes by Jodie Fox.
Pin this Post for Future Reference
Disclaimer: This post "How Many Shoes do I need," contains affiliate links from which I stand to earn a small commission but at no expense to you. Any gifted items are marked with an *. Lifestyle Fifty Website is a participant in the Amazon Services LLC Associates Program, an affiliate advertising program designed to provide a means for sites to earn advertising fees by advertising and linking to Amazon.com. Please read my full disclosure here.