There are jeans, and then there are jeans. If you've ever wanted to know how to look slimmer in jeans, you are not alone. How many of us have chosen THE pair of jeans, taken to the changing room and hated the way they make us look?
Our bum too big, our thighs too big, a nasty camel toe at the front, or a muffin top over the waistband. And the list goes on.
When I was younger I'd cry with despair and blame my body shape. But now I know different, and it's not my body to blame, it's the cut of the jeans that don't fit my body.
If you want to know more about the best jeans for your body type, check out this definitive post : Best Jeans for Women
Jeans to look slimmer
If you're wondering which jeans make you look slimmer then think dark colours.
Looking for jeans to make you look slimmer then a dark denim is best.
They are a little harder to look after in the first instance because you need to be careful in the wash as the colour can bleed. Deep navy blue or black in a slim fit, with a high waistband will make you look instantly slimmer.
Be on the look out for high tech jeans, ones which have body-shaping panels, or a stretch fabric technology. These will be designed to hug you and pull you in, in all the right places, whilst also being comfortable and flexible to wear.
Bootcut jeans worn with high heels can make most women look taller, leaner and longer.
Do tight jeans make you look skinnier?
If you want to look skinnier in jeans, then super tight jeans are probably not the way to go if you have large thighs or calves.
In that case you should go for a slim fit, bootcut or boyfriend cut. Just remember that a boyfriend cut should be on the slimmer rather than baggier cut if you want to look lean.
If you are tall, or if you are small and have slim legs and you're in the market for skinny jeans, then make sure that they hug your tummy, thighs and lower legs in a snug fit, but they shouldn't be so tight that they cut off the blood supply.
Tight jeans don't necessarily make you look skinnier, but jeans that hug you in the right places do. It's a thin dividing line, and once you find the right jeans then my advice is to stick with them.
How to make your thighs look thinner in jeans
How to look good in jeans with big thighs is a common problem, and one which besets so many of us.
When buying jeans I'll often check the label for the spandex count (could by Lycra or Elastane), and the larger the percent of spandex, the more the jeans will hug you, as well as being easier to move around in.
You can also take the focus away from your thighs and wear jeans that you can turn up at the ankle and wear with a funky, or colourful pair of sneakers.
White sneakers can also give a very clean and modern look, and surprisingly don't make your legs look shorter.
How to make your legs look thinner in skinny jeans
Overall if you want to make your legs look thinner in skinny jeans then wear a higher heel and make sure that the hem of the legs fall low to your heel.
Buy jeans that sit below your ankle for a long-line look which will give you a more slimming effect. Pair them with a pair of pointy shoes or pointy boots and you'll look leaner and longer
When I'm wearing skinny jeans I also like to wear long boots and tuck the jeans into them. I make sure my boots are reasonably tight fitting in the leg, and come up quite high approximately knee height.
A black pair of jeans with sexy black boots can make you look slim and tall.
Jeans that make you look 10 pounds thinner
Slim fit, high waisted jeans are probably the most slimming jeans.
As we get older jeans that sit below our belly buttons are likely to give us a muffin top, that nasty layer of fat that flows over the waistband. Just blame our hormones, that's what I say!
If you want to look pounds or kilos thinner, again go for a dark wash denim, a high waist, a slim leg, and wear heels.
Which jeans make your butt look smaller?
Always check the rear view before buying jeans.
Without a doubt jeans with strategically placed back pockets can make your bottom look smaller. But there are back pockets and back pockets – you need to try on a few pairs of jeans and look in a three way mirror to see which are best for you.
Pockets can be large or small, point out, have sequins or buttons or flap.
Never buy a pair of jeans without back pockets as they look terrible.
If you have a big butt then avoid jeans that have too much detail on the rear. Pockets that flap, or are sequinned are not for you. Large, plain back pockets which sit quite low are best.
For confidence, don't wear panty liners with jeans, wear washable leak proof underwear instead (Check out styles Here.)
Stockists
Best Brand Jeans at great prices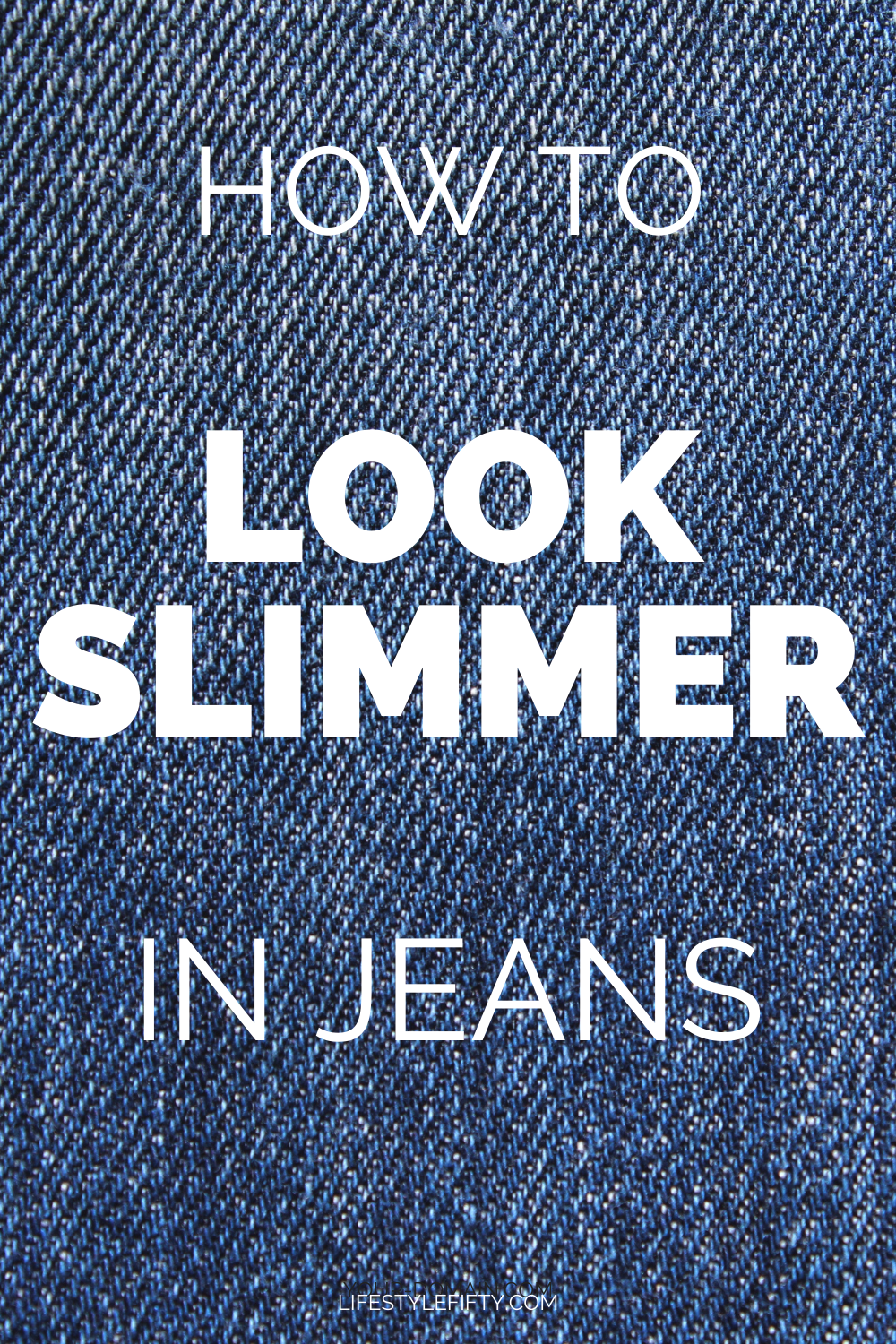 This post contains gifted products, and affiliate links from which I stand to earn a small commission but at no expense to you. Lifestyle Fifty Website is a participant in the Amazon Services LLC Associates Program, an affiliate advertising program designed to provide a means for sites to earn advertising fees by advertising and linking to Amazon.com. Thanks to everyone who supports my blog. Please read my full disclosure here.