I love a pretty frock. Especially if it's easy to wear and doesn't need ironing. Let me introduce you to fashion designer Leona Edmiston who designs the most gorgeous range of women's frocks and dresses.
I often click through to Leona Edmiston dresses when I'm in the market for something new because I know I'm going to find a lot of dresses I like, but more than that, styles which I'll wear again and again without having to think too hard.
Do you know what I mean? I have some clothes which sit in my wardrobe and wait for 'best occasion' or I'm put off because I tell myself,, "I'll have to suck my tummy in to wear that," or  I think, "Nah, too hard, it will need ironing when I wash it."
Those are not the thoughts I have about my Leona Edmistons.
Scroll down to the end of this post for details of FREE SHIPPING on purchases just for Lifestyle Fifty readers.
Leona Edmiston Ruby
What I love about this Harmony Dress in the Ruby range is that it fits so well without being tight on me, and it's flattering because it hides my lumps and bumps, and I really like the design. Best thing? I bought it in a sale at a big discount – I paid just $125 which for designer wear I consider wonderful.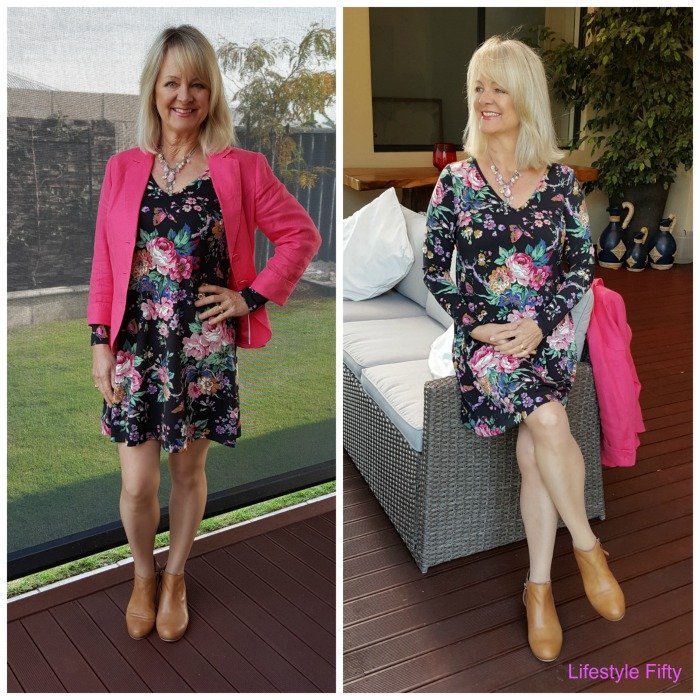 Also, it looks great with a pop of added colour like my old pink jacket which I've had for years.
You could dress it up with black shoes, or tan shoes, or perhaps even pink shoes, but I've chosen to wear it with new season tan FRANKiE4 boots because, well, it's Autumn as I write – and I'm a sucker for boots. (Yikes! I don't dare let on to Dave how many pairs of ankle boots are hiding in my wardrobe.)
If you look online there are all sorts of styles, designs, colours and fittings to suit any body shape. I really like that about Leona's designs. Whatever your shape, there will be a style to highlight the parts of your body you like and downplay the bits you perhaps would rather hide.
From long to short, to long sleeved or short sleeved to v-neck or round neck, shirt dress, cocktail dress, work dress or Le-Weekender you name it, you should be able to find it.
Leona Edmiston
Check out the Leona Edmiston designer styles at great prices online HERE at Leona Edmiston
About Leona Edmiston
They say Leona's the doyenne of Australian Fashion design. Her designs have been  gracing the catwalks, workplace, red carpets and homes of the world for over 30 years.  Her styles ooze easy glamour.
While Leona rules the creative side of the business her husband Jeremy Ducker runs the business side.
The Leona Edmiston team works with Leona and Jeremy at their stylish showroom, studio and headquarters in the heart of Sydney's garment district, Alexandria.
The brand is further supported by a team of sales staff at her 26 stores, providing a friendly and fun atmosphere. There's also a tech-savvy support team behind the online boutique and dedicated sales staff to ensure you enjoy the same quality experience and service online as ladies receive in our boutiques.
Leona was awarded the InStyle Women of Style Fashion award in 2014. She received the Walk of Style plaque in 2015. Leona Edmiston was inducted into the Business Woman's hall of fame in 2016.
This post contains affiliate links.