Outfit of the day #OOTD today is a simple spring ensemble. Stretch pants, and a fit and flare white top.
A simple everyday style just right for women over 50 looking for comfort and a little glamour.
There's nothing like a pair of pants with a nice bit of stretch for everyday wear and especially for travel. And if you love these dotty pants you'll also love Ponte Pants – read more in this post: How to Wear Ponte Pants and Look a Million Dollars.
Stretch Pants for Women Over 50.
You know the ones I mean? They feel soft against your skin and while they fit nicely, they're not too tight and they stretch easily when you bend down or sit (with a glass of champagne!)
Stretch pants come in all shapes and sizes, from ponte pants to leggings to skinny jeans to slightly more styled, like the ones I'm wearing.
These stretch pants are fun, and spotty dotty!
They're by Vivid and just right for a little glam-up in springtime.
With a stretchy waist and slightly tapered legs, they're comfy and dressy but not too dressy.
You can find stockists here : Vivid International
My Favourite Stretch Pants online
Around the web, here are some of my favourite stretchy pants in different colours (Rekucci) at some great prices in different colours, which you should be able to order wherever you are in the world.
Fit and Flare Top
With the pants I'm wearing a Vivid white top which is fit and flare. I love the length the sleeves come down to – hides any tuck-shop batwings – and the scoop neck is just right.
The top falls down far enough to cover all the crucial bits, but it's not voluminous.
I really like how it's fitted at the top and around the ribs but then gives a nice kick out around the tummy.
For Vivid Stockists check HERE and for a similar top on the web check out this Larace Tunic Top which I love, at a great price too – it's a Fit and Flare T with 3/4 length sleeves which comes in all sorts of different colours.
Recent Milestone
Of course after a glass of champagne celebrating 10,000 Instagram followers, it's not always easy to get up off the ground no matter how stretchy your pants are!
You might like MAGGIE T a comfortable and functional two way stretch pant by Millers.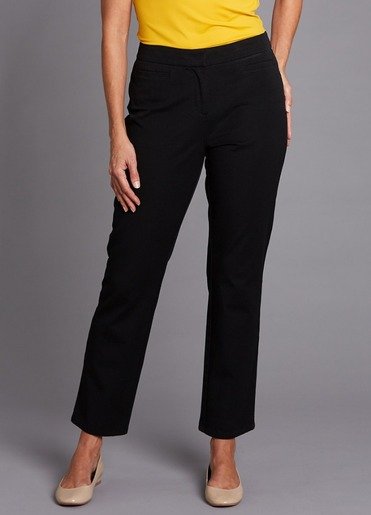 Blending cotton and elastane these pants offer comfort and style for everyday living. Click over to Millers to view and purchase.
"There are also plenty of classic cuts, from straight-leg capri pants, skinny stretch trousers, and leggings. With detailing such as elasticized waistbands and front pleats, some of these pants will definitely provide you with more comfort than your regular pair of jeans."

Travel and Leisure
Travel and Leisure have rounded up 16 pairs of comfy stretch pants to wear when you go travelling in this article : Comfortable stretch pants for travel.
Pin this post for later 🙂
Disclaimer: This post contains gifted products, and affiliate links from which I stand to earn a small commission if you buy from them – but at no expense to you. Lifestyle Fifty Website is a participant in the Amazon Services LLC Associates Program, an affiliate advertising program designed to provide a means for sites to earn advertising fees by advertising and linking to Amazon.com. Thanks to everyone who supports my blog.