If you're looking for some individual and sassy Valentine's Day Gift Ideas then read on, as we've compiled an interesting mix for you to choose from.
But first – Who celebrates Valentine's Day?
We seem to have gone off the boil a bit when it comes to being romantic these days.
No cards. No pressies. No attention to the day really at all.
So I think it's time to re-address that, but as I started scouring the web for Valentine's Day Gift Ideas, it took me back to some of the funnier gifts I've been known to buy.
Valentine's Day Gift Ideas that went slightly wrong!
I remember the year I bought my love a china mug which said "Hug Me" and I carted it in my heavy rucksack on a remote trail (with love in my heart and lead in my pack it seemed) when we hiked to a waterfall in the mountains of Lesotho. Hours and hours away! Young and stupid, huh?
I think he probably remarked, "Why did you bother to carry it all the way here?"
He would no doubt have preferred a travel mug anyway – rather than a fancy china mug!
This insulated stainless steel tumbler with the slogan "Best Husband Ever" comes in different colours, and it's really cute, heavy duty, and light – You can buy it on Amazon Here.
For me, after that hike I needed a massage. And I still love a back and neck massage – I might give a few hints before Valentine's Day this year!
I found this massage tool on Amazon and it might make a relaxing gift for the woman in your life. It's a back and neck massager that gives a deep kneading massage and is suitable to use on your neck, shoulders, back, legs, and feet. Check it out Here.
We won't go into the other time I bought him a pen gift set for his office – Duh, totally unromantic.
Valentine's Day Celebrations
Many people make a special date of it and go out for the evening.
Hmm. We don't anymore!
Are we getting to be humbugs! I think so!
We don't go out for a meal on Valentine's Day because generally everywhere is so booked-up and busy that it doesn't make sense, for us at least, to be in an inferno of humanity on what should be a dulcet, romantic evening.
This year I think we'll take a picnic and go to the beach and watch the sunset. And this year I'll be buying Dave a cute and sassy gift from the Valentine's Day Gift Ideas guide below.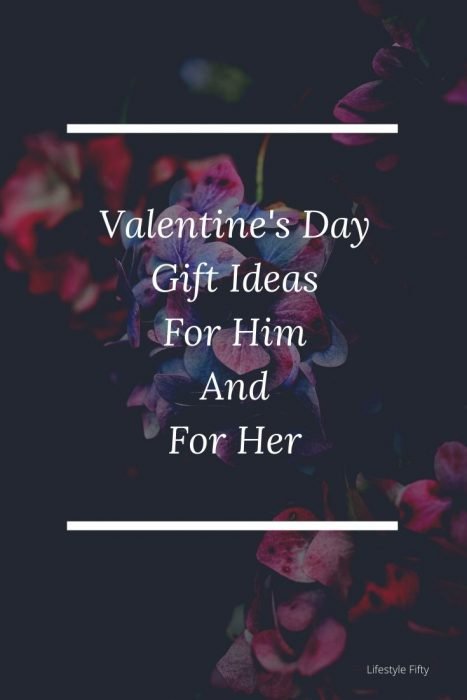 The dark and nasty side of Valentine's Day
The origins of Valentine's Day aren't all lovey-dovey peaches and cream, write a card, or go out for dinner though.
I read this wonderful piece about the Dark Origins of Valentine's Day by Arnie Seipel which tells a whole different story.
"From Feb. 13 to 15, the Romans celebrated the feast of Lupercalia. The men sacrificed a goat and a dog, then whipped women with the hides of the animals they had just slain.

The Roman romantics "were drunk. They were naked," says Noel Lenski, a historian at the University of Colorado at Boulder. Young women would actually line up for the men to hit them, Lenski says. They believed this would make them fertile.

The brutal fete included a matchmaking lottery, in which young men drew the names of women from a jar. The couple would then be, um, coupled up for the duration of the festival — or longer, if the match was right."

Arnie Seipel
But it didn't stop there …Emperor Claudius II executed two men — both named Valentine — on February 14th.
It got a little sweeter when Chaucer and Shakespeare began to romanticise the day in their work, and handmade paper cards became the flavour of the month in the Middle Ages.
Commercialisation over the years has set in of course, and card buying is still popular along with the purchase of gifts for our nearest and dearest.
If you want to be loved for another year maybe you should buy your sweetheart one of the following cute gifts from our Valentine's Day Gift Guide!
Only joking!
Don't break the bank buying expensive gifts, why not buy him or her something timely and useful – or do something super romantic instead?
Just please stay away from the Roman example of Valentine's Day, particularly the drunk and naked part. Well, I suppose the naked part is okay.
If you're the gifting sort, or you need to prompt your man or woman towards the checkout, then I hope our slightly sassy Valentine's Day Gift Guide might give you some good ideas.
Sassy Valentine's Day Gift Ideas
This humorous Gin and Tonic Enamel Pin Badge features a cute illustration of two bottles, one gin and one tonic and the words 'You complete me'. If chocolates and roses aren't your thing, this gin pin badge would make an inspired gift for your gin enthusiast partner or simply a humorous gift for a friend.
This Chase and Wonder Wash Bag would make a useful gift for your man.
Chase and Wonder have worked with a fabulous social enterprise for the past 7 years.
"The organisation's aim is to develop skills for adults recovering from mental illness and this great group make up all of our screen printed wash bags, purses and pencil cases. They do such a great job and we are so happy that in a small way we can support them."

Chase and Wonder
Never sacrifice style.
When you're man's on-the-go he'll love this Ted Baker Watch Roll at Annabel James.
There's no need to decide which stylish timepiece to take with you, as this sophisticated navy roll can hold both your daytime watch and a dressier evening version.
Store them safely on the soft inner cushion and secure it with a cognac strap to ensure they never fall out. Includes a beautiful 'Truly Gifted' Ted's World swing tag.
A manly manly water bottle!
Ted says help keep the planet beautiful and look good doing it with this fancy double wall insulated bottle!
This Wild and Wolf Navy Water Bottle by Ted Baker, has a unique and stylish design complete with a hexagonal lid.
It keeps your favourite beverages cold for 24 hours and hot for 12 hours, ideal for the daily commute or keeping hydrated during a workout.
Capacity: 425ml/14 fl. oz. Presented with a beautiful 'Truly Gifted' Ted's World gift tag.
Is your man a rugby fanatic?
How about a pair of Rugby Cufflinks by Annabel James? These enamelled cufflinks have the silhouette of a rugby player on a white brick background.
Crafted in die struck brass with silver finish and hand-enamelled image, the cufflinks are beautifully presented in a gift box.
Aww cute!
This charming canvas make up bag features a cute illustration of two bottles, one gin and one tonic and the words, 'You complete me'.
I think this is You Complete Me Make Up Bag is a cute Valentine's gift for her – practical but loveable too.
The flat pouch is a perfect fit for a handbag, to fill with essential daily bits and bobs.
And now for a more lady-like water bottle.
Help keep the planet beautiful and look good doing it with this beautifully designed Black Opal Water Bottle by Ted Baker. It's a double wall insulated bottle with a magnolia print design with a hexagonal lid.
It will keep beverages cold for 24 hours and hot for 12 hours, ideal for the daily commute or keeping hydrated during a workout.
Capacity: 425ml/14 fl. oz. Presented with a beautiful 'Truly Gifted' Ted's World gift tag, it would make a desirable gift for any woman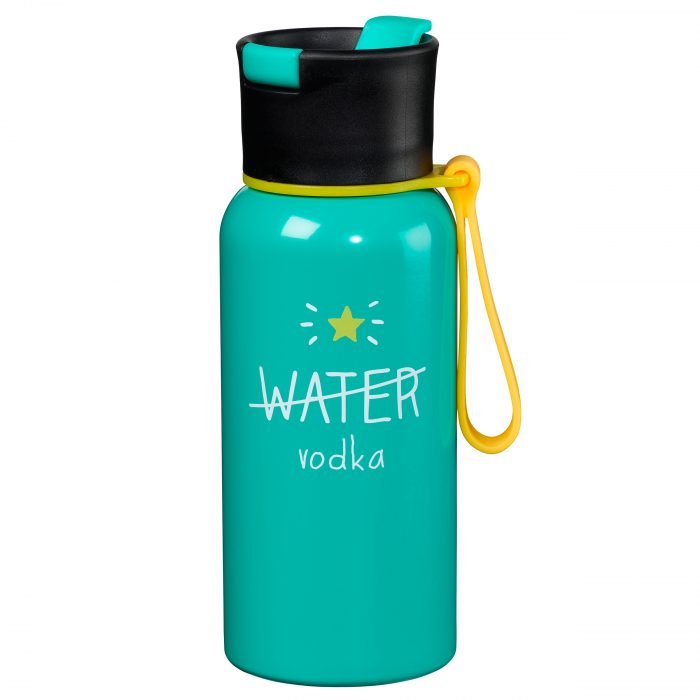 Or if you prefer a water bottle for your Friday night cocktails friend! And want to cause a stir at the gym! Then you'll love this.
From Wild and Wolf – you'll find lots of other gift ideas if you click on the link here : Happy Jackson Vodka Water Bottle
This is cute! I suggest you give him a bit of a nudge if you'd like this Twig leaf heart pendant by Lucy Sylvester for Valentine's Day.
This twig heart is silver, cast from twigs, it retains the finest details from the original natural form.
Let's move onto my favourite new season bag from Travel and Living Collection.
Amelie is a new addition to the Travel & Living Collection range and is already one of their best sellers! Check it out here: Amelie Tan, Travel & Living Collection
Made from a deep rich tan, this little bag is the ultimate cross body design. Why? Well, you can switch it up, wear it length ways or simply change the strap to the other clasp and then you have a horizontal bag. Its your choice!
Featuring strong secure zips and hardware this bag keeps everything close at hand for you and allows quick ease of access.
And then there is the gorgeous design, three simple braided leather cross stitches across the front panel give the bag a lovely rustic yet elegant visual appeal.
Feeling stressed by it all? Relax, sit back and listen to this gorgeous and soothing Valentine's music by Tim Janis.
Have you any great additions for Valentine's Day gift ideas, or do you have a story of something that went wrong?
Disclaimer: This post contains affiliate links from which I stand to earn a small commission if you buy from them – but at no expense to you. Lifestyle Fifty Website is a participant in the Amazon Services LLC Associates Program, an affiliate advertising program designed to provide a means for sites to earn advertising fees by advertising and linking to Amazon.com.