I can't believe that it's nearly the end of October and how time has flown. It's been a busy month for me with lots going on, and in amongst all the excitements (and trying to eat healthily and exercise) I've also been offered some lovely products to give away to you lovely readers, and at the end of this post you'll find details of how you can win.
I've been fortunate to go on some wonderful press trips around South West Australia which you can read about on my travel blog ZigaZag (You might like 5 Sensational places to visit in Margaret River), and ZigaZag has been named one of the Top 5 Travel Blogs to watch in 2015 which I'm so so happy about.
Travel is such a wonderful way to expand your horizons, and as we get older it's so important to keep exploring and keep interested in the world at large.
More exciting than anything for me though, is that Lifestyle Fifty has been nominated as a finalist (of 5) in the Healthy Lifestyle and Fitness section of the BUPA blog awards. If you'd like to vote for me in the People's Choice part of the awards, I'd be so grateful, you can click the link to vote here :  BUPA Blog Awards Nominations
But now onto what I have to giveaway to you lovely readers.
October 2014 : Spring Giveaways
1. Hedgren Tote, Kaci, Casual Chic value $169
1 to giveaway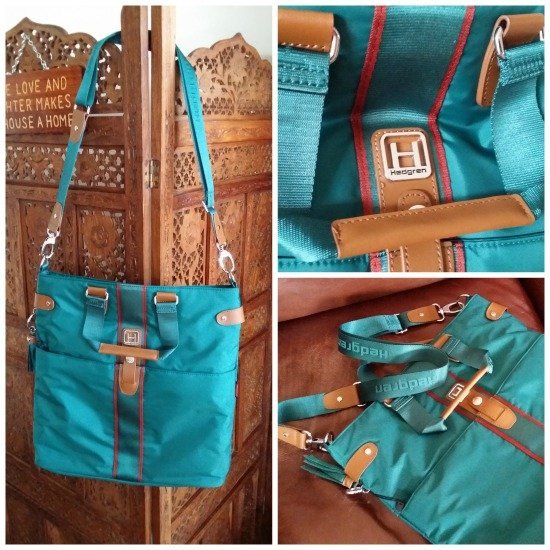 If you're after a new handbag with contemporary urban looks and elegant lines in eye catching colours, then have a look at the Hedgren range of bags. They're touted as being ideal for busy urbanites, commuters and travellers and I really love my Tote Kaci, Storm, Casual Chic bag*
I have one gorgeous, hard wearing, stylish Tote to giveaway.
Here's the lowdown:  Size: 35 H x 9 D x 38.5 W (cm),  Weight: 0.5kg, Colours: Storm or Viola.
What I love about this bag
It's a spacious tote, big enough for all my bloggie bits and pieces such as my iPad, my phone, a notebook and other essentials like a small cardi  and make-up. I could probably fit in my small laptop if I really wanted to. I have this tote in Storm, you might like the vivid Viola as well. The bag is distinctive, hard wearing and the detailing is smart and elegant.
The material is functional, lightweight, water repellent and modern. It has tear-proof and slash-proof high-density webbing shoulder straps – so it's ideal if you're on the road or traveling.
You can buy Hedgren bags in Australia at national retailers including David Jones, Strandbags and Victoria Station.
2. Lugloc Value $49.95
1 to Giveaway
I don't know about you, but we've had our luggage misplaced on a long-haul flight from South Africa to England. We were flying from Cape Town to England via Johannesburg and we arrived in Heathrow but our bags didn't.
It was finally returned to us. But nobody could tell us where it had swanned off to.
Enter LugLoc.
If only we'd had this product in one of the suitcases at the time. You see the Lugloc device once activated includes 4 free device traces and more traces can be purchased through the phone App with prices ranging from $3.79 for one trace up to $37.99 for 30 extra traces if you're a serial traveller. It has a 5 year warranty and a fully charged Lugloc battery lasts for up to 40 days.
You just activate the LugLoc then place it a suitcase you're checking in and it will be located anywhere around the world (except Japan or Korea). So if your luggage is lost or misplaced the approximate location of the Lugloc can be viewed on your mobile phone through the dowloaded LugLoc app so you can then use this information to help the airlines return your luggage to you.
What I love about this product
Lugloc is a small, thin device slips that easily fits into any bag and tracks its movements.
If your luggage is suspected as lost, you press the trace button on the LugLoc smartphone app (available to download from iOS and Android app stores) and the location of the LugLoc device will appear on a digital map. LugLoc is the size of a mobile phone and has a 40-day battery life. It weighs less than 40 grams. Available online at LugLoc or at David Jones stores.
3. Plox Value $77.00
No I didn't just swear at you! And I'm specifically talking about nifty little gadget called the Plox 6000 Powerbox
Plox is an external battery for digital products such as the iPhone, Ipod, Samsung Galaxy, SMartphone and other USB-powered devices. It comes complete with a built in micro-USB port as well as a universal USB port for charging non-Apple devices.
Useful? Definitely!
Plox would be so handy to have on hand if you forget to charge your phone or iPad overnight and if you're caught short on battery power in the daytime.
Basically it's a rechargeable external battery to keep your digital devices going when you're on the go, or somewhere without a place to plug in. It carries enough power to charge your smartphone several times and can give your tablet an extra boost if it dies on you in a remote location. If you're not sure how much charge is left in the Plox, all you do is shake it and a light will show to indicate the power level remaining in the charger.
Although it looks sleek and petite, it's actually rugged and durable. Neat eh?
Thinks: Might enter myself – I'd really like one too 🙂 But I can't – so good luck y'all!
Margaret River Gourmet Escape
Ticket Giveaway
– 4 double passes
Here's a Fab ticket offer for Lifestyle Fifty (and ZigaZag) readers who will be around South Western Australia from 21st to 23rd November 2014.Lifestyle Fifty and ZigaZag subscribers who email me to tell me what they would like to read more about on the blogs will be in with a chance to win a double pass to
Sunday's
Gourmet Village. I have 4 double passes to give away.
What is the Gourmet Village?The Gourmet Village is a buzzing world of culinary excitement and the perfect opportunity to experience the delectable delights the region has to offer. Hosted at Leeuwin Estate Winery, this is where all our cookery stars from Australia and overseas come together across one action packed weekend program filled with cooking demonstrations, wine tastings, masterclasses, intimate Q&A's and panel discussions.
I'm trialling
Nad's Hair Removing Products
With summer just around the corner I've been thinking about de-fluffing. I'm loth to go into too much detail here, but I was mighty glad to be gifted some Nad's Facial Hair Removal Creme* and Nad's Natural Warm Wax*.
Nad's is an Australian owned beauty company which has been helping women create smooth hair free skin for 22 years.
Nad's Natural Warm Wax
I think you can get pretty close to salon results at home with Nad's Natural Warm Wax which is formulated with soothing red grape extract & a fruit fragrance. It's dermatologically tested and hypoallergenic so it's suitable for sensitive skin types too.
The microwavable wax is designed to remove hair by the roots, leaving skin hair free and silky smooth for up to 8 weeks. The unique formula is water rinsable, washing away easily with water – so there's no risk. You can use it on your legs, bikini line, underarms and arms. The cotton strips are 100% premium cotton, washable and reusable.
Facial Hair Removal Crème for sensitive skin.
According to Nad's the pain free facial crème has been developed for delicate facial areas such as the cheeks, side of the face, upper lip and chin. Using almond and soothing calendula oil to leave your skin smooth and soft.
The precision angled tip applicator ensures the right amount of coverage for effective hair removal every time in just 4 minutes. It comes with a bonus – Nad's Moisture+ Soothing Face Balm.
Items marked with an * were gifted for editorial consideration
To be in with a chance to win the items marked for the Giveaway, please read the entry conditions.
Entry Conditions
To Enter
Show a bit of love and follow Lifestyle Fifty on Facebook.
To win, you need to tell me which prize you'd like to win, and come up with a great blog post idea suitable for Lifestyle Fifty or my travel blog ZigaZag  by 5pm Perth time on Friday 7th November.
You can send in as many post ideas/titles as you like. The posts I pick will be the winners. (Don't forget to tell me what you want to win).
You can enter as many times as you like.
Consider signing up to Lifestyle Fifty's free Newsletter (at the bottom of this post)
Spam comments will be deleted. Unverifiable persons will not be considered.
Closing Date for entries is 7th November 2014
Terms and Conditions
The name of the promotion is Lifestyle Fifty Spring Giveaways 2014.
Sorry, but for this competition you must be an Australian resident to win.
Other conditions of entry are as stated in points 1-6 above.
Entries close 5pm 7th November 2014 Perth, Australia time.  Comments submitted after this time will not be considered for the giveaway.
This is a game of skill.  Winners will be awarded based on suitablility of title for post on Lifestyle Fifty or ZigaZag.
The Winners will be notified via email.
The results of the giveaway will be published on this site.
Prizes are not redeemable for cash and are non-transferable.
Now Just Enter !
1. Follow Lifestyle Fifty on Facebook : Lifestyle Fifty 

2. Sign up for Newsletter :