Welcome to Bloggie Friday, the day when we talk about all things blogging and blogging tips.
If you're not into writing or blogging, kindly look away and click Here Perhaps for a mystery post from the archives. Enjoy! "S'pleasure 😉
I receive lots of emails from beginner bloggers asking, "How do you keep coming up with ideas for your blogposts?" so today we're going to go on an Ideas Hunt.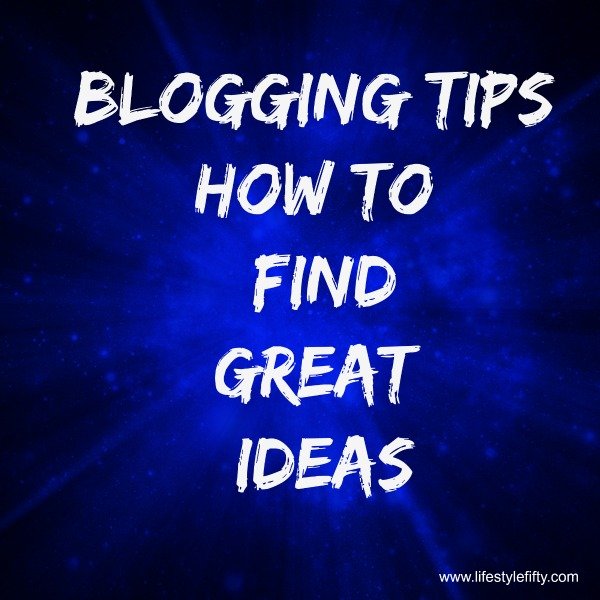 How to find ideas for your blog posts
To be honest with you my mind is in a constant whirl and it's always thinking about blogging rather than dinner or housework (just ask Dave) which means I'm always writing ideas down on scraps of paper, receipts, and other places which generally seem to get lost. I'm never short of ideas and I think that's a universal truth – because the more we do something, the more we think about it, and the more ideas we have. It's as if our brains develop a whole load of new neural pathways.
But I don't want to diminish the fact that coming up with relevant ideas in order to write about things which people will want to read and find helpful is an art in itself. It's tricky. Not everyone wants (in fact very few people do) the gushings of my inner mind nor do they want to hear about my problems. They want stuff which is relevant to their own lives, things they are keen to find out about or improve on.
So today, here are 5 easy tips for finding relevant ideas to blog about.
1. Read the comments
If you have a blog already (or even if you don't) go to the comments section of your own blog (or other people's blogs in the same niche as you) and see what they're saying. What are the readers talking about, what are they asking for and what problems do they appear to have (which you could help solve).
2. Ask you family and friends
Don't become a pain in the butt, but ask your family and friends to tell you what they struggle with most in the topic you write about. Better still if you're a member of a club, ask other members – as in, if you write about photography and belong to a photography club – what kind of things do amateur photographers continually ask? What kind of things would they like to read? What would they find useful? Ask them to give you 3 possible titles for things they'd find helpful. The beauty of this is, you don't need all the answers – it's your job to go out and find out about them, then write about them.
3. Look at your keywords
If you have Google Analytics or Jetpack Stats (WordPress) take a look at the sections which refer to keyword searches. What words have people been typing into search boxes and landing up on your blog for because you've provided an answer to their question or search term. Can you write similar posts around these search terms?
4. Don't sit idling away your time in the Doctor's surgery
Going to the Doctor or Dentist? Turn off your phone (you know you should anyway) and grab a bunch of magazines. What are they writing about? Look at the content, the trends, the news, the features, the research and the studies.  Can you twist any of their headings for your own use (slightly change them) and change or re-angle some of the facts or content they've used for your own blog post (do not plagiarise). Make notes and then go home and do some extra research of your own to produce a unique piece.
5. Go to the bookshop or check out 'Dummies' books
Check out the non-fiction section of your local bookshop and browse through books in your niche. Take note of what topics they're covering because publishers have decided that this is a money making topic or the book wouldn't be on the shelf. Likewise do a Google search for " ….. guide for Dummies" because if there's a Dummy book available then it's a popular topic and will throw up lots of ideas for you to write about and enhance.
Keen for more blogging posts? You might also like :

How Blogging Can Change your life

How to write an unplugged story post and my top 10 personal bloggers
I could go on and on about ways to find ideas, but if you concentrate on these 5 tips you'll come up with more than enough useful things to write about. Having said that, I'd love to know what your best tips are for finding the best ideas for great content creation. Over to you in the comments please 🙂