Luca Vanucci is a relatively new fashion label featuring gorgeous Italian linen.
The outfit I'm featuring today is a grab and wear cool blue (non iron) sundress and crop linen jacket from the Luca Vanucci linen range.
On an outing into the country for lunch I wore stylishly comfy FRANKiE4 Laura sneakers to give this outfit an on trend, modern look, but you could just as easily wear sandals or court shoes with it instead.
About Luca Vanucci
Luca Vanucci featuring Italian Linen, is a new label that launched in the USA in Spring 2019.
Luca Vanucci represents the finest traditions of the Italian fashion industry.
All garments are made in Italy and use, wherever possible, only Italian materials.
The styling and attention to detail are exactly what you would expect from a leading Italian fashion company.
I've styled the outfit with my soft, lightweight, luxe leather Christin bag from Travel and Living Collection and a mink blue Nordgreen (gifted) minimalist leather watch which goes perfectly with my bag and dress. Nordgreen watches are just so stylish and gorgeous to wear.
Another Luca Vanucci style I'm loving is this free form, floral linen dress which is cool, calm and very collected for summer days, lazy al fresco lunches and tropical nights.
Wear it with a matching jacket – or not. I love that there are mix 'n match items in this range. The cute floral Luca Vanucci jacket below which matches the dress, would also look fabulous with jeans.
Pin this Post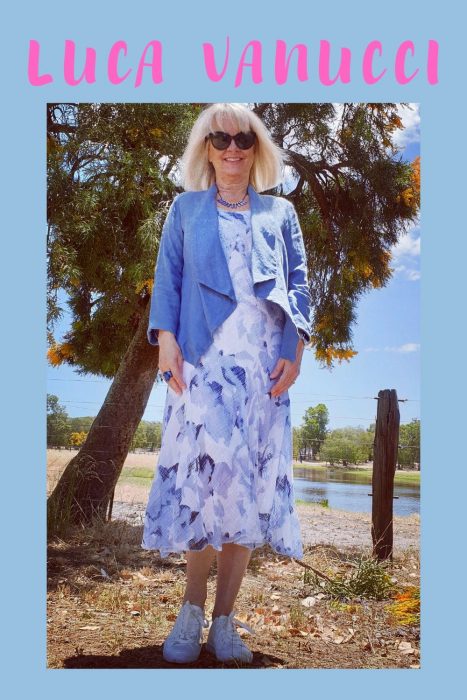 Have you discovered Luca Vanucci yet?
Do you love or loathe linen?
Buy at Thread to Cloth.