As the years go by, especially latterly, I've begun to realise that no longer is my energy limitless. So I'm always looking for sensible ways to keep energetic and motivated, and therefore stay happy too.
I want to feel happy and energetic every day, but I also realise that it's the way I've chosen to live during the weeks and months previous to the day I'm living that will most likely determine how I feel at that very moment.
It's a long game.
I know that not everyone has the luxury of good health. It's not a given. But I believe it's our responsibility to endeavour to keep as healthy, energetic and involved in life as we possibly can as we get older in order to stay happy.
Being happy, staying energetic and motivated is not just granted. Do you, like me, think it has to be worked at?
I wrote this post about How to Be Happier as you Age which is a gentle workout for mind and soul.
I'm a big fan of picking up lifestyle tips wherever I can, and over the years, I've found these are some of the things that really help me feel the best I can each day.
15 Tips to stay happy and feel great each day
1. Meditate. I think it's important to realise that our own little existence is only a small part of something so much bigger.
There's no need to go all 'woo woo' about this, but just be pragmatic about it on a daily basis. We are only small specks in the universe.  
Try to meditate for 10 minutes each morning, or pray, or contemplate the universe or your navel (whichever works for you) or take a walk and just relish and acknowledge being in the moment every day of your life.
2. Make sure to laugh each day – spend time with humorous friends or relatives, if you can. Otherwise watch something on TV that makes you chuckle. Something I'd like to do one day is attend a 'Laughter Yoga' class – have you tried one out yet?
3. Get enough sleep – 7 – 9 hours for me please – how about you?
4. Don't eat empty calories – stay away from confectionary, fizzy beverages, processed food. You knew that, right? I know. I feel better and more energised if I don't eat them, and I do know that bread makes me feel sluggish too.
5. Make sure to get an hour of exercise every day or walk those 10,000 steps that we're meant to 😉 I've developed a strategy where instead of always meeting friends for coffee, I suggest a 'walk and talk' session. I know, I'm THAT person. (Ahem, but my dirty little  secret is that I don't always walk enough steps in a day because I'm too busy sitting at this computer 😉
6. Read for 20 mins every day – a book, not the internet! I've just read The German Girl by Armando Lucas Correa, and it was FAB, and I totally recommend it. Today I sat on the patio and devoured it – and kept reading until I finished the book.
7. Drink enough water – 2 litres should be about right (but drink throughout the day, not in one big go, and sorry this doesn't include wine or coffee)
8. Make green smoothies – You could check out the best price for the Magic Nutri Bullet to whizz up healthy smoothies. The NutriBullet breaks down whole fruits & veggies to extract the maximum nutrition from your food. … I experiment with different ingredients but my fallback is a handful of baby spinach, an apple, an orange,  a carrot and a hint of chopped ginger for a zesty daily zinger – our favourite.
Check out my NutriBullet review Here.
9. Drink green tea, or Rooibos tea. Having spent time in South Africa, we love Rooibos and generally start and end the day with a weak black brew. The link is to my favourite brand. Have it with milk if you wish, and add a little honey if you like. Sometimes replace coffee with Herbal Teas.
10. Spend some time with the ones you love, or chat to them on the phone.
11. Stretch – walk around – do some gentle exercises and get up from your chair or computer at least 5 times during a work day. (Jo are you listening – really listening?) Tell me, are you Lifestylers guilty of sitting still for too long? Isn't this a problem we never ever had when we were younger?
12. Keep a Gratitude Journal – write down one thing every day that you're grateful of. This Five Minute Journal is a great start (and makes a lovely gift too – oh Thank you! Just joking!)
13. Don't eat a huge meal before bedtime. (Burp!)
14. Close down computers, iPads, tablets, mobile phones and stop drinking tea or alcohol at least 2 hours before bedtime.
15. Think beautiful thoughts, and try not to judge people. It just makes us happier, it really does.
What are your tips for feeling the very best version of YOU?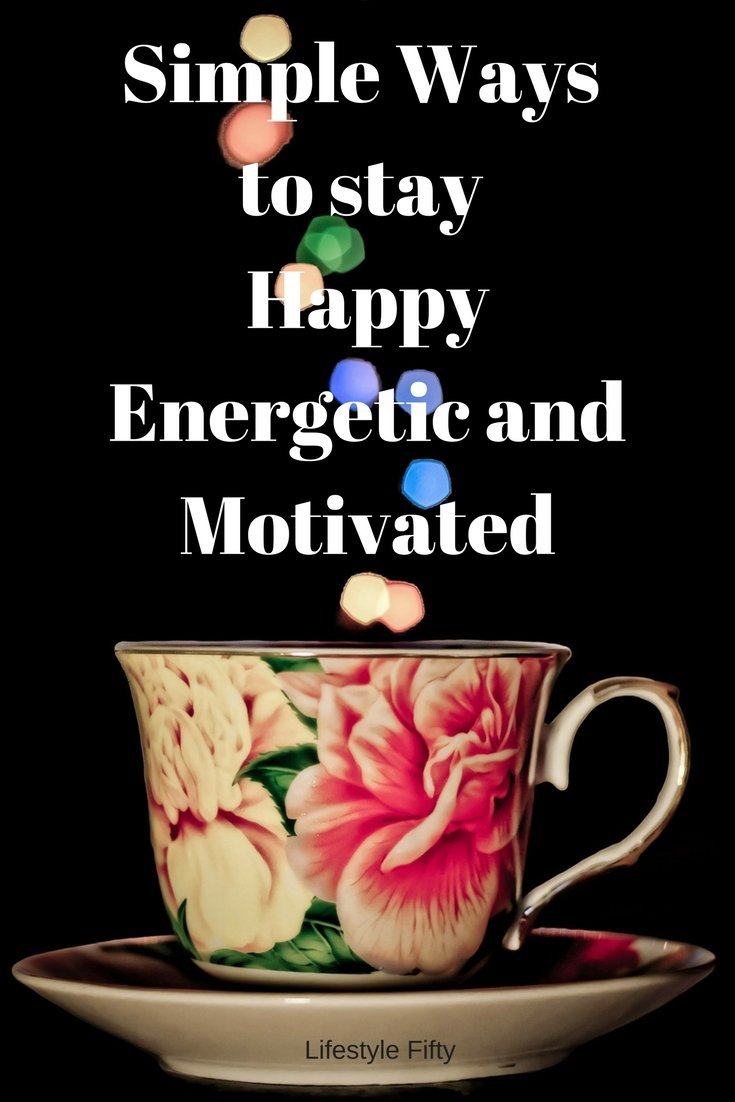 Lifestyle Fifty Website is a participant in the Amazon Services LLC Associates Program, an affiliate advertising program designed to provide a means for sites to earn advertising fees by advertising and linking to Amazon.com. If you purchase a product from one of these links it will not cost you any more, but Lifestyle Fifty may earn a small commission.
SaveSaveSaveSaveSaveSave
SaveSave