To Be or Not to be Young and Beautiful? Look Younger and Healthier.
As the years go by many of us would like to look younger and healthier, without cosmetic surgery.
When it comes to cosmetic surgery, it has been said that America is the cosmetic surgery of the world, that Britain is more technically advanced, and that many beauty procedures are cheaper in the Philippines and South Africa.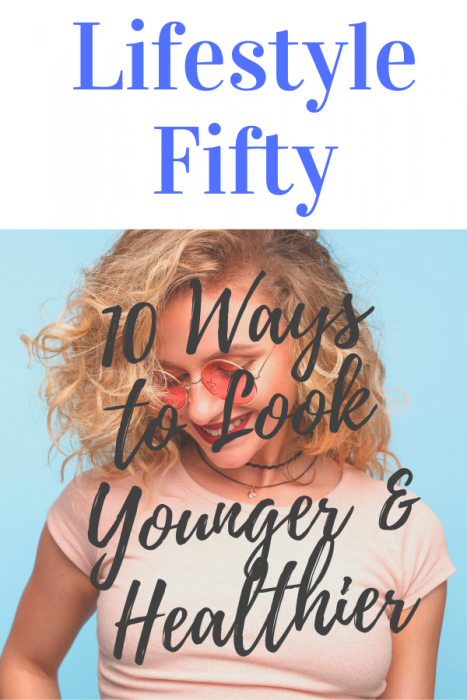 While major body work, as well as mini-procedures were once perhaps the domain of the wealthy over 50s, today cosmetic surgery is popular amongst women (and some men) of a much younger age.
According to a cosmetic surgeon I was chatting to, women as young as 30 are requesting treatments ranging from laser treatments, to collagen, Restylane, or botox injections, power peels and liposuction, and treatments like this become even more popular amongst older women.
Now while all this doesn't sit well with me, it might with you. And that's okay.
Ten ways to look younger and healthier without resorting to cosmetic surgery
Set yourself realistic beauty goals. You may never have wanted to look like a supermodel, but still … even if you did, most of us will never look like supermodels, no matter how hard we try. Be happy with what you've got, flaws and all, and make the most of it.
Get a good night's sleep, every night. You will feel better for it.
Don't smoke and do limit alcohol consumption. You knew that didn't you?
Drink about 8 glasses of water (not fizzy drinks, not coffee) every day. Don't force it down, and don't down it all at once.
Stay out of the sun – if you can't, then wear a hat, and cover up naked skin. Skin cancer is not fun.
Develop a positive outlook, and retain a sense of humour at all costs. This will help see you through the saggy years.
Eat plenty of fresh fruits and vegetables.
Exercise – three times, or more, each week if possible for at least 30 minutes a day. From what I know, after 20 minutes of continuous aerobic activity you begin to burn stored-up fat, rather than readily available energy stores. But remember, any exercise is better than nothing at all. And some simple stretches each day are also a good idea to fit in if you can (make sure you get good advice or know what you're doing).
Develop a good skin care regime for your skin and use the products regularly, oh and use a good teeth whitening toothpaste to keep your pearlies looking white. You might also like this post: Skin products I love.
Keep your hair trimmed, your nails buffed, your hairy legs shaved and every now and then treat yourself to a facial and a massage.
If you're on Pinterest, I'd love it if you might PIN the image below 🙂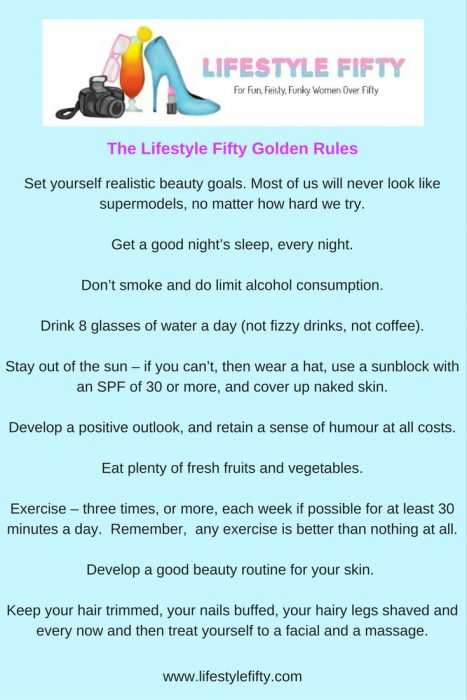 What are your tips for looking great as we get older?
Disclaimer: There are affiliate links in this post from which I stand to earn a small commission if you buy (thank you) but at no extra cost to you. Lifestyle Fifty Website is a participant in the Amazon Services LLC Associates Program, an affiliate advertising program designed to provide a means for sites to earn advertising fees by advertising and linking to Amazon.com.