To Be or Not to be Young and Beautiful? Look Younger and Healthier.
As the years go by many of us would like to look younger and healthier, without cosmetic surgery.
When it comes to cosmetic surgery, it has been said that America is the cosmetic surgery of the world, that Britain is more technically advanced, and that many beauty procedures are cheaper in the Philippines and South Africa.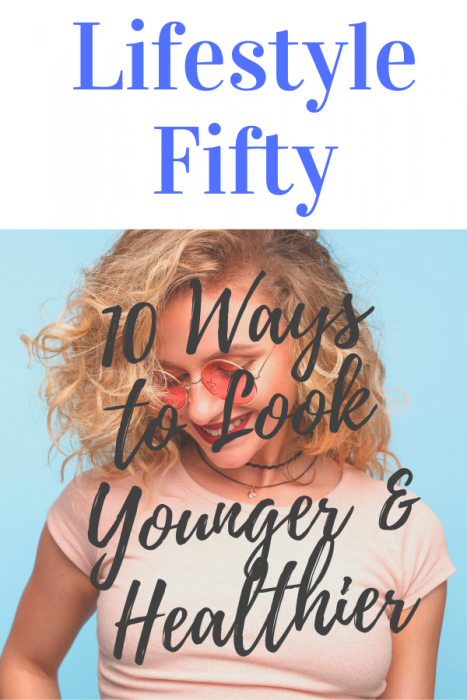 While major body work, as well as mini-procedures were once perhaps the domain of the wealthy over 50s, today cosmetic surgery is popular amongst women (and some men) of a much younger age. According to a cosmetic surgeon I was chatting to, women as young as 30 are requesting treatments ranging from laser treatments, to collagen, Restylane, or botox injections, power peels and liposuction, and treatments like this become even more popular amongst older women.
Now while all this doesn't sit well with me, it might with you. And that's okay.
Bodies are becoming works of art.
Please don't get me started on tattoos.
I'm not sure that I subscribe to bodies as works of art. Especially not tattoos. Which makes me a sad, prejudiced old lady according to my young folk.
And as for surgical treatments to sculpt, shape or diminish my body, I'm not up for any of that – yet.
Right now, queasy about needles, I'm lifting my scalp like a contortionist just to prove I don't have any unsightly creases. I do.
But who knows. Never say never and all that. A little refinement here and there perhaps? A little boost to my gravity challenged face?
Although, I have to admit that any ideas about becoming minimalist, more nouveau cuisine than hearty stew so to speak, will not be part of my beauty palette.
For now I denounce all quick fixes, and major surgery is not for me. None of my fat will be sucked into test tubes in the foreseeable future, thank you very much.
But I do harbour a little alternative thinking. Perhaps diets and sweaty hours beating our bodies into shape at the gym are, in the face of new science, almost prehistoric?
Perhaps body pacifists are becoming more radical in their thinking and quick fixes for flabby bits are the way to go in our short time on this earth?
At the weekend I was trying to polyfilla my forehead wrinkles with … a great product I call my … Miracle Cream.
(It does work though, and fills up the plough tracks on my forehead!)
A woman's beauty is her capital – Guffaw!
When we lived in the Philippines expat women of European extraction could feel a little let's say second class, if you relied on beauty to get you by. A beautiful Filipino friend told me:
"A woman's beauty is her capital," before adding mischievously, "and a man's capital is his beauty," (meaning the beauty on the end of his arm). I can remember sucking in my substantial tummy when she said this, and fixing a sickly grin on my face. I sat there immobile for a moment, trying for all I was worth to look like a supermodel while at the same time conscious of my generous Celtic stature, stretch marks and pre-menstrual bloating.
At the end of the day, I'm far too squeamish for body enhancement and I must confess to not being inclined to increase my "capital value" via surgery for the sake of manly attention.
Overall, I firmly believe in the importance of a balanced, calorie controlled diet combined with the benefits of regular, sustainable exercise for both good health and weight reduction plans.
So as I hoist my flabby hips, caesarean scarred belly, wiggly under-arms, and couch potato bottom off my chair and head off for a tasty lunch I think, thank goodness my hubby really does prefer womanly curves to stick insects.
Whatever the rest of you decide and for whatever reasons, I'll stick to being a Rembrandt, thank you very much.
Ten ways to look younger and healthier without resorting to cosmetic surgery
Set yourself realistic beauty goals. You may never have wanted to look like a supermodel, but still … even if you did, most of us will never look like supermodels, no matter how hard we try. Be happy with what you've got, flaws and all, and make the most of it.
Get a good night's sleep, every night. You will feel better for it.
Don't smoke and do limit alcohol consumption. You knew that didn't you?
Drink about 8 glasses of water (not fizzy drinks, not coffee) every day. Don't force it down, and don't down it all at once.
Stay out of the sun – if you can't, then wear a hat, and cover up naked skin. Skin cancer is not fun.
Develop a positive outlook, and retain a sense of humour at all costs. This will help see you through the saggy years.
Eat plenty of fresh fruits and vegetables.
Exercise – three times, or more, each week if possible for at least 30 minutes a day. From what I know, after 20 minutes of continuous aerobic activity you begin to burn stored-up fat, rather than readily available energy stores. But remember,  any exercise is better than nothing at all. And some simple stretches each day are also a good idea to fit in if you can (make sure you get good advice or know what you're doing).
Develop a good skin care regime for your skin and use the products regularly, oh and use a good teeth whitening toothpaste to keep your pearlies looking white. You might also like this post: Skin products I love.
Keep your hair trimmed, your nails buffed, your hairy legs shaved and every now and then treat yourself to a facial and a massage.
If you're on Pinterest, I'd love it if you might PIN the image below 🙂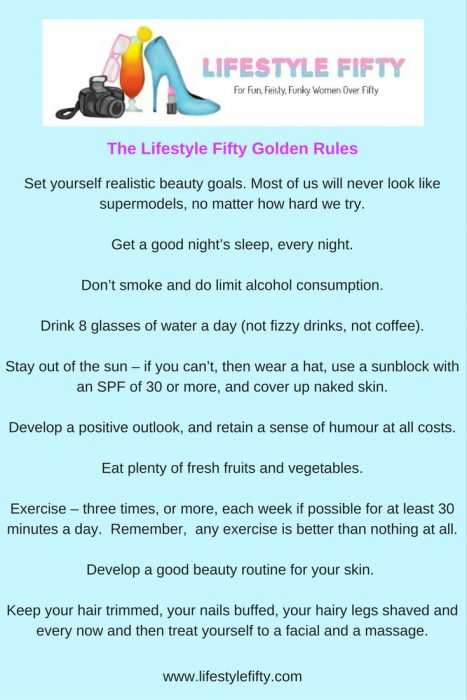 What are your tips for looking great as we get older?
Disclaimer: There are affiliate links in this post from which I stand to earn a small commission if you buy (thank you) but at no extra cost to you. Lifestyle Fifty Website is a participant in the Amazon Services LLC Associates Program, an affiliate advertising program designed to provide a means for sites to earn advertising fees by advertising and linking to Amazon.com.