At first I didn't think I'd like the Yarra Cropped Coat, because I've always preferred jackets that sit a little lower. But this outer garment has become a must have tailored jacket in my basic capsule wardrobe.
It's lined with neat invisible front zips and it has an easy fit for layering over either a blouse or lightweight jumper.
I love that it's a wool mix and it feels and looks as if it will stand the test of time and I know I'll love it for years as a Must Have Tailored Jacket. It's a little bit classical, a little bit warm, a little bit easy to match with anything and overall, just very versatile.
Yarra Cropped Coat – Must Have Tailored Jacket for Winter, Spring and Fall
All in all it's one of those pieces that you'll wear again and again without really having to think about it.
Wear it open when the weather is warmer, or wear it buttoned up for a more formal look.
The Lowdown
30% Wool 70% Acrylic
Fully Lined
Invisible Front Zips
Button Down Front
Wool Mix
Wide Tailored Sleeve
Relaxed Fit for Layering
Designed in Australia
This Vivid Coat has certainly been designed for both style and comfort.
Layer it over any outfit for warmth and to look super elegant and classy.
Team with ponte pants, slim leg jeans or black pants.
Add a leather handbag such as the Amelie from Travel and Living Collection which gives nice length to the jacket.
Below I've teamed it with a Maddy Merino Wool Hi-Lo top in red Essentials red
And then added a wearable art fashion design scarf. This one a Sharyn Kayne signature scarf from Namaskar Australia.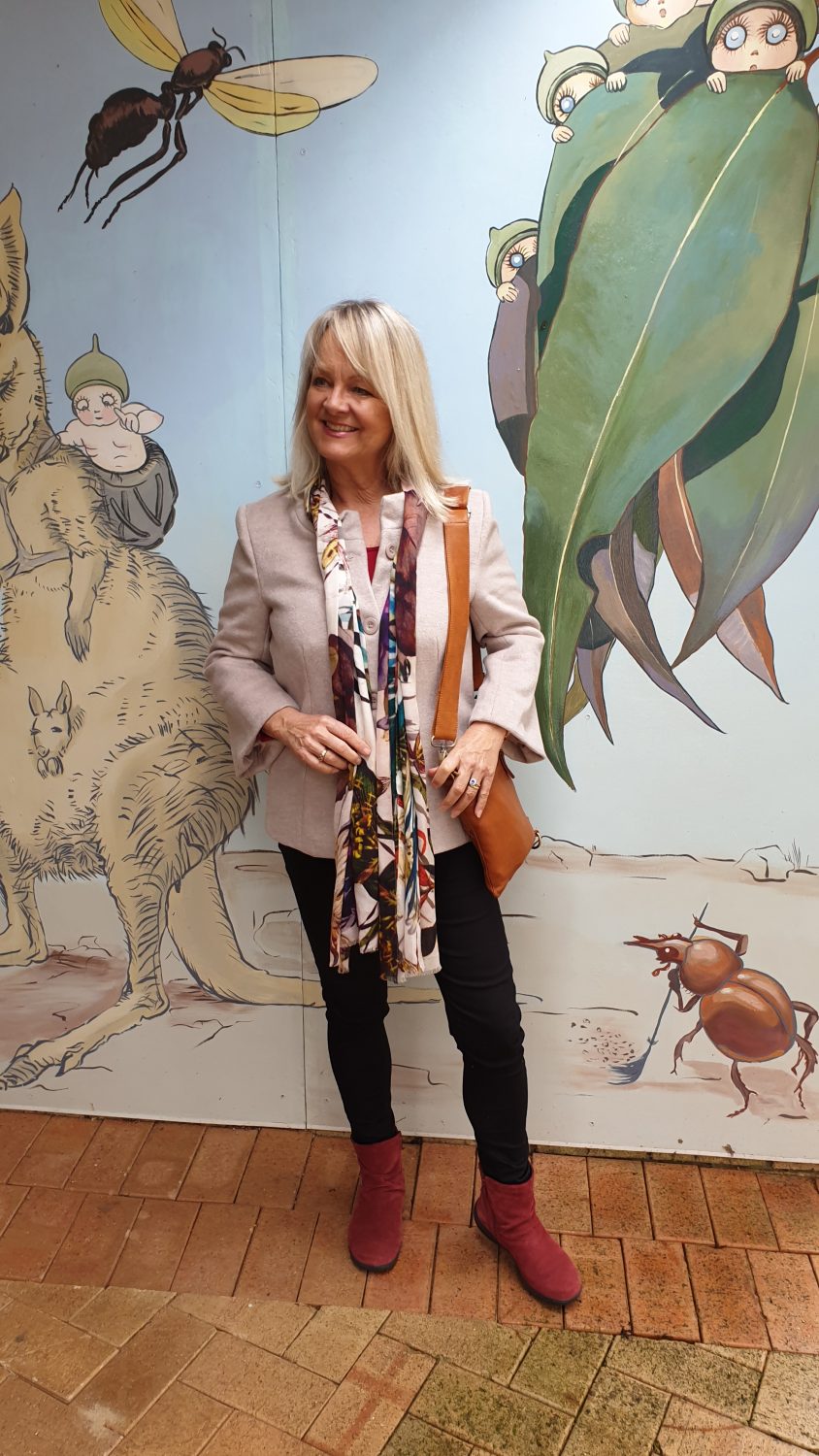 Suede boots, last season, are from Hotter Shoes.
The adaptability of this caramel colour is obvious. Team it with a gentle jade green, like this long sleeve T also from Vivid International.
FRANKiE4 black leather ankle boots above, and stretchy black ponte pants from Vivid International.
Pop on a winter warmer tassle scarf and away you go, layered and snug and warm.
Stockists
Pin this Post for Reference
This post contains gifted products, and affiliate links from which I stand to earn a small commission but at no expense to you. Lifestyle Fifty Website is a participant in the Amazon Services LLC Associates Program, an affiliate advertising program designed to provide a means for sites to earn advertising fees by advertising and linking to Amazon.com. If you purchase a product from one of these links it will not cost you any more, but Lifestyle Fifty will earn a small commission.