I'm Lovin' Life this week and not just because I'm really lucky to have a new stylish leather handbag! Maybe you've been looking for a fabulous handbag?
Perhaps been searching for 'stylish leather handbags' all over the place but not finding what you want?
Looking for a beautiful laptop bag or a sturdy leather tote to hold your iPad and Phone too?
Well, stop right there! And please let me introduce you to a really inspiring Norwegian lady (who's clearly "Lovin' Life") and her unique super soft stylish leather handbags.
From Dizzy Heights to Stylish Leather Handbags
Christin Svard is a really inspiring woman who turned her cant's into cans and her dreams into plans to begin designing and manufacturing exquisite and truly covetable handbags.
I met up with her the other day in sunny Perth on the banks of the Swan River.
Christin is from Norway, land of the mysterious midnight sun and northern lights,  a country which on the map, fits about 6 times into Western Australia, a place Christin now calls home.
After 20 years in the airline industry, working as a flight attendant and as a trainer for a Norwegian helicopter company Christin fell down a flight of stairs at work and severely damaged her knee.
Five knee operations later, she came to the conclusion that the high flying life was not for her anymore.
Born to Fly – So how would she keep her feet on the ground?
Christin met her Australian husband in China, and soon after moved to South West Australia.
But she needed a job. "I decided that since my background was flying at around 30,000 metres above sea level the best thing to do would be to get a job as close to airplanes as possible, so when a job at an airport came up, I jumped at it.
I was offered a job at Bunbury Flying School where I was really happy for a couple of years," she told me.
From airports to jewellery
Then chance offered Christin a new opportunity when she discovered a jewellery range that she loved.
"One day, five years ago, I came back from a holiday in Norway with 7 kilos of a Norwegian jewellery brand I loved, called Hjerter, in my hand luggage.
I started cold calling and walked from store to store in Perth trying to sell it.
But all that footwork is history now, because the brand has become well known and I came to realise this last year when I was standing naked having a mammogram.
The nurse looked at my bare upper body and said, 'Hmm, is that a Hjerter necklace you're wearing?'
I started laughing and told her yes it was, and she replied that she has at least 5 pieces at home, and that she loves it."
Hjerter is easily recognised for it's heart shaped jewellery.
Feeling that she had done as much as she could with Hjerter (which she still used to wholesale) she needed another creative challenge.
Born to fly, Christin decided it was time for more action and she created, Travel and Living Collection, which abbreviated comes down to TLC.
Travel & Living Collection
"My greatest passion is to travel, to be on a journey, and to challenge myself.
Along the way I like to learn as much as I can and last but not least I love to socialise and share.
I believe that your dream job doesn't really exist. You must create it. And so I did."
Safe, sturdy and stylish travelling bags
With her background as a flight attendant it felt natural to start designing something that was close to her heart and involved travel.
It had to be something which had style and that would feel really good to touch too.
"I decided to create a safe but stylish travelling bag that could really hold some weight which would travel the world well. I did my research – oh do you know that the average woman carries at least 2.5 kilos around in her handbag, every day?
Anyway I started creating a brand, and it was important that the styles I created complemented each other because I wanted them to become a collection."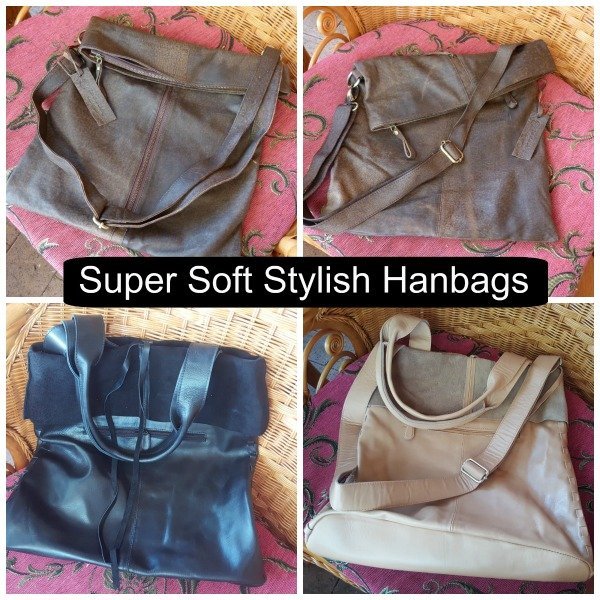 Style matters, practicality matters and great quality matters.
Christin knew her handbags had to have a point of difference. "I knew my creations had to be stylish, practical and good quality, but they also had to be filled with joy and fun, and they had to have my heart and soul in them.
Of course they had to be safe (from my flying background) and also include airplanes and moving things in some way.
So I also had small airplane charms made into small keyring that could hang off the bags as a souvenir, so offering something extra, something a little unexpected.
And I had different luggage tags made up with the theme of travelling such as pilots, air balloons and also branded ribbons as a final touch."
Travel & Living Collection
She chose the name Travel & Living Collection, carefully abbreviated to TLC – Tender, Love and Care. They would be stylish leather handbags with a difference.
"The motto of my business is Act with Tender Love and Care, as if what you do, whatever you do, makes a difference."
High quality upmarket leather products
Designing and creating bags was not without it's challenges. "I'd stepped into a non consistent world," Christin said. "So different from when I was working in an organised world with business men on flights.
Then I could make my customers fasten their seatbelt, sit down and do as they were told.
Now I face cash flow problems, delivery delays, inconsistency in production, leather issues, dye colour issues and so on. I fell right out of the sky into a big reality check!"
A Challenging Journey
For Christin the journey to success has been challenging but enjoyable although she admits being creative and designing can be quite a lonely process, "Especially when you fall asleep on the keyboard of your computer and your husband has gone to bed 3 hours ago!"
"But the rewarding moments make up for all that. When my customers love my products and when they want to be part of my continuing journey, then I know it's all worth it."
Unique super soft stylish leather travel bags, each piece one of a kind, handmade with love
"Colours are always limited, so it's very rare that anybody will have the exact same colour bag as you."
All the bags have names relating to the travel world, such as : Journey Bag, Dash Clutch (named after an airplane Christin worked on), the Resort Bag, Excess Luggage Bag, Fly Away Bag and of course the Frequent Traveller Laptop Bag, below.
Christin's business tips
To have a sustainable business Christin believes you have to learn new things every day.
Have strong branding that people can recognise.
Be passionate about what you do.
Answer your phone straight away.
Fix problems or deal with returns immediately and have great customer relations.
Share your knowledge wherever you can.
Read more of Christin's inspiring tips for women entrepreneurs in this post.
"I read Renegade Collective Magazine and I follow a group called Leaders in Heels, as well as following various bloggers. I get inspiration and quotes form Pinterest and of course I use social media particularly Facebook and Instagram. I've also joined Bartercard, another avenue which helps my business in various ways and gives me the opportunity to meet different potential customers."
Inspirational Quotes Christin loves
"Success requires 3 bones: A wishbone, a backbone, but most of all a funny bone! I believe you also need a dash of humbleness and lots of creativity. If knowledge is power, enthusiasm definitely pulls the switch."
In her spare time Christin loves walking, reading and networking, and you'll often find her out and about bicycling around her home town. "I hope that my business is a BIG hearted business. I aim to care, and I like to share and give. I believe if you should ever get lost along the way, look to the stars, take a deep breath and follow your HEART (and make art)" says Christin.
Christin was kind enough to tell me her story, and share her dreams, and then she gave me a beautiful leather bag, The Hannah Bag (above).
I love it because it's lightweight and super soft, but also it's sturdy and is going to be a fantastic travel bag, strong enough to take my laptop, iPad and all my blogging paraphernalia wherever I go. It also comes with a seperate detachable shoulder strap.
I'm  wearing a sparkly Hjerter heart necklace (gifted).
If you'd like to see more of the Travel and Living Collection, click Here. If you'd like to purchase Hjerter jewellery, contact Christin at Email: [email protected]