Welcome to the Lifestyle Fifty series, "What Shall I Wear Today," in which we feature beautiful women 'of a certain age' in clothes they either love, or those they are wearing that very day.
Today we're giving a shout out to lovely readers Kathy and Jill who show us how to look hot, hot, hot in a little black dress, and elegantly casual in an outfit perfectly suited for popping in your suitcase when travelling.
How to look good as you get older
Over to Kathy Marris who writes a blog called "50 Shades of Age." Scroll down the page to read more about Kathy and her blog.
"The dress I'm wearing is a new little black dress (LBD) which cost $50 from Myer. I wore it recently to a High Tea with the girls. I accessorized the dress with a bright aqua necklace, bracelet and a pair of Trenery black & white sandals."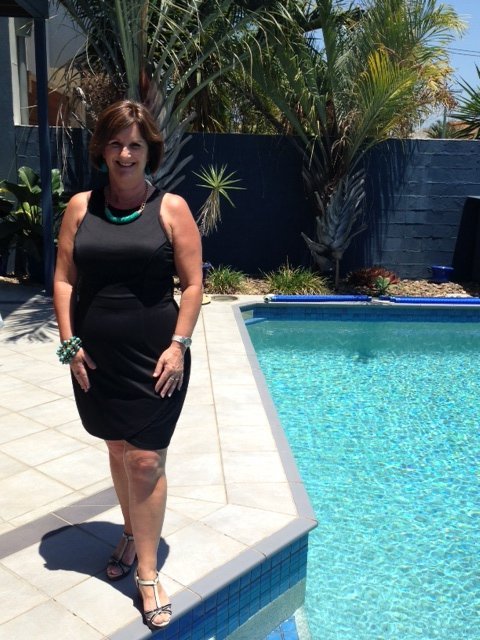 Kathy is '50 something' and she's been blogging at 50 Shades of Age  for the past 14 months.  She's married with 2 children and has spent most of her life being a housewife, mother and working as an Accounts Administrator in the public school system.
On her blog, Kathy writes about issues that face the middle-aged woman as they are facing menopause, kids leaving the nest and retirement. However, her greatest passion is travelling and writing about it.
She loves to keep fit and active by maintaining a healthy diet and exercising regularly. Some of her interests include reading, movies, travelling, cooking and blogging! Her friends would describe her as being a 'have a chat' with an outgoing personality and zest for life.
Thanks for taking part Kathy! We think you look stunning in your LBD and congratulations for keeping fit and healthy as you get older. Why not check out her blog Lifestylers?
Clothes for a travelling lifestyle
And now it's over to Jill who writes a blog about her travels and life in Western Australia. She takes the most awesome photos too, so have a squizz and she's up to at Life Images by Jill.
Jill loves nothing better than to get in her four wheel drive with her family and take off into the outback with a tent. Clothes that suit her travelling lifestyle are a must – over to you Jill!
"This is my newest favourite summer outfit. The white pants I bought from W Lane in Bunbury (as a result of a prompt from Jo Castro). White pants are so versatile for summer – you can wear them with any colour and a variety of tops. These pants are made with a stretch material which is very comfortable to wear. They have an interesting zip detail on the pocket, which you can't see in this pic, because I prefer these days to have a longer top covering up the tummy bumps!
The top I bought from Jeans West. I love it. I can wear it casually, as with these white pants, or I can dress it up for a dressier look. I teamed it with a black skirt and heels when we went to a stage show recently in Perth. The top has a light filmy overlay over a singlet top, so it is cool for summer. I also like the cut away sleeves that show off my shoulders, but hide those loose bits that we ladies tend to get on our upper arms (I am sure you all know what I am talking about – I know there are exercises to help with that! must do list! )

The sandles are Airflex from Betts. I love Airflex shoes as they are really comfy. I wear a pair of Airflex boots to work every day. I think that this outfit can look casual with flat sandles, or a bit dressier with a pair of heels. I've teamed the outfit with some beads, and silvery earrings (bought at one of the great, and affordable jewellery shops that are around now).

PS – The top has wide straps over the shoulders which hide your bra straps – no shoestring straps for me!
Jill's a mother and grandmother, as well as an office manager, freelance journalist and photographer. Phew! She's more comfortable out in the great outdoors wearing casual clothes and her camera as an accessory, but she does like to dress up too. She prefers to be behind the camera not in front of it. You can catch Jill at Life Images by Jill.
Over to you Lifestylers – what do you like, what would you buy, what would you look good in? Why not tell us in the comments and please contact me if you'd like to feature in "What Shall I Wear Today" (Email form in the Contact Page above).
Until next time,