Where to stay in Ubud, Bali. 5 Fabulous Accommodation Picks.
Where to stay in Ubud, Bali when you've only got a few days
Living only a hop skip and a jump away from Bali, means that it's quick and easy to get to from Western Australia. It's a bit like going to Western Europe from the UK, just more tropical 😉 Three and a half hours on a plane and we're in a magical, and quite different climate and culture altogether.
So we go as often as we can, especially when the prices are right and the airfares are cheap as it's often less expensive than flying somewhere for a holiday in Australia.
But Bali is a destination loved by many (and disliked by some) just like the memoir Eat Pray Love by Elizabeth Gilbert, which featured Ubud.
Each time we visit, I have to admit, we love certain things and get antsy at others. We also  meet not only Aussies, but many European and American travellers exploring the island which is great.
I've been to Bali four times, the first time way back in 1983. And my how it's changed over the years. Kuta consisted of little more than a few small roads girded by thatched huts and a rutted road leading to an uncrowded beach.
I met artist Antonio Blanco in Ubud when his gallery was his house, now he's deceased it's a famous landmark destination.
Four of us young backpackers drove a soft top jeep around the island and got held up by bandits in the mountains. Oh it was a wild and mysterious place back then.
I still love Bali, especially Ubud, Bali's cultural centre, with its arts scene and galleries, its beautiful scenery and rice fields, its increasingly great selection of restaurants, its exotic food, and its lovely places to stay and relax. Think lush tropical gardens and indulgent outdoor day beds.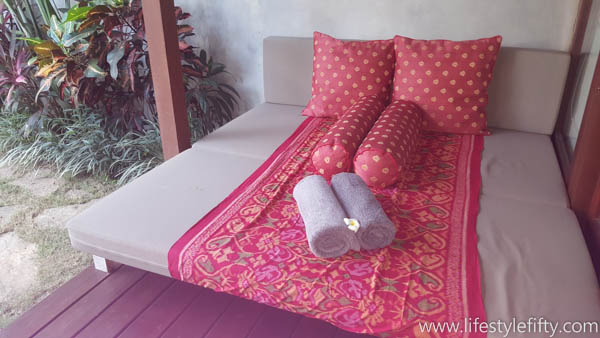 I've written lots of posts about Bali over the years, and if you scroll to the bottom of this post, you'll find a resource list linking to all of them including the very popular:
"29 Awesome things to do in Bali".
Without further ado, here are some of our recommendations for
After lots of online searching, we snagged a great last mintue deal. 6 nights in a pool villa, which included breakfasts (3 courses plus fresh smoothies/juices) and daily high teas with Balinese cakes.
The villas are situated quite high on a ridge with  peaceful views of rural Bali and working farmland.
They're about 15 – 2o minutes drive from the centre of Ubud (depending on traffic).
Individual villas with private pools and walled gardens are spaced around two small public gardens.
There's a spa, two intimate dining areas and a reception area. The hotel part of the establishment is convivial and the staff are super friendly, but you truly can get away from it all in your villa behind two ornate wooden doors.
We wanted the privacy of a private pool given we were going during a very hot time, and jumping straight into that pool on our return from stiflingly hot walks or trips into Ubud was bliss. Booking a pool villa as opposed to a hotel room also gave us much more space and our small walled garden was private, but with a view out across rice fields and farmland to Bali's highest mountan, Mount Agung.
The spacious bedrooms are made to resemble traditional Balinese houses with high thatched ceilings and wooden floors.
Balinese style can be quite dark, but these rooms aren't dimsy and are kept light due to the floor length windows on two sides which overlook the courtyard garden, the pool, a small deck area and the paddy fields beyond.
From the deck area we could see the farmers in conical hats laboriously at work in the rice fields, and we were amused by the antics of ducks and birdlife.
It was a very rural scene and so peaceful. We often had high tea at the table on our deck, and if we preferred we could have had all our meals delivered to us in the villa rather than eating at the restaurant (most people did).
Outside our villa was a small restaurant, with an overhead fan, three tables only, and a view across the small garden.
We really enjoyed eating here, it felt like our very own restaurant as few guests ate here, and we came into contact with the staff who were all lovely and couldn't do enough for us.
A larger restaurant was due to open at the other side of the property after we left. Some tables are situated in the garden, and some have a view of the farmland and rice paddies, above.
The bathroom was roomy with cupboards, plenty of space to hang clothes or towels to air, and had large mirrors and a sink. Two free bottles of water were provided each day for drinking and cleaning teeth purposes. The bath and toilet are situated in their own outdoor (partially covered) walled courtyard accessed through a sliding door from the bathroom. While this eradicated smells, I was careful to light the mosquito coils (provided) at night to prevent being bitten on the bum by mossies! We would also quite often hear the scurrying of lizards.
Dengue fever in Bali is always a worry (read Travel with Bender's account here) and our son caught it when he was younger when we lived in The Philippines. Which makes me a bit paranoid. So I made sure the mosquito coils were lit outside on our balcony and in the bathroom when we were in residence.
At the spa, mosquito coils are lit beneath the beds if requested.
The Samkhya Spa offered fantastic treatments. I love spa treatments so made the most of the opportunity and had 4! Each treatment cost between $20 – $35 dollars – which was so cheap compared to Australian prices.
I spent just under $100 for 4.5 hours of pampering in a picturesque bale which is made private with curtains and situated on a deck surrounded by fish ponds and the sound of calming running water.
Travel from the airport to Samkhya will take about 1.5 hours and costs US$35 each way booked through the hotel. You're dropped at a small pick-up point about 800 metres from the resort, because the pathway is too narrow for cars.
A golf buggy will be waiting to pick you (and your suitcases) up and you drive along a thin track beside rice fields and an irrigation canal passing two other villas which share the same access.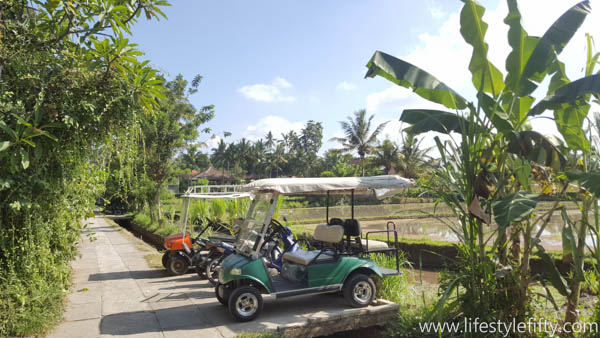 To begin with this mode of transport was a bit of a shock! But we quickly warmed to the idea, especially at night when we returned from Ubud after a couple of Bintang beers – this is Bali after all!
You can also easily walk this stretch though like the locals do – it takes about 5 minutes.
It will take you about 50 – 60 minutes to walk along the main road from Samkhya into Ubud central. The pavement is off and on, and rutted (as are nearly all pavements in Ubud) and the cars and scooters whizz close-by, so you need to be aware. You'll go past lots of interesting art galleries, little restaurants and other hotels, so it is worth the walk at least one day. On other days there are regular, complimentary shuttles to and from Ubud, first via the golf buggy then via a mini bus which drops you (and then picks up) from the Grand Palace near the Ubud market. The trip takes about 15 – 20 mins but it feels like less.
One night we requested a non-scheduled pick-up from Bridges restaurant just outside Ubud – Samkhya charged about $7 for the pick up. If you haggle with a taxi you will probably get one a bit cheaper for about $5.
I'll be writing more about where to eat and what to do in Ubud in  future posts 🙂
Tips: WiFi – was free at Samkhya and available in the restaurant area, and in our room. The bed was comfortable and spacious – two king singles pushed together. Slippers and gowns are provided in the room along with a safe and A/C.
The staff at Samkhya really made our experience wonderful. At the end of 6 days they felt like friends. During our stay they made sure that our every need was catered for.
Ubud Padi Villas
Sister Villas to Kamkhya are the Ubud Padi Villas which are right next door and were built a few years earlier than Samkhya by the same developer.
There's a small reception area (below) and at the end of a garden a secluded spa area beyond the open air restaurant.
Rooms are similar to Samkhya's but the rice paddy villa views are situated directly over a public walkway, so you do feel closer to civilization. The valley views over trees are more secluded, below.
Each villa has its own private pool, and there's an infinity pool at the entrance.
We didn't eat at the restaurant, but it's pretty, especially at night. Meals were about the same price as Samkhya (as were the Spa treatments.)
Kenanga Boutique Hotel
We didn't stay at Kenanga, but we thought how lovely it looked sitting on a slope above the rice terraces, especially when it was all lit up at night. So we did look at one of the rooms, wander the grounds and eat at Terracotta Restaurant (above). We could walk to it in 5 minutes from Samkhya.
There's an open sided dining room with a beautiful view – and it's all lit up like fairyland at night.We had a lovely (2 course meal and dessert to share for $71 including two Mint Mojitos for me and a large Bintang and G and T for him.  The bedroom we looked at had a balcony overlooking the rice fields – the bed looked smaller than Samkhya's singles pushed together, but the room was more modern, and the bathroom was ensuite.
There are 21 Rooms and bungalows situated in tropical gardens. The facilities are modern and bright, but blended with Balinese tradition. You can choose from garden rooms overlooking the rice fields or bungalows which are apparently larger.
Ananda Cottages
I'd been eyeing this property up on lastminute.com because it was coming in at an excellent price and the reviews on TripAdvisor were all good.
So when we chanced to walk past the entrance on our way into Ubud one day we asked if we could have a look around.
I would definitely consider staying here as a more budget option next time, particularly if there was no need or desire for a private plunge pool (ie in cooler weather perhaps). There are three very pretty swimming pools at Ananda, situated in different and beautiful locations accessed by a network of paths and gardens around private rice fields.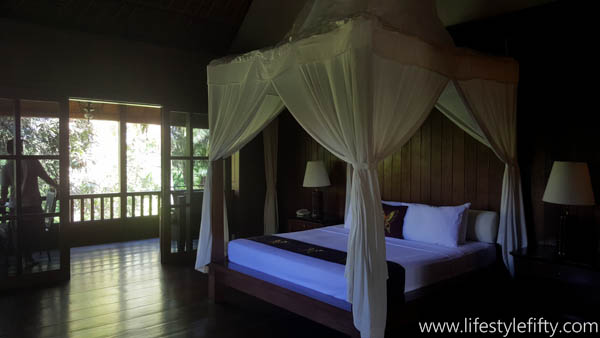 It's quite a big property (low rise) but you don't feel engulfed as the rooms are nestled around rice fields, trees and gardens. Expect traditional style rooms with dark wood fittings and tranquil balconies (above and below). The bathroom I looked at was a bit dated, but clean and serviceable nonetheless.
I loved the sense of space at Ananda, and the pathways leading to different pools and locations.
There's also a large yoga retreat situated peacefully on its own at the back of the property and I believe Ananda is popular for yoga groups.
Tip: Request a room at the back of the property as it will be quieter than those closer to the road. Also the upper rooms have their own private balconies. Lower rooms also have balconies, but are not quite so private.
I was informed that Ananda guests had use of two 'sister' hotels pools and facilities including Bliss Ubud Spa and Bungalow  just up the road which has the most beautiful pool with a gorgeous rice paddy view (below).
Rooms and balconies were decorated with traditional Balinese furniture.
The Maya Ubud
This is my Top Pick – Where to stay in Ubud #1
Check out the best prices for "Maya Ubud Resort and Spa" from a booking site we like to use. Click here for: Best deals and prices.
Maya Ubud Resort & Spa is luxurious and gorgeous. We stayed here a few years ago and I would return in a hearbeat (funds permitting!)
The resort is hugged by verdant jungle and situated between a steep river valley and swaying fields of rice. Garden Villas and Pool Villas are designed to co-exist with nature, set in their own walled, tropical gardens.
There are 10 hectares of hillside garden set high above the Petanu River which flows through the valley some 30 metres below. Towering silk trees and jungle creepers with waxy leaves as big as satellite dishes rise catch your attention as you walk down the steep steps to the hideaway  horizon pool, and the River Cafe that hugs the last bit of hillside before it plummets  dramatically into the river. If you prefer, there is a lift for the fainthearted.
From my journal: "A ghecko croaks in the thatched rafters. Night is drawing in. The million eyes of the jungles quieten and begin to close their eyes. Sleep comes upon us."

For those of you who arrive at night, you're in for a magical welcome.
The Maya Ubud has thatched Spa treatment pavilions dramatically cantilevered over the rapids of the Petanu River.  A spa treatment might consist of a massage and then a flower bath when a canopied bathtub might be filled with bucketfuls of  frangipani, and rose, orange or lime bath crystals. You'll be given a healthy snack and some fresh lemon juice, while you relax and listen to the rushing sound of the river – an experience which can best be described as heavenly.
We stayed in a pool villa which was quiet and secluded.
At the Maya Ubud the restaurants are all rooms with views and mostly open sided,  leading to water or fountains or dramatic valley vistas. Our first breakfast was beside a pond with a water feature in view of two stone carved elephants complete with checked yellow rugs and chairs with bright yellow cushions.
A couple of years ago I was interviewed by Hotels Combined for my travel blog ZigaZag and not because of that, but prior to and after the interview I've booked great places to stay via their website. If you're looking for a place to stay, I recommend checking out  Hotels Combined for the best deals and prices.
Have you been to Bali? Where did you stay? Will you go to Ubud? Where would you like to stay? Please chime up in the comments!
I hope you'll find the following posts useful too.
29 Awesome Things to do in Bali
Bali – The Split Gate to Heaven and Hell
Bali Holidays: What to pack for a Tropical Break
How to create Balinese Gardens without going to Bali
5 Tips for creating a Bali Garden 
How to create a Balinese garden in your backyard
Best Places to Stay in Bali   by All Indonesia Travel
Disclaimer: There are affiliate links in this post from which I stand to earn a small commission if you purchase from them, but at no cost to you. Thanks for helping me keep my blog going 🙂