I wonder how many of you will receive Gift Vouchers or perhaps money for Christmas? I'm so lucky that my Mum always puts a little something into my account for Christmas, and if I'm not careful I spend it on groceries, which is not really the point.
She wants me to spend it on something personal, just for me, and this year I'm thinking I'll put it towards something new to wear on New Year's Eve perhaps.
So I went a-looking to my favourite suppliers and had fun coming up with some ideas for us all.
FRANKiE4 Shoes and Millers Dress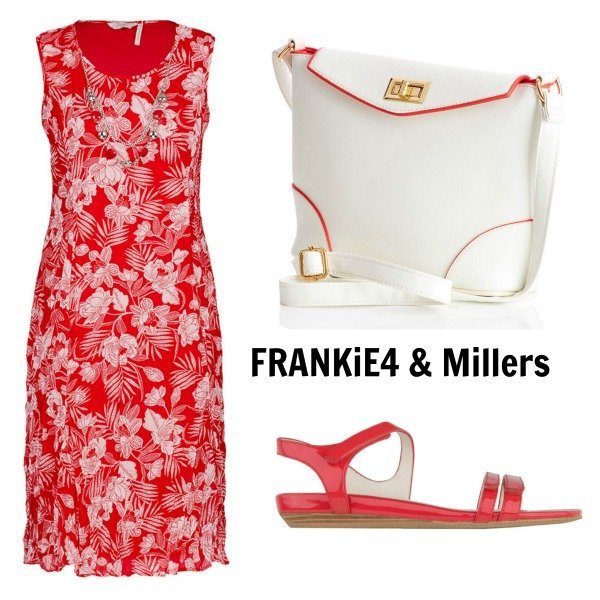 I know Millers have a bit of a reputation and lots of my girlfriends go, "Ewww, but Millers is for old people, isn't it?" And I have to reply well yes (and let's face it I'm not exactly a spring chicken myself) but some of their styles are actually really rocking it these days. What about the pretty sleeveless floral necklace dress below which is just $45? It's super cute with the necklace neckline, and red's such a HOT colour for festive occasions. I also think the Rome Crossbody white bag with red trim would go well with this ensemble and it's just $25. Pair this up with a GREAT pair of shoes designed by a podiatrist (who doesn't need comfy shoes this season?) and you have a winning outfit. The shoes are KAT in Watermelon by FRANKiE4 and retail at $199.95.

Katie's and FRANKiE4
Katie's are always spot on when it comes to price, and the quality is normally good. If you've got a more casual New Year planned, around a barbie and by the pool maybe, then this could work well. The lovely printed Kaftan Maxi from Katie's is $79.95 and the Chevron Straw Bag is $29.95, while the shoes are flat and comfy and from FRANKiE4 – they're KAT in black at $199.95.
Leona Edmiston
And now for the upmarket option if you're feeling a little flush with cash to spare. I love Leona Edmiston designs and I adore the way her fabrics skim your body, and the cuts are always sublime. So you're going to pay a bit more for these luxuries, but look out for dresses in the sale because you can get some great bargains. Below for a more formal dinner out perhaps – Frangelica dress was $425 now $212, Charlie Clutch $69, Amelie Heel was $239, now $167 in the sale.
Millers
Finally we come to a budget option which you'll find yourself wearing again and again, because if you're anything like me I tend to wear my bargain buys to death. It's back to Millers with a Lace Neck Hanky Hem Dress $38, Joan Glitter Clutch Bag $25, Molly Wedge $35. A whole outfit for under $100 – not bad!
Which ensemble might you choose, or have you already bought something, or are you going to be wearing an old favourite this year?
Related Posts
What to Wear for Long Haul Flights
What to Wear with a Swing Dress
What to Wear to New Year Parties