If you're wondering what to wear to a Christmas Party this year, then I've got some really eye-catching and colourful suggestions for you today, along with some must-remember do's and dont's when it comes to looking like the belle of the ball.
Maybe you read last week's post about the LRD, The Power of a Red Cocktail Dress? In my humble opinion it's a fabulous party dress if you love red as much as I do. Or if you don't, then perhaps the lace dress in blue (above) is more suited to your colouring – Both dresses, blue and red are by Yesadress, from Vivid International. All you need to add is your own jewellery and possibly some sparkly footwear and voila! Perfecto mondo 😉
Anyways, on the party front I'll be attending Dave's office party, and also my own office party – no silly, not just me and the pot plants, but me and a bunch of lovely Perth bloggers and writers who all work from home – all of whom would either be sitting with a glass of champagne and their cats or dog if it wasn't for our yearly 'Hoolah!' together.
I'm looking forward to both parties very much, one is likely to be less formal than the other. I'm also fairly confident that there's likely to be a couple more razzmatazz parties in the pipeline requiring more evident sparkliness.
The dress below from Vivid International should do the job nicely 🙂 I love the sequins, and the lacy bolero jacket is just gorgeous and a great upper arm cover up too. It's lined to the knee, which means a little sparkly lace shows a bit of leg but not too much.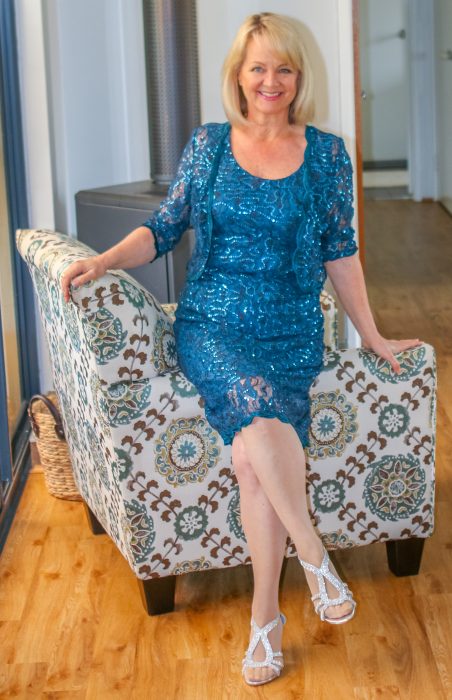 I've worked out my outfits – of course – and details will be on the blog, Facebook and Instagram, as each outfit makes its appearance when it's adorned and accessorised.
If like me, your social calendar is filling up faster than Dave can pour me a glass of wine after a busy week, then here are some tips to take the stress out of finding the right things to wear.
Christmas Party Dresses Stockist
The "Yesadress" below is one I love, very flattering around the tummy line. The sequins and the v-shape of the top half distract the eye, while the skirt part of the dress skims the hips and has nice movement at the bottom without being voluptuous.
In the meantime if you'd like to buy these dresses, then check out where you can find the Stockists here before they sell out.
Tips and Suggestions for Christmas party wear
1. Getting dressed up for a Christmas party should be fun. It's a bright and festive time of year and you should feel the same. However, be careful not to be the overstatement at the party. The trick is to light up the room, but not like a Christmas tree.
2. Sequins are a Yes for Christmas dressing. They are fun and just shout 'Party time!'
3. As I mentioned earlier, don't dress up like a Christmas tree, but you can add some sparkly decorations in the form of costume jewellery or perhaps Christmas inspired earrings.
4. Any baubles you choose to wear should be discreetly prominent, if you know what I mean. Not all over the place (which is rather how our Christmas tree looks each year). Go for a focal point – wear the sparkly ring, or the sparkly brooch or the bling earrings, but don't wear All of The Things.
5. If you want to light up the room then the best look is elegant. Don't go for the all singing, all dancing, all blinking Christmas jewellery. It's just you know … passe and kitsch.
6. Don't truss yourself up like the Christmas turkey. If there isn't some degree of comfort in your dress, you won't make midnight. So anything too tight is definitely a no-no, straps which fall off your shoulders in an annoying way – just don't go there, a dress which has a VPL (visible panty line) is not something you want to worry about as you get into a conversation with your husband's boss, or find someone to kiss under the mistletoe 😉
7. By all mean buy a new dress. And if you're buying jewellery, a clutch and shoes to go with it then maybe think what other existing outfits you could work these accessories with too. But before you splurge think about a) what you already have in your wardrobe and b) what new inexpensive things could you buy to jazz it up in a different way for a second or third occasion. My sister in law once told me that an expensive dress is not so expensive if it gets worn lots of times – the cost per wear becomes minimal. However, a cheap item which you wear once and then give to Salvos because it's not such a great fit, or it doesn't wash well, well that doesn't work out so cheap after all.
8. If a party dress comes out on a few occasions or even on a consecutive year, most likely no-one will remember the colour or the exact jewellery you wore with it, but they will remember if you looked fantastic.
9. Start with your Christmas frock and then co-ordinate your accessories. The dress below is just ready for some Christmassy silver I reckon, like a saphire on a silver chain 😉 Ha! (Christmas present anyone?)
10. If you don't like dresses then think about silk trousers or fabulous culottes.
11. Buy the best shoes to go with your outfit. FRANKiE4 are a great choice because they are stylish and comfortable.
12. A wedge rather than a high heel is a good idea for a long evening.
13. Don't like heels or wedges? Then go for sparkly flats and wear a floaty maxi dress.

Top Tip – Don't just buy a Christmas outfit because you feel you should and you think, 'oh this will do.' If you try it on in the changing room and you don't absolutely love it, then take it from me, it's not going to make you love it when you get home. So find something which first of all shouts, "Me Me Me" as it catches your eye on the rail, and then make sure it says, "I'll love you forever," the moment you slip it on!
If you've found this post in anyway helpful, please would you PIN the image below so that other people can find this information too:) Happy Pinning!
What's your top tip for party dressing?
Related Christmas Posts
40 Christmas Movies you Must Watch
Tips for Finding the Perfect Christmas Gifts
19 Christmas Traditions and Memories
18 Ideas for Christmas Vacations
Disclaimer – Vivid dresses were gifted for editorial consideration. This post contains affiliate links from which I stand to earn a small commission if you buy from them – but at no expense to you. Lifestyle Fifty Website is a participant in the Amazon Services LLC Associates Program, an affiliate advertising program designed to provide a means for sites to earn advertising fees by advertising and linking to Amazon.com.