I often get emails from women asking for simple style advice about how to look stylish without really trying. And I listen to Lifestyle readers, and the things they have to say about looking more stylish as we age.
How to Look Stylish – Find the look you crave
Don't wear baggy tops with baggy bottoms
Do wear a tight top with baggy bottoms
Don't wear a skin tight vest with skinny jeans
Do wear a baggy top with skinny jeans or ponte pants
Do wear a statement pair of sunglasses
Don't wear tons of fashion jewellery
Do wear elegant statement jewellery
Don't wear bras that are old and ill-fitting
Do wear a great fitting bra that shows off your curves.
Don't wear old scuffed shoes
Do wear stylish comfortable shoes that are buffed and polished
Do wear dresses that emphasise your waist, even if you don't have a waist!
How to look stylish everyday without spending a fortune, is a question often asked by readers over 50 who have lost their Style mojo in the frenzy of bringing up families, and getting older. And I'm all for sharing simple fashion tips which I've found help me to dress with more confidence.
There's no denying it. I love clothes. And even though there are days when you'll find me looking absolutely darn daggy (and perfectly happy), there are many other days when I enjoy dressing up to look stylish. I really like the times when I look as if I've dressed with care, when really I haven't had to try very hard 🙂
The top below is a point in case. It's dramatic and colourful and I can pull it on with jeans, and create an instantly eye catching look. Click on the images on the right to Shop this Style.
I've written several style guide posts on Lifestyle Fifty, as well as what I called the 'Ultimate guide to fifty plus womens fashion' but in this style advice post today we're going to look at how to look stylish everyday and include some simple style tips for the casually smart and elegant, put-together looks we crave – without really trying too hard of course.
Fashion Advice for Women over 50
Do Pair a loose top with tighter bottoms.
The Larissa blush loose top with its lovely scoop neckline from Vivid International goes really well with skinny blue jeans. It has a beautifully feminine soft drape effect and features a loose overlay with a cami top lining underneath.
It neatly hides any muffin top bulge at the top of my jeans, and gives an elegant floaty look to the more structured fit of the pants. Add a large pair of sunglasses for an instant St Tropez look and a natty pair of leather ankle boots like these from FRANKiE4.
Don't wear baggy top with loose wide pants.
I love the Larissa top and I adore the Adrift Clothing, Bedarra Pants in Bordeaux Grey below, but in my opinion they don't go well together. These culotte style pants need a different top to go with them and vice versa.
The look below is altogether too voluminous and because I'm short, it doesn't flatter me – though both the Larissa top and Bedarra bottoms can look great if worn with other garments.
Do wear a tighter top with wide baggy pants
Pair those same culotte pants with a different top and voila!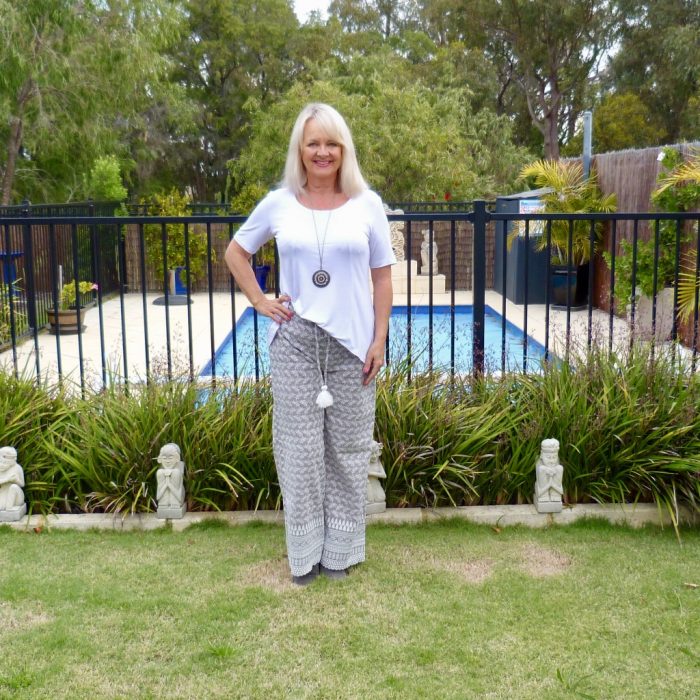 Add a nude wedge heel or an ankle boot in a similar colour to the pants to lengthen the look.
Do tuck a T shirt into one side of the waistline, and pull out one side, as above, for a more put together look.
Even though the white Vivid International long blouson top (below) is baggy, it works with the Bedarra pants – why? Because underneath I'm wearing a tight fitted T-shirt which shows off my silhouette, while the lovely chiffon overlay gives length to elongate the overall effect.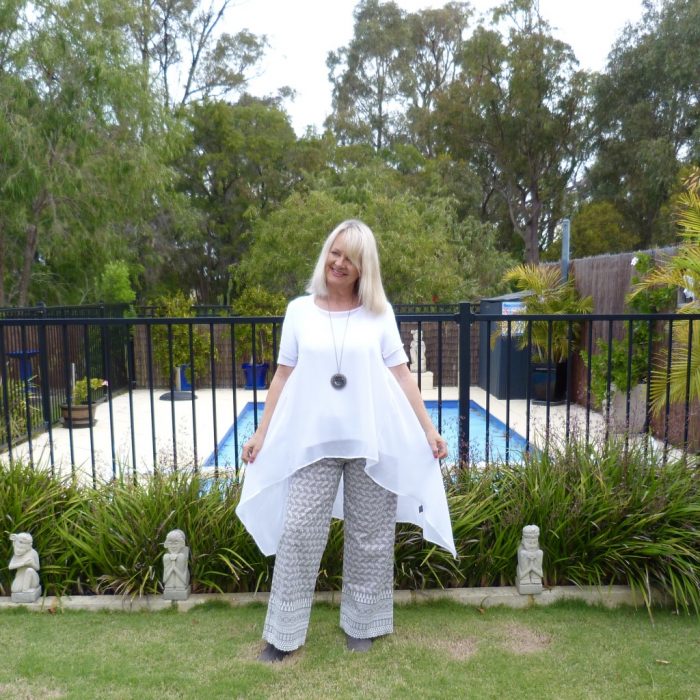 Don't wear a tight top with tight jeans (unless you're super slim)
While on the subject of tops and bottoms, unless you are super slim, a tight tank top will not look nice with tight jeans.
So my style advice is … Don't wear a tight top with skinny jeans when you're over 50, because I bet you've got a bit of a muffin or spare tyre around the mid-riff just like me.
If you do want to wear a tight top with skinny jeans then wear a floaty chiffon overlay like the one I'm wearing above, to soften your whole silhouette.
Do wear the right underwear
Always! And if your bras are looking stretched, tired or grey then go out and buy a bra that fits and lifts. Droopy boobs are just not necessary with today's fabulous brassiere engineering.
Need a new bra? Here's a style advice must read: Ultimate guide to buying a bra online Yes you can find the right bra at the best price online.
Dainty Jewellery is always appealing
In my opinion dainty jewellery will generally make you look more elegant and classy.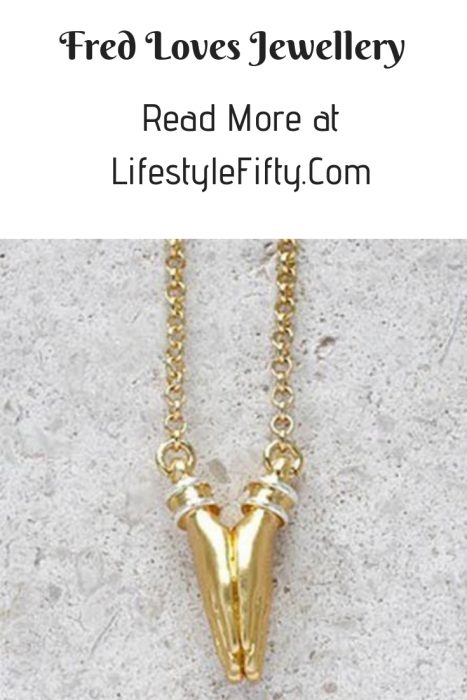 Chunky fashion jewellery does have its place, but don't pile on too much all at once. Stick to one statement piece, either big earrings, or a heavy necklace, and perhaps add a big bangle too.
If you choose small items of gold or silver or pearls, then earrings, necklaces and dainty bracelets that compliment each other worn together look lovely.
Emphasise your waist
Here's a style advice tip which took me a long time to understand and follow.
Don't make a habit of trying to hide your waist.
Do wear dresses that emphasise your waist – even if you don't have a waistline. A more fitted style dress can give the illusion of a slim waist whereas a voluminous kaftan dress will not.
However, there's no need to go for a skimpy or a tight dress. A fit and flare dress that shows off your top body, and then flares gently over your hips will generally look good on most people.
So too will a long line maxi like the lovely boho style, cherry blossom dress in Amalfi by Adrift Clothing below. Why does this long line maxi work on me, a short person? Because it has a gentle nipped in waistline. I also love the long length sleeves and the pom pom detail at the neckline. I've teamed it with FRANKiE4 leather sandals.
Of course we don't always want to be nipped in at the waist. And that's okay too. But just remember to add some other detail to a free-form dress, that will enhance the look and give you a much more stylish effect.
If you're wearing a dress that doesn't add much emphasis to your waist, then do add a hat, big sunnies, or statement earrings and maybe look-at-me shoes to give the overall outfit just a bit more definition.
The easy to wear Bethanie 95% bamboo swing dress in black and white from Vivid International will be lovely for summer days as it doesn't hug and it feels cool. It could also be layered for winter and worn with black ankle boots. I should have added a large black leather tote bag to finish off the look below.
How to update an outift to look more stylish
Any look can be made to look just a little bit more fabulous by adding accessories.
Accessories are your friends.
Choose to make your everyday wear unique and stylish by adding one or any of the following accessories, along with simple makeup.
A hat
A scarf around your neck
A scarf tied to your handbag.
Statement sunglasses
Bright lipstick and/or Lip Gloss
Statement earrings or necklace
A handbag that's either beautiful, unique or in a bright colour.
A statement brooch
A BB cream foundation to even your skin tone and a cheery blusher. I use and love Oil of Olay 7 in one Touch of Foundation BB Cream
I hope you've enjoyed these simple fashion tips. I'm sure you already know most of them, but you probably just forget to apply them – like me!
But if you do take heed of the advice in this post it will help you get out of the door looking great, and feeling confident, without spending tons of time or money styling an outfit.
It will give the impression that you've tried a bit, that you are proud of the way you look and your God given body, rather than just throwing clothes on and not really caring how you look at all.
If you are at all unconfident in your ability to stay dry all day, do try washable incontinence underpants (you can purchase Here).
Stockists: Vivid International, and FRANKiE4 footwear and Adrift Clothing and Modibodi.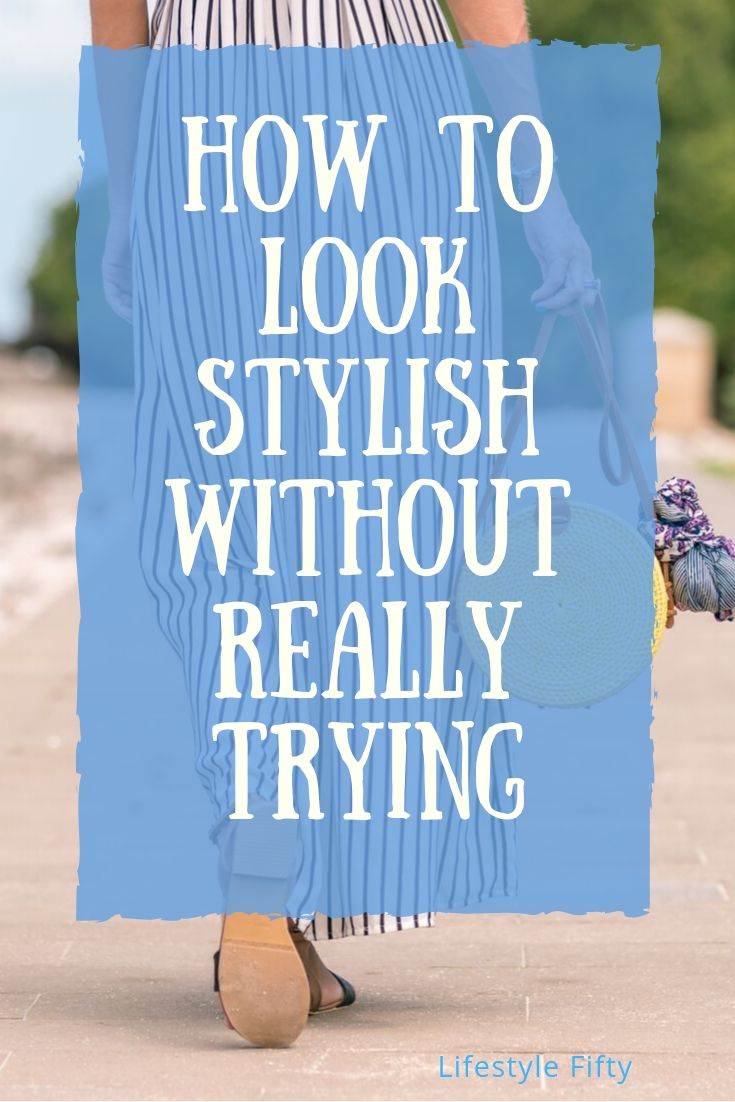 Disclaimer: This post contains gifted products and affiliate links from which I stand to earn a small commission but at no expense to you. Lifestyle Fifty Website is a participant in the Amazon Services LLC Associates Program, an affiliate advertising program designed to provide a means for sites to earn advertising fees by advertising and linking to Amazon.com. Please read my full disclosure here.